Each day we overwhelm your brains with the content you've come to love from the Louder with Crowder Dot Com website.
But Facebook is...you know, Facebook. Their algorithm hides our ranting and raving as best it can. The best way to stick it to Zuckerface?
Sign up for the LWC News Blast! Get your favorite right-wing commentary delivered directly to your inbox!
Hollywood
Mila Kunis blasts Hollywood elite giving Will Smith a standing ovation after slapping taste out of Chris Rock's mouth
October 07, 2022
I'm as shocked as you are that we're still talking about Will Smith slapping Chris Rock at the Oscars. But I've always been enamored by Mila Kunis since she lit up the screen in Forgetting Sarah Marshall and it was an excuse to scan photos to find a thumbnail. Most importantly, she made a point I haven't heard many celebrities make.
After the slap, Will Smith won an Oscar. After our betters in Hollywood watched Smith assault a man on stage over a joke, they gave him a standing ovation. Kunis says in a recent interview, and I'm paraphrasing, "what the everloving f*ck?"
Not standing up to me was a no-brainer, but what was shocking to me was how many people did stand up. I thought, wow, what a time we're living in that rather than do what's right, people focus on doing what looks good. It's insane to me.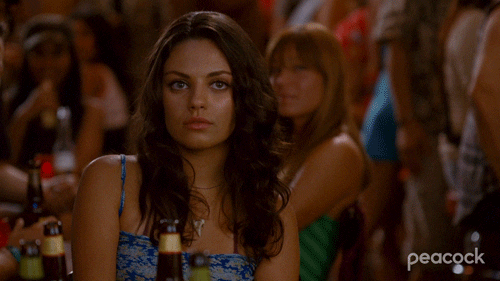 She saw it as setting an example for her children. "We have our tiny little tribe here at home, and never once do I want to tell them to do something if I'm not willing to do it myself."
Kunis and her husband Ashton Kutcher already limit their kids' social media use. If we're talking about ways celebrities can be influencing fans, I'd like to see more of THAT and less of what clothes they're wearing.
To recap the Oscars drama in case you have been limiting your own social media use all year...
In March, Chris Rock made a joke about a movie at the Oscars that Will Smith found funny. The rub is that Will Smith's wife didn't find it funny, so Smith assaulted Rock on stage. Smith's wife found THAT funny, even though she is a "strong woman" who "didn't" want her husband to do that. The Grown-Ups were activated. Jokes were made. And four months later, Will Smith posted a lame-ass apology.
And seven months later, interviewers are still asking celebrities about it. At least Mila Kunis had something worthwhile to say.
Facebook doesn't want you reading this post or any others lately. Their algorithm hides our stories and shenanigans as best it can. The best way to stick it to Zuckerface? Bookmark LouderWithCrowder.com and check us out throughout the day!
Also follow us on Instagram, Twitter and Gettr!
Sex Offender's Rehab Goes TERRIBLY WRONG! | Louder With Crowderyoutu.be