Elon Musk makes mockery of employee over how expensive Twitter's 'free' lunches were and where to stick them
November 15, 2022
Really, at this point, we're all just amusing ourselves with the Twitter chaos. The latest is Elon Musk cutting free lunches and making employees provide their own like every other employee in every other company ever. We first heard of the free meals during this expose of a Twitter employee showing how little work they do.
Elon is literally starving his employees literally.
As it turns out, the free lunches provided to employees were very expensive. While the company was paying a full staff of chefs to cook for the San Francisco office, no one was coming to work in the San Francisco office. People don't want to leave their homes in the progressive utopia of San Francisco for some reason. Go figure.
A disgruntled former employee claimed without evidence that it wasn't true, and that lunches really cost $25 a day per person. Elon clapped back using facts and reason. The disgruntled former employee is not verified with a bluecheckmark while Elon is, and there is no community note attached to Musk's tweet. I have no reason not to believe Elon isn't 100% accurate.
We here at the Louder with Crowder Dot Com website understand what a culture shock it must be for Twitter employees to have to provide their own sustenance like a commoner. To those angry at their new boss's decree, we have two suggestions. The first is to not say so on the public timeline. The second should be to find a new source of nourishment. One that is plentiful in the Big Tech industry.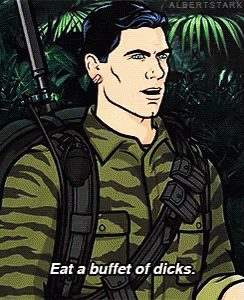 (Apropos of nothing, I should get around to watching Archer for the number of times I use that .gif)
Twitter employees, whoever's left, need to find a way to balance throttling opposing viewpoints and feeding themselves. Elon doesn't give a turd. I don't know if Twitter will last until the end of the year, but it's fun to watch.
Editor's Note
LwC is on Substack now! Each day we overwhelm your brains with the content you've come to love from the Louder with Crowder Dot Com website.. but algorithms hide our ranting and raving as best they can. The best way to stick it to Big Tech? Subscribe to For the Content!