Elon Musk Wants to Know Why Twitter is Okay With Users Threatening to Kill 'Libs of TikTok'
June 14, 2022
Elon Musk will be traveling to Twitter HQ on Thursday for his first all-hands meeting. The woke freaks at the bird app will be able to ask Musk to his face if he has an "updated" understanding of what free speech "means" and other commie AF nonsense. The Libs of TikTok account is sure to come up, as well. Twitter is debating yeeting LOTT off the platform while ignoring users threatening to assassinate her. And Musk has questions.
Two days ago, shadowy, dark money group Media Matters launched a coordinated attack against Libs of TikTok. This is the same shadowy, dark money group launching an attack against Elon Musk buying Twitter. Media Matters called LoTT a domestic terrorist and accused her of literally trying to "spark a genocide." The Media Matters attack inspired ideologically allied Twitter users to tell LoTT to kill herself at her earliest convenience.
Twitter employees discussed the situation. No, not the death threats against LoTT. The bird app has proven in the past to support them. They debated de-platforming the account, just like their "successful" de-platforming of Donald Trump. We know this because a) they openly discussed it on Slack, and b) someone leaked the Slack messages to LoTT.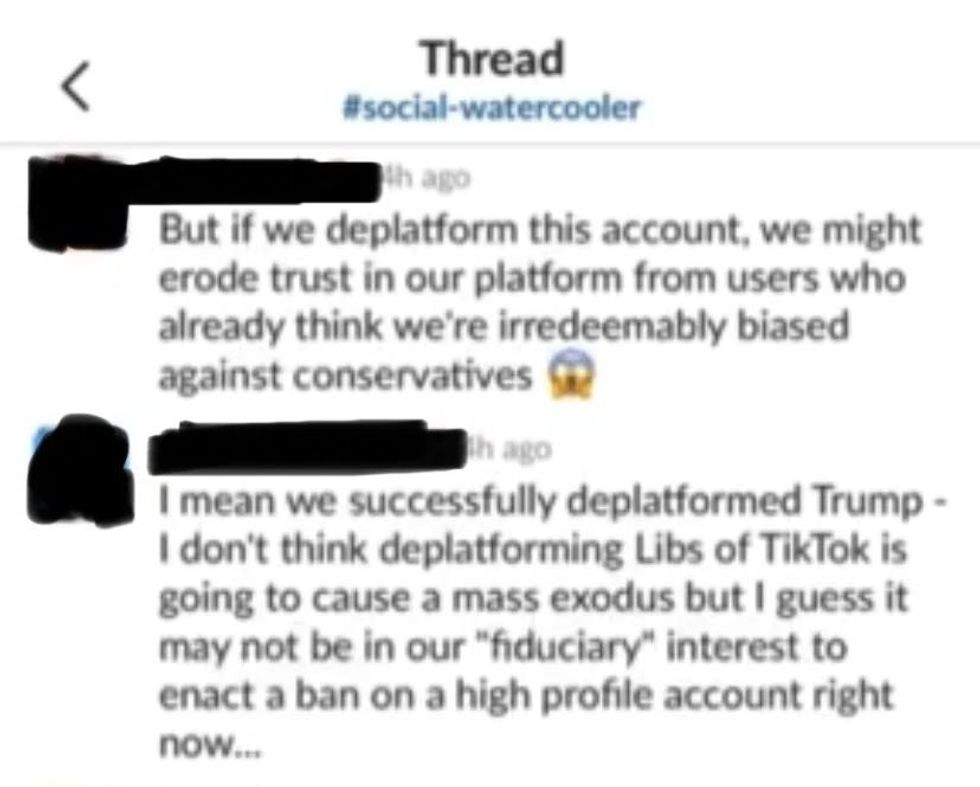 The Twitter employees ALSO implicated LoTT in what they called the targeting of trans people for "genocidal violence" during Pride month. Unknown is how a Twitter account sharing videos of grown men twerking for children and teachers telling parents to go f*ck themselves is "genocidal." But being progressive means never having to be responsible for the words that come out of your mouth, even if those words inspire hatred and violence in your comrades.
It all leads to Twitter's ALL-HANDS meeting with Elon Musk on Thursday being more interesting than it was going to be. More volatile, too. And it was already going to be both those things.
Start popping popcorn. I expect leaks, Slack screen captures, and public employee meltdowns to begin around lunch time eastern on Thursday.
The Louder with Crowder Dot Com Website is on Instagram now!Follow us at @lwcnewswire and tell a friend!
Elon Musk Has Twitter by the Balls! Can He Actually Change It? | Louder With Crowderyoutu.be