'Who Wrote This for You?': Dan Crenshaw's Response to Kamala's 'Woke' Naval Speech Is Brutal
June 04, 2021
The people who control Joe Biden have made it clear there is no aspect of American culture they won't inject a lethal amount of wokeness into. This was made evident by Kamala Harris bombing at the U.S. Naval Academy. Not as bad as a recent Army ad. But rule number one is to know your audience, which the vice president obviously did not. Rep. Dan Crenshaw rolled his eye at her and released this brutal reaction video.
Most of it focused on climate change warming alarmism for some reason. Yes, at a military commencement. I don't get it either.
We're not going to have some yoga mat of solar panels added to our already heavy pack just to make you feel good about green energy.

C'mon, who wrote this for you?
Obviously a nincompoop. If I were to guess, someone who needs to treat Vox less as a source of research and more as progressive fan fiction. These are people who refuse to acknowledge nuclear energy outright and would make the military less effective just because of feelings. These are also people who think it's the job of the military to combat climate change. As if "climate change" is a tangible thing. If not for the fact that leftists find the '80s problematic, I'd say they were watching too many G.I. Joe cartoons. SPOILER: Destro's weather dominator isn't a real thing. Also, Snake Eyes and Shipwreck only wore dresses that one time to sneak out of the COBRA nightclub.
On a related note, has anyone seen Crenshaw and Major Blood in the same room together?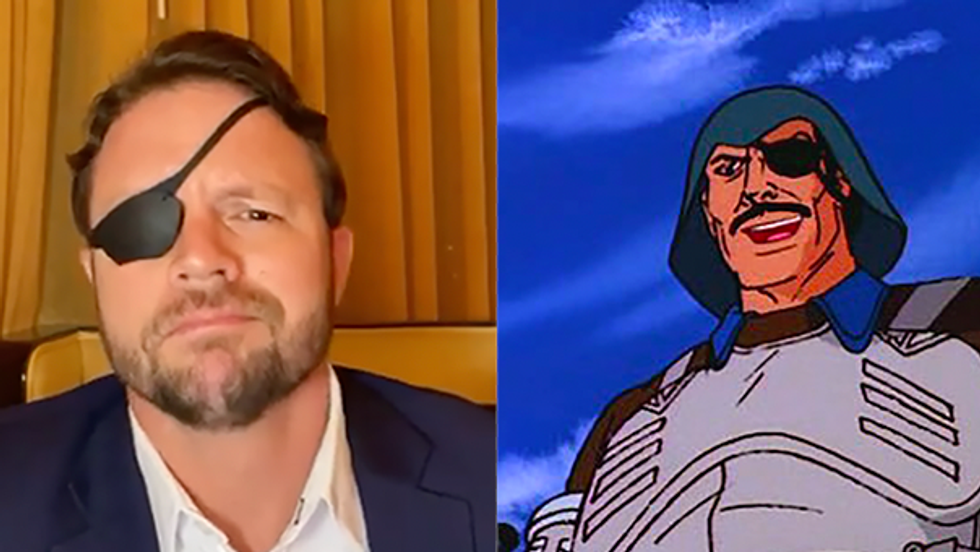 Just saying, I'd buy a 3.75-in figure of the congressman with swivel arm battle grip.
Can we STOP with the woke nonsense at every given turn? It is so unnecessary. It's a Naval Academy speech. Do something inspirational. Talk about leadership, whatever. But WHY do you have to make everything about woke nonsense?
Because of reasons and feelings and YOU'RE A PROBLEMATIC -IST AND -ISM FOR EVEN QUESTIONING THAT DAN CRENSHAW!!!
It's a more serious issue the congressman has a more serious solution to. He and Sen. Tom Cotton set up a whistleblower hotline to give military personnel a safe way to speak out. Kamala's speech is just another in a long line of cringe-inducing moments. One where she laughs at herself, and her audience laughs at her as well.
Get your content free from Big Tech's filter. Bookmark this website and sign up for our newsletter!
Crowder Explains Why 'Cultural Appropriation' is Dumb | Louder With Crowderyoutu.be