Each day we overwhelm your brains with the content you've come to love from the Louder with Crowder Dot Com website.
But Facebook is...you know, Facebook. Their algorithm hides our ranting and raving as best it can. The best way to stick it to Zuckerface?
Sign up for the LWC News Blast! Get your favorite right-wing commentary delivered directly to your inbox!
Trans-activists dump over 20 gallons of urine on government building in protest of... wait, urine?
May 28, 2023
Trans-activists in the UK are pissed off. No, really. They literally call themselves "Pissed Off Trannies," or "POT" for short. They are so pissed off that they dumped 90 litres of urine (a little over 20 gallons in normal units of measurement) on the Equality and Human Rights Commission building.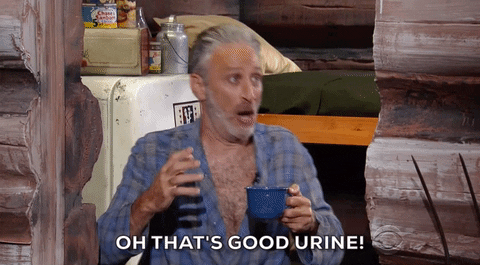 Here's the deal, according to Reduxx. The EHRC is considering alterations to a law that would "strengthen women's sex-based rights." As we have seen in the way they treat people like JK Rowling and Riley Gaines, trans people and their allies hate anything that strengthens women's rights to do anything. "Trans" remains ranked #1 on the left's pound-for-pound most marginalized rankings. Women have sunk so low, they almost rank lower than Christians and Trump supporters.
What set of POT for their act was civil disobedience was Melanie Field, chief executive of the EHRC, affirming the definition of "sex." The old-timey, pre-2021 definition.
This isn't the first time POT has sprung a leak (folks, these are the jokes). Last September, there was another piss-filled protest outside the EHRC building. Only they didn't pour the urine on the building. An activist -- wearing a duck mask -- poured it ON HIMSELF.
It was to symbolize the--and I want to make sure I get this quote right--"public embarrassment that trans people experience on a daily basis, using the toilet that either doesn't fit with their gender or using the one that does, and then facing the backlash of people's judgment."
If you think this reeks of performative slactivism and having too much asparagus, HOW DARE YOU! Not unlike UK vegans who dump milk out in the aisle of the supermarket and UK enviro wackos destroy priceless works of art, UK trans activists demand to be taken seriously. Every bit as seriously as we take them in America.
Or, at the very least, as serious as these people.
Please join me in praying to the deity or deities of content that the EHRC goes through with their alterations and that POT needs to escalate their civil disobedience. And off-shoot of POT called SOT. Sh*t On Trannies.
><><><><><><
Brodigan is Grand Poobah of this here website and when he isn't writing words about things enjoys day drinking, pro-wrestling, and country music. You can find him on the Twitter too.
Facebook doesn't want you reading this post or any others lately. Their algorithm hides our stories and shenanigans as best it can. The best way to stick it to Zuckerface? Sign up for our DAILY EMAIL BLASTS! They can't stop us from delivering our content straight to your inbox. Yet.