New Jersey will punish schools, teachers who refuse mandate to teach middle school kids about anal: report
September 24, 2022
New Jersey schools were given a mandate: teach middle school kids about anal sex OR ELSE! Yes, these are the same NJ middle schools where a teacher was arrested for masturbating in class. Twice. He masturbated in class twice. He was only arrested once.
According to Fox News, school districts that fail to comply with the new statewide sex ed standards could face a loss of funding or even "disciplinary action." The standards vary by grade, but by eighth-grade students should know about getting pregnant, where to have an abortion, and be able to, quote, "define vaginal, oral, and anal sex."
The standards were passed in 2020, but are only being implemented starting this month. We got a hint of these new guidelines in April. One of them was for teachers to promote a YouTube channel to kids as young as 9 so they could get additional information on sex. Two of the first videos suggested on the page not only tells them watching porn is good, but they should watch it with their classmates.
Side note: 51% of parents oppose this. But as the New Jersey teachers union has made clear, f*ck those parents.
Two things. One, the Not the Bee thumbnail for this made me squirt coffee out of my nose.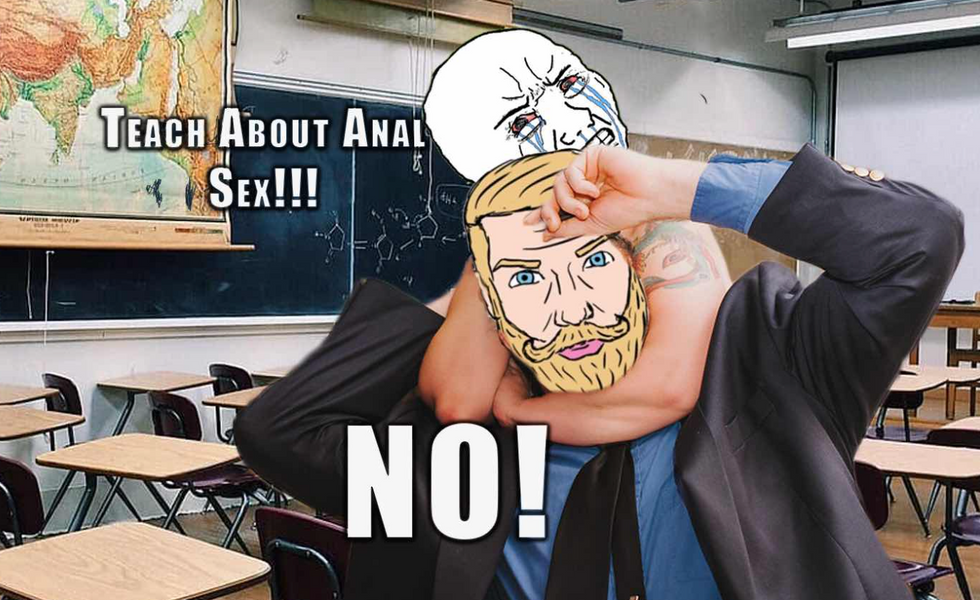 Two, is it my imagination, or is it that since Ron DeSantis passed his Parental Choice in Education bill, leftist school boards have gone in the other direction to be spiteful? Since the passage we've seen kindergarten teachers assign homework for kids to draw where in their house is the safest place to masturbate. Mothers are getting shamed for telling school boards it's inappropriate for kids to be assigned books about "vagina slime" and "tasting yourself." And high school students are asked how comfortable they are with anal sex. It always goes back to the butt stuff.
Is this all just my imagination? It has to be.
Facebook doesn't want you reading this post or any others lately. Their algorithm hides our stories and shenanigans as best it can. The best way to stick it to Zuckerface? Bookmark LouderWithCrowder.com and check us out throughout the day!
Also follow us on Instagram, Twitter and Gettr!
The Problem with Living In a Godless Society... | Louder With Crowderyoutu.be