Each day we overwhelm your brains with the content you've come to love from the Louder with Crowder Dot Com website.
But Facebook is...you know, Facebook. Their algorithm hides our ranting and raving as best it can. The best way to stick it to Zuckerface?
Sign up for the LWC News Blast! Get your favorite right-wing commentary delivered directly to your inbox!
Hollywood
Megan Fox Hits Back at Her Haters Upset She Didn't S*** All Over Donald Trump
July 15, 2021
Donald Trump broke people and the internet is stupid. That's the best way to describe the apparent outrage over this Megan Fox interview. She was a guest on the Jimmy Kimmel Show with guest host Arsenio Hall. To set the stage, Megan Fox was just at a UFC show where she sat near President Trump.
That's it. That's the stage.
Megan Fox on Machine Gun Kelly's Outfits, Doing Ayahuasca with Him in Costa Rica & New Thrilleryoutu.be
He was a legend. That arena was very supportive of Trump when he came in.
That's all she said. She didn't say it was her personal opinion that he was a legend. Megan Fox didn't defend Trump's stellar record on jobs or point out how he did better with every minority and minority-adjacent group than any Republican before him. She didn't say he had nice hair or she wished she could have been as pretty as Kayleigh McEnany. All Megan Fox said was "so, like, Trump sat down and like wow." Arsenio didn't even follow up. It was a 60-second anecdote about the Secret Service. Who, had there been an attack, would have been more than happy to jump on her. You know, for protection.
Yet that was enough apparently to trigger the libs to go all catty mean girl on her. Most likely trying to cyberbully her into a teary-eyed apology. Fox didn't provide any examples. She just lashed out at her haters via Instagram Stories.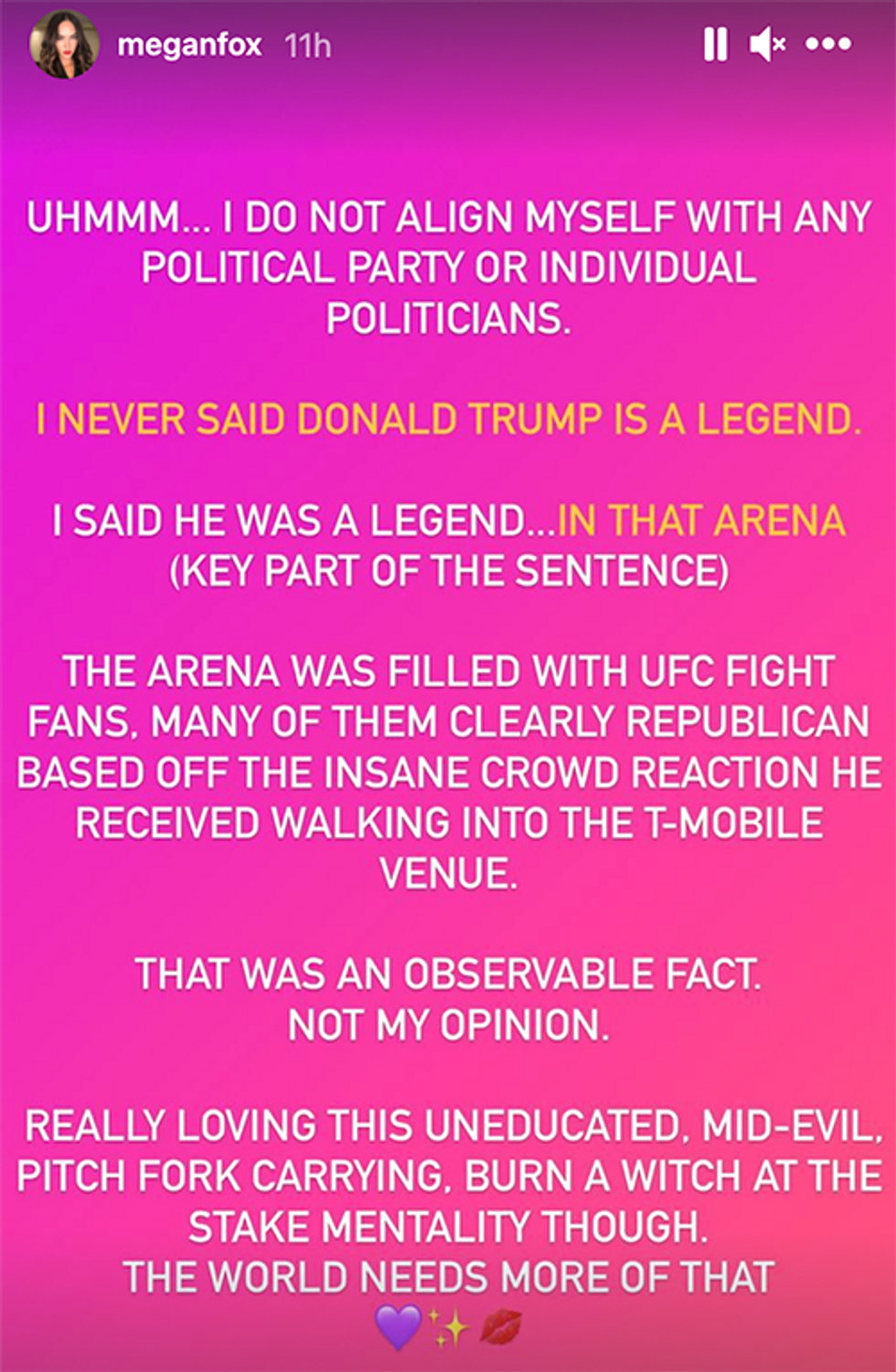 THE ARENA WAS FILLED WITH UFC FIGHT FANS, MANY OF THEM CLEARLY REPUBLICAN BASED OFF THE INSANE CROWD REACTION HE RECEIVED WALKING INTO THE T-MOBILE VENUE.

REALLY LOVING THIS UNEDUCATED, MID-EVIL, PITCH FORK CARRYING, BURN A WITCH AT THE STAKE MENTALITY THOUGH. THE WORLD NEEDS MORE OF THAT.
You tell 'em, sister! We need less caving to cancel culture. More telling haters and losers to shut the f*** up.
This is where we're at in American politics. Megan Fox can handle herself with more composure and speak more rationally about the former president than anyone on CNN or MSNBC. I trust her more on policy too.
Get your content free from Big Tech's filter. Bookmark this website and sign up for our newsletter!
Crowder's Favorite Game Returns! Hipster or Hobo! | Louder With Crowderyoutu.be