John Cleese calls fake news, WON'T let woke Tony Award-winning actors censor Monty Python's The Life of Brian
May 26, 2023
It would appear the Louder with Crowder Dot Com research team needs to be sacked. Contrary to what we reported earlier this week, John Cleese is NOT being forced to erase a hilarious scene from the stage production of Monty Python's "The Life of Brian."
Here's what happened. Someone in the audience at a Cleese show told the Daily Mail that's what he said. Websites like ours, sourcing the Daily Mail, created content around him saying such. But Cleese has now confirmed himself via Twitter that that's not what he said. "I have, of course, no intention of doing so. So someone in the audience had called a journalist and misreported me. Amazingly none of the British media called to check."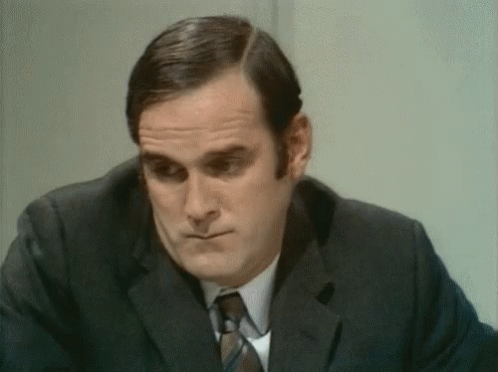 The comedic legend followed up with a question I feel ALL ARTISTS need to start asking the tiny minority of Cleese-phobic woke twats looking to censor, erase, or otherwise cancel their past works. Who exactly are you concerned about offending? It isn't Python fans who have been laughing at this material for close to fifty years and will be the ones driving ticket sales.
That was what was so surprising

These were absolutely top-class Broadway performers and they were adamant that we would not get away with doing the scene in NYC!

I asked them "Are Python fans not going to come because we're doing a scene they've been laughing at for 40 years ?" https://t.co/EJX6pQdKWe
— John Cleese (@JohnCleese) May 25, 2023
The scene in question features "Loretta," a man, who wants to have a baby and claims no one could tell -- her -- she couldn't. In 1979, this was silliness. In 2023, it's a conversation between a woke activist and a normie on Twitter. Right after the woke activist celebrates the normie's daughter having her hopes and dreams crushed in High School track.
The following scene has apparently been sacked from the stage production of Monty Python's "The Life of Brian" pic.twitter.com/wPolPqdQXj
— Louder with Crowder Dot Com (@LWCnewswire) May 23, 2023
The stage show is based on the 1979 film of the same name satirizing the life of Jesus Christ. As we have seen this week with the Los Angeles Dodgers, insulting Christians is A-OK in 2023. But a joke about a man wanting to have a baby -- an idea that forty years ago was ludicrous and not the cornerstone of Democrat Party it is today -- goes too far in the eyes of a handful of thespians. I'm guessing the theatre critics too.
><><><><><><
Brodigan is Grand Poobah of this here website and when he isn't writing words about things enjoys day drinking, pro-wrestling, and country music. You can find him on the Twitter too.
Facebook doesn't want you reading this post or any others lately. Their algorithm hides our stories and shenanigans as best it can. The best way to stick it to Zuckerface? Bookmark LouderWithCrowder.com and check us out throughout the day! Also, follow us on Instagram and Twitter.