Each day we overwhelm your brains with the content you've come to love from the Louder with Crowder Dot Com website.
But Facebook is...you know, Facebook. Their algorithm hides our ranting and raving as best it can. The best way to stick it to Zuckerface?
Sign up for the LWC News Blast! Get your favorite right-wing commentary delivered directly to your inbox!
Politics
Watch: Jen Psaki makes 'Meet the Press' debut and immediately stabs POTUS in the back over midterm elections
September 26, 2022
Former White House spokessoulessginger Jen Psaki made her debut on Meet the Press, where one of her first orders of business was to throw her former boss under the bus. Turns out, running on Joe Biden's record is a bad idea for members of Biden's political party.
Psaki is the latest example of the White-House-to-cable-news pipeline that cable news only has a problem with when it's Republicans and Fox News. But Psaki is a special case. She went from the Obama White House to CNN to the Biden White House to MSNBC. Now, free from having to shill for President Puddinghead, the former spokessoulessginger can admit... the dude sucks.
WATCH: If the election is about which side is the most extreme, Democrats will win, @jrpsaki says. If it's a referendum on the president, they'll lose, she says.

"Yes the economy is hanging over everything, but you do have to look at state-by-state factors." pic.twitter.com/wC9hj3MX5T
— Meet the Press (@MeetThePress) September 25, 2022
Democrats... if [the midterm election] is a referendum on the President, they will lose and they know that.
It should come as no surprise. While employed by CNN, Psakibomb was very critical of candidate Biden. Signs of having enough of making excuses for President Biden were visible as she was on her way out. It was around the time Biden threw away fifty years of carefully curated pro-abortion talking points by admitting it was aborting a child. Not aborting a choice, but a child.
Psaki has gone from blaming the American people for Biden's poll numbers to admitting he's a detriment if Democrats admit to knowing him. She also used to blame the growing crime wave on the pandemic when she couldn't admit it was because of Democrat policies. Now, she at least acknowledges it's a problem for them.
They also know that crime is a vulnerability for democrats. Perhaps, one of the biggest vulnerabilities.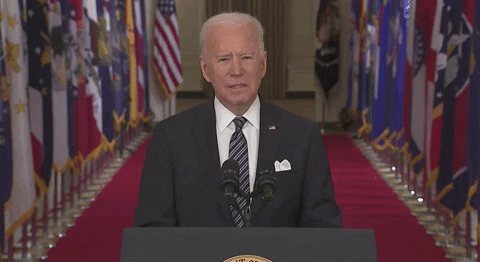 The question now is when the red supernova washes over America in November and it's time to not only throw Biden under the bus but back the wheels over him a few times, who does Jen Psaki shill for to get a job in that person's White House? Kamala Harris? Poot Buttgig? Gavin Newsom? The answer to that question and more is coming in 44 days.
Facebook doesn't want you reading this post or any others lately. Their algorithm hides our stories and shenanigans as best it can. The best way to stick it to Zuckerface? Bookmark LouderWithCrowder.com and check us out throughout the day!
Also follow us on Instagram, Twitter and Gettr!
Feminism Is Breeding Whores | Change My Mindyoutu.be