Each day we overwhelm your brains with the content you've come to love from the Louder with Crowder Dot Com website.
But Facebook is...you know, Facebook. Their algorithm hides our ranting and raving as best it can. The best way to stick it to Zuckerface?
Sign up for the LWC News Blast! Get your favorite right-wing commentary delivered directly to your inbox!
'Conservative Christians Need to Die': Teacher Caught on Video Ranting to Coworkers
February 24, 2022
The left refuses to let go of COVID. It doesn't matter that the masks do almost nothing to help or that everyone who wants the jab has had a chance to get the jab. They refuse to trust in reality, choosing instead to trust the government bureaucrats who barely know their a**es from holes in the ground. And few are more dedicated to the narrative than teachers.
This lady has had enough. Not enough to come to grips with reality, but enough to wish death on the people who aren't as deluded as herself. Dana Loesch had the exclusive on Substack. This woman is a teacher at Colleyville ISD. In a busy hallway, talking to two coworkers, this woman feels more than comfortable wishing the death of effectively half of the country.
Texas Middle School Teacher: "Those Conservative Christians Need to Get COVID and Die"youtu.be
"It's too late. It would have had to have been immediate. If we would have done it immediately, it'd already be gone. That's what's frustrating. The rest of my life is impacted because of politics? Because of conservative Christian crap? […] I'm telling you, those conservative Christians… they need to die… they need to get COVID and die."
This nut job has been teaching children? For how many years has this unhinged lunatic been allowed around students at this middle school?
Dana Loesch reached out to the district for comment but received nothing in response. However, they did send out the usual boilerplate bullsh*t to parents of students.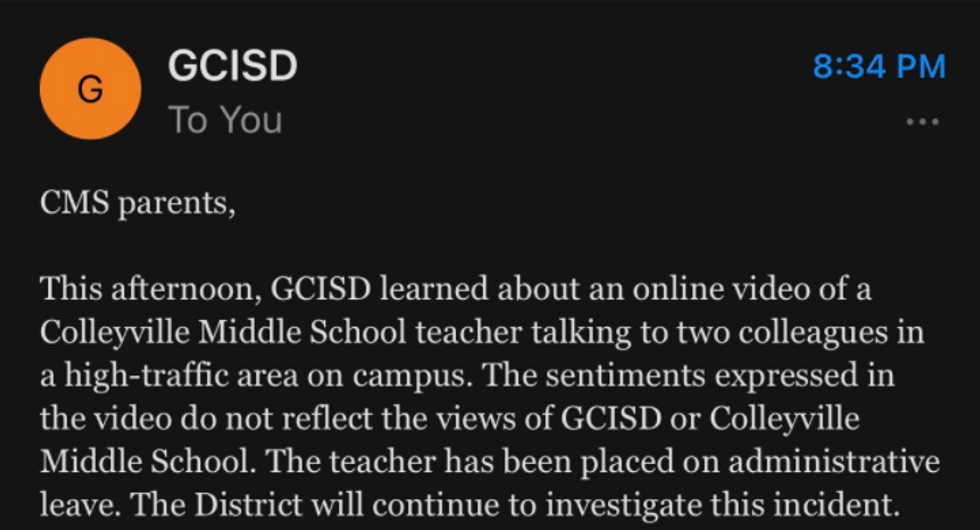 This woman isn't the first teacher to wish death on those she feels are making her life difficult. This New Jersey teacher wanted students to die from COVID-19. And this delightful gremlin wants all the unvaccinated to die from COVID-19 or be shot! At least she gave us options.
The only difference between those two teachers and our new one is that the latest case of homicidal teacher is made more ridiculous by the fact that the pandemic is effectively over. Omicron doesn't look like it's about to start killing swaths of otherwise healthy people.
And these people wonder why parents are pissed?
The Louder with Crowder Dot Com Website is on Instagram now!Follow us at @lwcnewswire and tell a friend!