Each day we overwhelm your brains with the content you've come to love from the Louder with Crowder Dot Com website.
But Facebook is...you know, Facebook. Their algorithm hides our ranting and raving as best it can. The best way to stick it to Zuckerface?
Sign up for the LWC News Blast! Get your favorite right-wing commentary delivered directly to your inbox!
Reporters track down disgraced Bud Light exec as her blunder sends stock into bear territory
June 02, 2023
I know some of you were worried about now-former Bud Light marketing executive Alissa Heinerscheid. The girl with the shiniest marketing blunder. We here at the Louder with Crowder Dot Com website are happy to report she's doing fine. Or, The Daily Mail is happy to report that. They tracked her down just outside her EIGHT MILLION DOLLAR Central Park home.
"It is unclear if Alissa Heinerscheid, who was seen close to her $8 million apartment near Central Park, is on paid leave from the company"

Bud Light marketing VP is tight-lipped outside her $8m Central Park homehttps://t.co/sQsYRFRxvu
— J F Redfern 🏦 (@jfredfern) June 2, 2023
I know what you're thinking. "Brodigan. An uppity, Upper West Side, NYC leftist elitist isn't in tune with Middle America who drinks Bud Light? The heck you say!"
Heck. I do indeed say heck. When Melissa Weinerchild told a podcast that Bud Light drinkers were "fratty and out of touch," she assumed that everyone would agree with her because everyone she knows on the UWS does. Or, I'm assuming that's what she assumed. Weinerchild isn't saying much about causing the biggest corporate disaster in a decade.
When approached by DailyMail.com regarding claims that she had no idea of the campaign, Heinerscheid declined to comment – but a friend said: 'she's not supposed to talk about it, she can't', before being whisked away.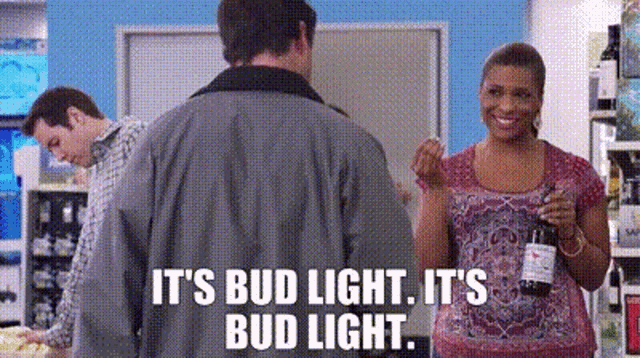 This comes on the heels of reports the stock has entered bear territory. We go now to Forbes:
Anheuser-Busch InBev's stock slipped 2% early Wednesday, continuing its dramatic slide against broader market gains and tanking to a new eight-month low of about $53.
Shares of the multinational beer giant have fallen 20% since March 31, the day before Mulvaney shared a video on TikTok showcasing the personalized cans of Bud Light sent to her by the company, commemorating the anniversary of her coming out as transgender.
Forbes chalks it up to right-wing outrage over TikTok ingénue and titface performer Dylan Mulvaney announcing dylanself as a new Brand Ambassador. Don't get me wrong. I'd love to take credit for it. But right-wing outrage only goes too far. Bud Light is in the toilet because average, apolitical Americans are sick and tired of the woke bullshit. Global corporations think they need to pander to the radical left to get that sweet ESG cash. Normies, the people who ackshually DRINK Bud Light, are sick and tired of having it crammed down their throats. See also Stock Prices, Today's Target.
Oh, and having your top executive insult your loyal fan base tends to be an unwise marketing move. The people who run Bud Light and Annheuser-Busch made it clear they hate the people who buy their products. The people are now deciding to buy someone else's product as a result.
><><><><><><
Brodigan is Grand Poobah of this here website and when he isn't writing words about things enjoys day drinking, pro-wrestling, and country music. You can find him on the Twitter too.
Facebook doesn't want you reading this post or any others lately. Their algorithm hides our stories and shenanigans as best it can. The best way to stick it to Zuckerface? Sign up for our DAILY EMAIL BLASTS! They can't stop us from delivering our content straight to your inbox. Yet.