"Dude, that's epic!": Man manages to take home a 75-inch flatscreen with nothing but string and his unicycle
February 27, 2023
As I scrolled Twitter looking for my fix of content, I had assumed this was yet another in a series of shoplifting videos. It was a guy standing outside of a Target with a 75-inch flatscreen television. Why else would you record a man standing outside Target with a flatscreen unless there was an epic shoplifting fail incoming?
Then the man whipped out some string and a unicycle. And...just watch.
Shout out to the Unicycle Dude, but also shout out to our man recording the ordeal. If you are going to go through the trouble of filming the wacky things unfolding around you, you should always provide commentary!

There is no way he's doing this.
Unicycle Dude bought a SEVENTY-FIVE INCH TELEVISION with the intent of riding it home on his back while pedling unicycle. This wasn't an impulse buy. In order to successfully pull off such a feat, it takes preparation. He has to research the weight of the packaging. He needs to have enough string and know the most effective way to rigg it so that he can strap the SEVENTY-FIVE INCH TELEVISION to his back and ride away.
Even when our narrator got out of the car to salute the epic action, U.D. had a nonchalant response.
You gotta do what you gotta do.
Yessir, you most certainly gotta.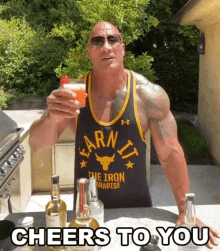 Though I do find myself wondering...did the guy never hear of free shipping? Target would have delivered the TV for free and in under two days. I don't know what was on TV he was so desperate to watch it was worth risking his L1 through his L4 unicycling his way home. U.D. remains in our awe regardless.
Editor's Note
LwC is on Substack now! Each day we overwhelm your brains with the content you've come to love from the Louder with Crowder Dot Com website.. but algorithms hide our ranting and raving as best they can. The best way to stick it to Big Tech? Subscribe to For the Content!