Each day we overwhelm your brains with the content you've come to love from the Louder with Crowder Dot Com website.
But Facebook is...you know, Facebook. Their algorithm hides our ranting and raving as best it can. The best way to stick it to Zuckerface?
Sign up for the LWC News Blast! Get your favorite right-wing commentary delivered directly to your inbox!
About That Cheap 'White Nationalist' Democrat Dirty Trick in Virginia (UPDATED)
October 29, 2021
EDITOR'S NOTE: Of course it would be the Lincoln Project. Wouldn't change the fact it was amplified by the McAuliffe Campaign, Democrat members of congress, and NBC News. The headline has been edited to reflect this new information. Original post follows.
Terry McAuliffe is in trouble. His campaign has been in free fall ever since he told Virginia parents he doesn't think they should have a say in their kids' education. In the past twenty-four hours, Fox News has released a poll that has Glenn Youngkin, the Republican challenger, up eight points. WaPo released a poll that says education is the #1 issue for voters, and they swung to Youngkin in the past month FORTY-FOUR POINTS. So, the Macker has to resort to dirty tricks--like this photo op that was obviously staged by his campaign.
It starts with a tweet from a local reporter:
That got amplified by Terry McAuliffe's campaign twenty minutes later:
First, if we're even going to dig up the Unite the Right rally again, besides pointing out how much the media lied about Donald Trump, this should have been the last word of the entire event:
Charlottesville VA Rantyoutu.be
Back to the matter at hand. How do we know these "supporters" are a plant from Terry McAuliffe's campaign of which Terry McAuliffe is in charge of?
1. Terry McAuliffe recently shared the stage with Ralph Northam, who used to like to party in blackface. McAulliffe had denounced him, but once they both realized the rules don't apply to them they are BFFs again.
2. If these were actual white nationalists, the media would be in the process of doxxing them and getting them fired from their jobs.
3. Accusing opponents of being racist is all Democrats know how to do.
4. If these are supposed to be white nationalists, the one on the left needs to fire his agent.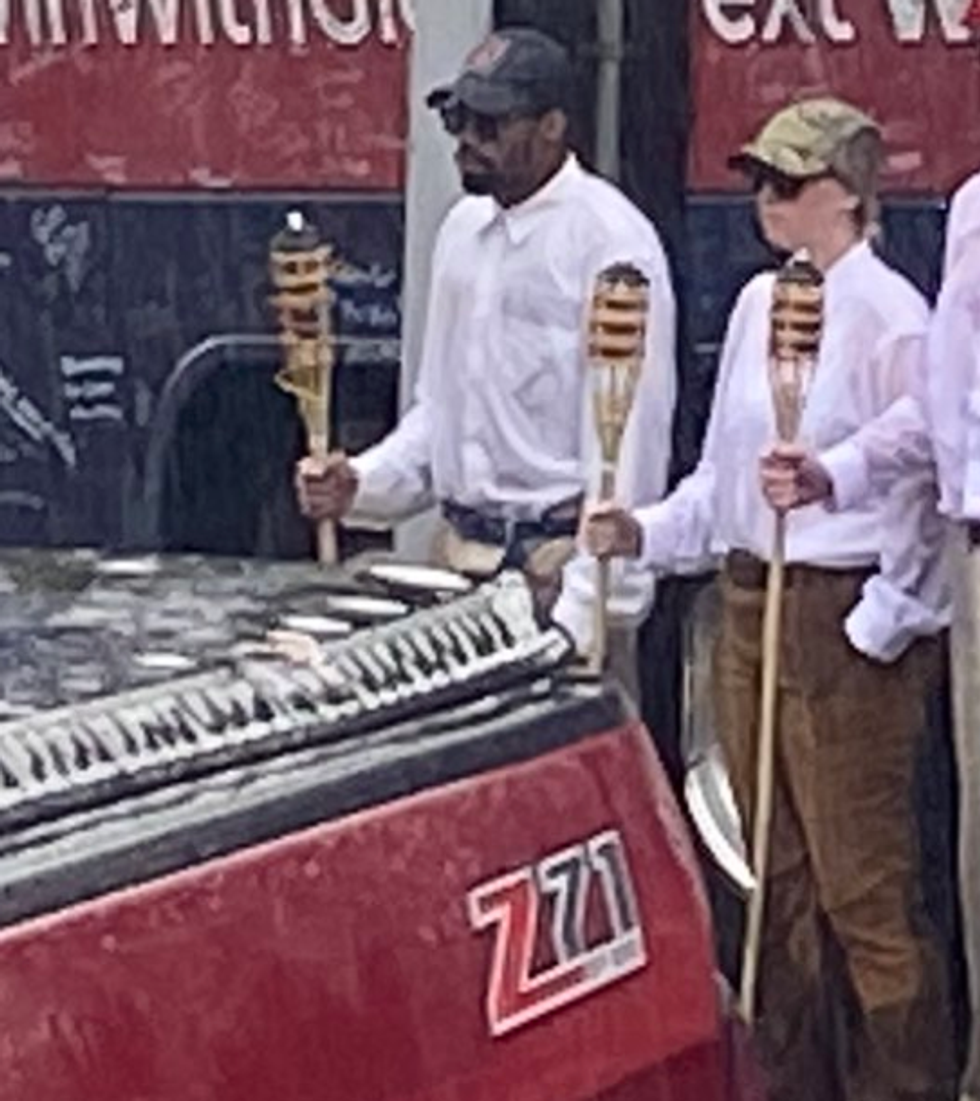 I don't know what the Terry McAuliffe campaign was thinking. MAYBE that by resorting to such a pathetic photo op that the Terry McAuliffe campaign is so obviously responsible for, they could count on us conservatives spreading the photo for them. Then as the photo gets out, MAYBE a few voters would fall for it. But that goes back to the Terry McAuliffe campaign thinking that Virginia voters are stupid.
I didn't believe the Fox News poll at first. If Terry McAuliffe is this desperate, get ready on Thursday.
UPDATE: Told ya.
Get your content free from Big Tech's filter. Bookmark this website and sign up for our newsletter!
The Great Reset is Real! Confirmed by Droopy Al Franken on CNN! | Louder With Crowderyoutu.be