Each day we overwhelm your brains with the content you've come to love from the Louder with Crowder Dot Com website.
But Facebook is...you know, Facebook. Their algorithm hides our ranting and raving as best it can. The best way to stick it to Zuckerface?
Sign up for the LWC News Blast! Get your favorite right-wing commentary delivered directly to your inbox!
Videos
Steven Crowder Responds to New Zealand Shooting, Shares Information About Shooter and His Manifesto Media Won't Report
March 15, 2019
Video of Steven's response is below. Here's the context of the story if you need to be caught up: There was a terrorist attack in the usually peaceful nation of New Zealand. As far as we know, 49 people were killed in two mosques in Christchurch, with 20 more injured. At this time, there are believed to be three suspects. Details are still a little sketchy, but already the Prime Minister Scott Morrison of Australia is saying the shooting was the work of right-wingers. From CNN:
Australian Prime Minister Scott Morrison said that at least one of those arrested is Australian. He said the shooting was the work of an "extremist right-wing, violent terrorist."
The attack was apparently streamed to Facebook, where there was also a manifesto posted. Also from CNN:
However, in a social media post just before the attack, an account that is believed to belong to one of the attackers posted a link to an 87-page manifesto that was filled with anti-immigrant, anti-Muslim ideas and explanations for an attack. The manifesto was not signed.
So in all of this tragedy, the media is already pinning this on a "conservative." Which means, unfortunately, we have to run counter attacks on attacks which will come against our ideology. Here's the thing, the shooter explicitly states, in his own manifesto, that he is NOT a conservative, that he is NOT a Christian, that he is, in fact, an ECO-FASCIST. Hardly a stalwart conservative, no?
Before I drop in screenshots from the manifesto, watch this very raw, personal video from Steven:
Here are the aforementioned sections of the manifesto:
Were/are you a conservative?

No, conservatism is corporatism in disguise, I want no part of it.

Were/are you a christian?

That is complicated.

When I know, I will tell you.

Were/are you a fascist?

Yes. For once, the person that will be called a fascist, is an actual fascist. I

am sure the journalists will love that.

I mostly agree with Sir Oswald Mosley's views and consider myself an

Eco-fascist by nature.

The nation with the closest political and social values to my own is the

People's Republic of China.
A guy who aligns with China isn't a "conservative" by any stretch. Here are screenshots, so you can see for yourself, this man is not a conservative.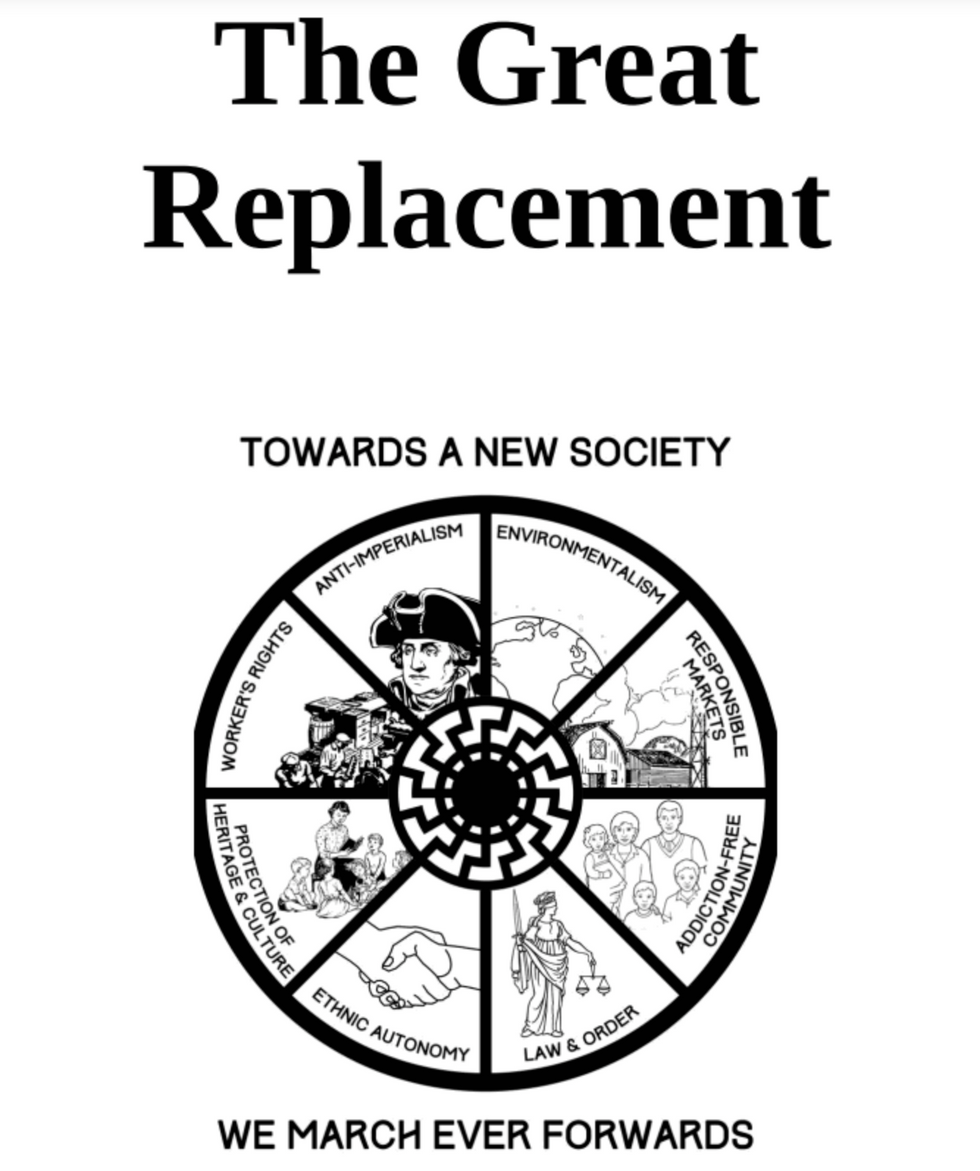 Worker's rights, anti-imperialism, environmentalism, are hardly the tenets of conservatism. Yet this is the leading image on the shooter's manifesto.
The manifesto leads with passages from books, quotations from authors, but then the shooter essentially conducts his own interview.
So he clearly pays a lot of attention to coverage of shootings, no?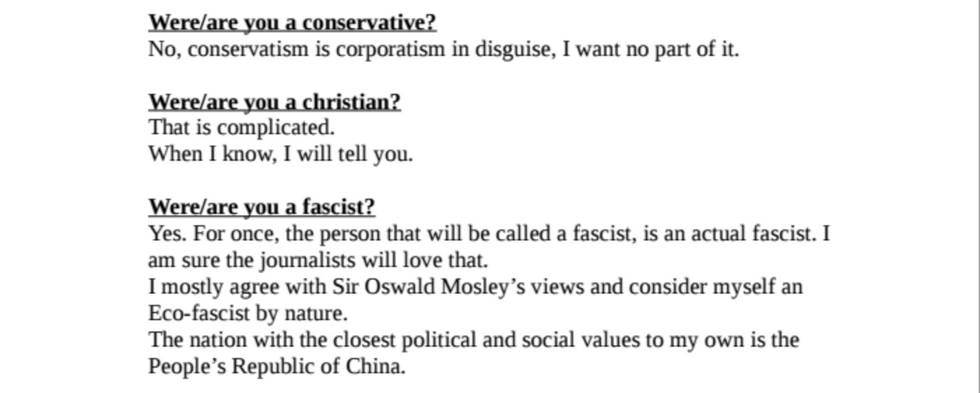 He also asks and answers if he is right or left wing, if he's a socialist, and his views on Donald Trump: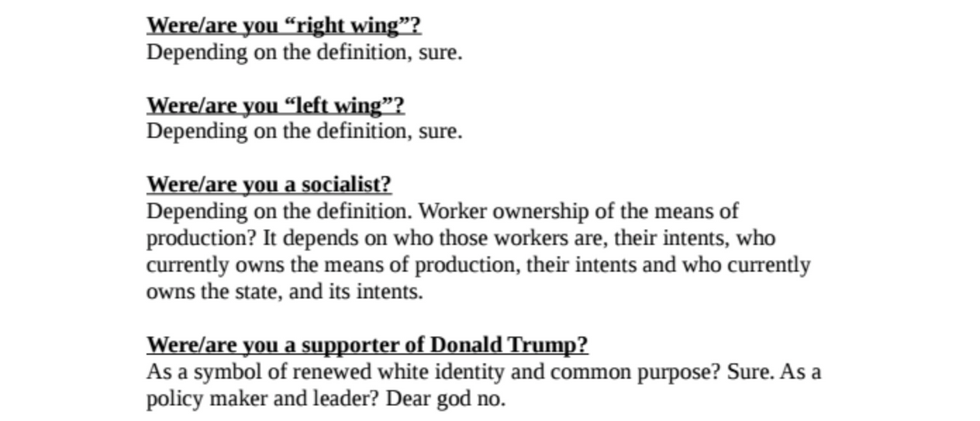 Okay, so he likes the idea of Trump as a symbol of white identity, a symbol used by people Trump has already condemned but doesn't like Trump in any other way.
Here's a kicker:

What conservative do you know who harps on the environment being destroyed by overpopulation? No one I know.
Look, we don't like giving the shooter any additional attention. It brings us no joy to have to illustrate what the media won't. But the fact is, the media wants to push a narrative and we have to run a fact check on them. The shooter's ideology is a little scattered. I'm not going to say he's a full left wing loon, just as the media shouldn't say he was a right wing loon. It is plainly wrong to try to blame conservatives, Trump, Trump-supporters, anyone or any ideology other than the shooter(s).
We'll update this story as we learn more.