Each day we overwhelm your brains with the content you've come to love from the Louder with Crowder Dot Com website.
But Facebook is...you know, Facebook. Their algorithm hides our ranting and raving as best it can. The best way to stick it to Zuckerface?
Sign up for the LWC News Blast! Get your favorite right-wing commentary delivered directly to your inbox!
Culture
LOL: Kanye sends Pete Davidson into 'trauma therapy' for making fun of his Kim Kardashian break-up
August 09, 2022
I realize there are more important stories in the news today, but this cracked me up. And while we await more details on the Donald Trump raid, let's take a mental health break with the Kanye West-Kim Kardashian-Pete Davidson brouhaha. Because while Pete and Kim broke up, Kanye is having fun, and it's sending Pete into therapy.
Quick recap. Kanye and Kim were married. Kanye and Kim got divorced. Kim dates Pete Davidson. Kanye doesn't handle it well, as sometimes guys do when their ex is with someone new. Also, when the new guy gets a tattoo of the other guys' kids. Pete and Kim break up.
Kanye has a laugh about it with this now-deleted Instagram post.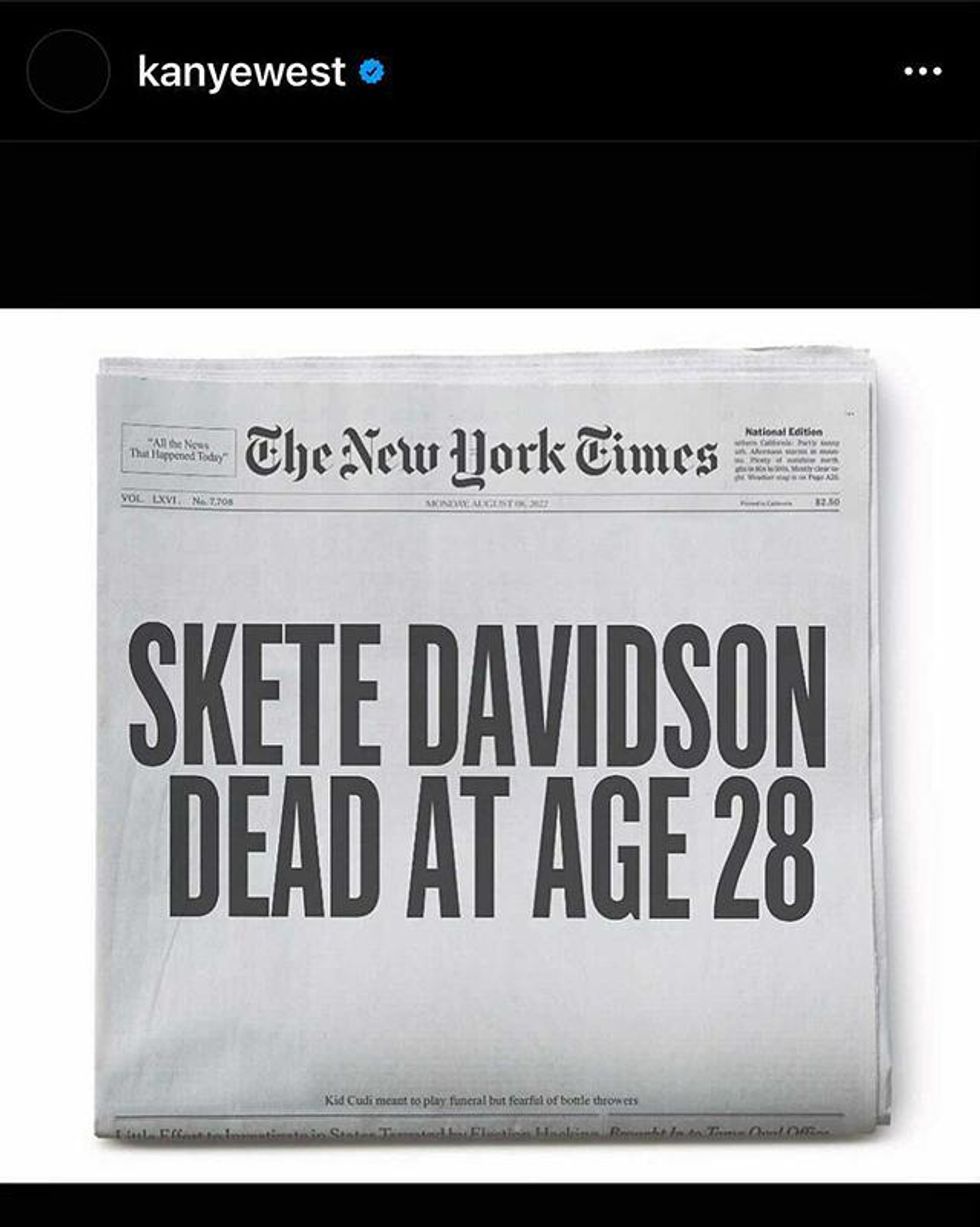 "Skete Davidson" is a reference to the now infamous Kanye dis track about the whole brouhaha. It was done tongue-in-cheek, but apparently, it sent Davidson into therapy--"trauma" therapy to be exact. According to People magazine, "The attention and negativity coming from Kanye and his antics is a trigger for [Pete], and he's had to seek out help." The post was apparently so mentally damaging to Pete that "Davidson and Kardashian's respective teams each reached out to Instagram" about the post asking the platform to make itself a safer place.
Let me be clear, EVERYONE who needs mental health help should reach out. Especially men, who tend not to do so. Anyone who is struggling for any reason should be encouraged to find someone to talk to. Like Kanye did. Period.
Though, in Skete's case, I don't fault Kanye for "clapping back," as the kids say, after Davidson sent West a photo of him in bed with his ex-wife.
Celebrities. They're just like the rest of us.
The Louder with Crowder Dot Com Website is on Instagram now!Follow us at @lwcnewswire and tell a friend!
Why Feminism NEVER Worked... | Louder With Crowderyoutu.be