Each day we overwhelm your brains with the content you've come to love from the Louder with Crowder Dot Com website.
But Facebook is...you know, Facebook. Their algorithm hides our ranting and raving as best it can. The best way to stick it to Zuckerface?
Sign up for the LWC News Blast! Get your favorite right-wing commentary delivered directly to your inbox!
cringe
NERD ALERT! US Navy seeks to recruit new sailors for esports team. Yes, our US Navy
August 30, 2022
So... There are many instances in which I hang my head and think, "I'm ashamed to have served in the military." I never thought I'd think such a thing, but then I never thought I would see this country take the turns it's presently taking. When the army is training its soldiers in the ways of gender ideology, I'm ashamed. And when the air force is allowing substandard airmen to be "helped" through training because it happens to be a female, I'm ashamed. And when the Navy turns to "esports" to recruit "warfighters," I'm ashamed...

And that's exactly what they're doing! From Military Times, due to poor recruiting numbers, "Navy officials are hoping its esports team — Goats and Glory, a part of the service's recruiting command — will be one small part of a solution to attract a younger audience."
"Selected sailors will receive three-year orders to the team's facility in Memphis, Tennessee. [...] the team practices, livestreams and competes in online games, from 'League of Legends' to 'Call of Duty.'"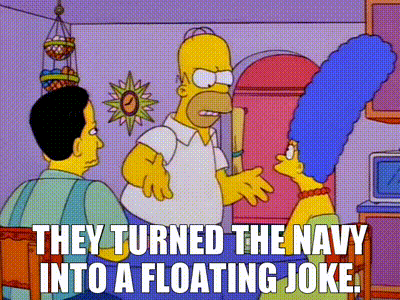 If I didn't know that the US military has become a joke, a terrible punchline, a shell of what it once was, I wouldn't believe this crap. But it has become just that. Where I used to finish work and go home to wreck n00bs in hardcore team deathmatch to unwind, there will be sailors doing this for a living on the taxpayer's dime. But hey, at least these new recruits might help bring in new recruits because, as the team's captain Lt. Aaron Jones says, "One of the group's toughest tasks [...] is attracting new talent."
But I can't just sh*t on the navy for this idiocy. The air force and army both have their own esports organizations, too! So, the American taxpayer is subsidizing a bunch of soft, genderqueer, overly sensitive gamers under the guise of recruiting and "as a means of gaining valuable skills that can be applied to making warfighters."
Does everyone feel confident in our ability to win the next major armed conflict? I have warm and fuzzies about it, guys! I have no doubt some kid who goes by they/them pronouns and manages a whopping 7 killstreak while camping in a corner with a shotgun will be more than capable of gutting commies on the battlefield... God, help us all!
The Louder with Crowder Dot Com Website is on Instagram now!Follow us at @lwcnewswire and tell a friend!
DON'T Let Your Kids Join the Navy | Louder With Crowderwww.youtube.com