Each day we overwhelm your brains with the content you've come to love from the Louder with Crowder Dot Com website.
But Facebook is...you know, Facebook. Their algorithm hides our ranting and raving as best it can. The best way to stick it to Zuckerface?
Sign up for the LWC News Blast! Get your favorite right-wing commentary delivered directly to your inbox!
Culture
Naked Bike Ride Says Take Off All Your Clothes in Public ... Except Your Mask
June 08, 2021
America is starting to get back to normal. In Philadelphia, that means the Naked Bike Ride. Tons of people who you'd never want to see naked strip down and ride around our nation's first capital. All while their exposed naughty bits grind away on their bike seat. The event is to promote "body positivity" and "fuel reduction." If the virtue isn't being signaled bright enough to burn your eye sockets yet, go grab a pair of Ray-Bans. Because while riders have their dinkuses and chesticles exposed, they still need to wear a mask.
No shirts, pants or undies needed for Philly Naked Bike Ride, just a maskyoutu.be
The city lifted most of its COVID-19 rules this week, citing an increase in vaccinations and a decrease in cases. But ride organizers said they hadn't had a chance to chat since the city's guidelines changed so for the time being, they're "going to stick with our initial mask guidance."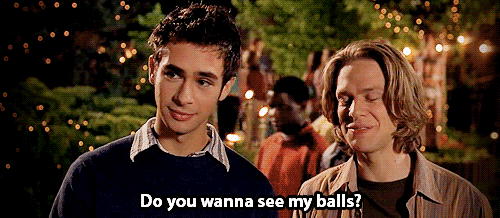 Please know I had every intention of using a .gif from the nude beach scene of Eurotrip. The internet failed me, but I thought this was still apropos.
In fairness to the organizers, they're going by the old guidelines. They haven't met since the sciencey organization based out of D.C. declared you don't always have to have your face covered, particularly when you are exercising and/or outdoors. Something that a naked bike ride would fall under auspices of. They reserve the right to change their guidelines when they meet again. Still, at some point in planning a bike ride where everyone takes off their clothes, covering the hole on your face was more important than covering any others on your body. I don't want to get into what may or may not have been said in any emails from February 2020 regarding covering your face to save you from the 'rona. But in this one specific instance, can we all come together and admit there is NOTHING sciencey about it?
We're talking about an event where the participants are allowed to get buck-ass nekkid. Saggy boobs and beerguts coving peens aplenty. Yet in order to keep everyone safe from a virus, the mask you bought from the store — the one you keep touching and probably never wash — is required. Telling people to wear a mask has nothing to do with science here. The organizers are more likely concerned that not wearing a mask may cause people to think they're Republican.
It's a naked bike ride, and your virtue is signaling accordingly. We all know who you voted for.
Looking for a fashionable way to support Louder with Crowder? Get your swag at Crowdershop today!
INSANE: Media Compares WWII Soldiers to ANTIFA! | Louder With Crowderyoutu.be