Watch: Ron DeSantis fan hits Gavin Newsom with harsh reality check during his inauguration
January 07, 2023
Gavin Newsom was reelected governor of California by the low-information, satal masochists who keep electing progressives to California and don't realize why so many Californians flee California. A Ron DeSantis fan snuck into his inauguration to remind Newsom how much he sucks. Not unlike, how Newsom's in-laws did.
Newsom, who wants to run for president, had made DeSantis, who many conservatives want to run for president, his target during his gubernatorial reelection. The inauguration speech was no different.
CA Gov. Gavin Newsom's inaugural address could only have been less subtle had he actually mentioned the name Ron DeSantis - https://t.co/fL0q6bPcPa
— Reid Wilson (@PoliticsReid) January 6, 2023
They're promoting grievance and victimhood...
I know you are but what am I?
They make it harder to vote and easier to buy illegal guns. They silence speech, fire teachers, kidnap migrants, subjugate women, attack the Special Olympics, and even demonize Mickey Mouse.
Translation: Newsom is pro-pornography in schools, pro-selling out your children to the teachers unions, pro-illegal immigration, pro-abortion just until the baby comes out, pro-the SCHMOVID lockdowns even after two years plus fifteen days to flatten the curve, and pro-pushing sex on grade school children. Though, he left out the part where he is anti-energy. Got it? Got it.
Now check out my man here:
The best part is that he went deep undercover to sneak in with a pink hat, SCHMOID mask and all.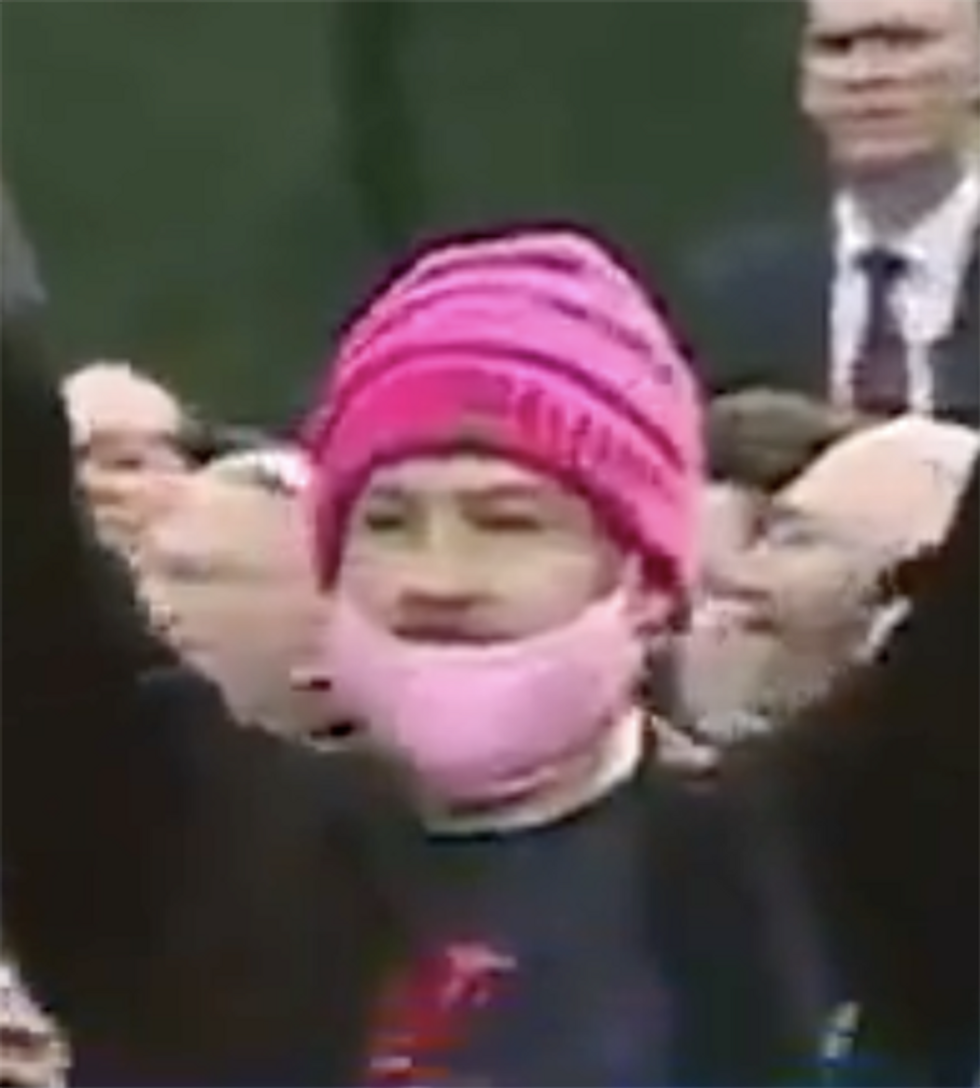 In all honesty? IF we had Ron DeSantis vs Gavin Newsom running for president, I think it would be great for America. Joe Biden vs. Donald Trump will be about one thing: Trump. Biden will campaign on "ORANGE MAN BAD." Trump will campaign on how everyone is unfair and mean to Trump.
Newsom vs. DeSantis? There isn't a more-perfect debate between the two competing ideologies in America. BOTH represent states where those two ideologies have been put into action and he can see clear results to compare. America can be more like Florida. Or America can be more like California.
Now have the two governors crisscross the country and make the case to the American people. In a perfect world, we'd get the national debate the country needs.
Editor's Note
LwC is on Substack now! Each day we overwhelm your brains with the content you've come to love from the Louder with Crowder Dot Com website.. but algorithms hide our ranting and raving as best they can. The best way to stick it to Big Tech? Subscribe to For the Content!
Gavin Newsom "SAYS YES" to RUINING CALIFORNIA | Louder With Crowderyoutu.be