Each day we overwhelm your brains with the content you've come to love from the Louder with Crowder Dot Com website.
But Facebook is...you know, Facebook. Their algorithm hides our ranting and raving as best it can. The best way to stick it to Zuckerface?
Sign up for the LWC News Blast! Get your favorite right-wing commentary delivered directly to your inbox!
Politics
Ron DeSantis tells DC where to stick a gas stove ban while media attempts to gaslight (pun intended) on the issue
January 12, 2023
News broke this week that the Biden Administration was looking at banning gas stoves. We can confirm that at a press briefing, Karine Jean-Pierre assured Americans Joe Biden has no plans to do so. Now, YOU can decide how much you trust this administration. But for the sake of accuracy, I have to report the White House said these words.
One person who does not trust the administration's truthiness on the matter is America's Governor and (God willing) Joe's opponent in 2024, Ron DeSantis. Or, DeSantis was just having a little fun.
When we say Don't Tread on Florida... we mean that, including on your gas stoves! You're not taking our gas stoves away from us!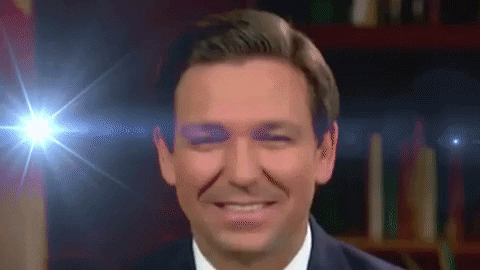 Corporate media would prefer to pretend the whole ordeal is misinformation. Axios, citing "officials," claim the ban is unfounded. But those silly conservatives are getting all culture war'y about it anyway. The media is doing actual gaslighting on a gas stove issue.
I wish I could take credit for that pun. If you are reading this and are the first person to use "gaslighting" in reference to this story, please take a bow.
Follow along, because I notice a familiar pattern.
Conservatives react to something that is in the "legitimate" media. It was Bloomberg, not the Liberty Eagle Freedom MAGA Gazette, that first reported about a potential gas stove ban. Like Axios, we're told to believe Bloomberg is legitimate media.
Leftists lash out and attempt to make the issue their own, attacking those silly anti-science rubes who don't realize that your gas stove could literally kill you and all your loved ones literally. This was done on CNN and by social media influencers like Rep. AOC.
The White House issued a denial once they received a negative response.
"Legitimate" media outlets like Axios act as if it's unfounded that conservatives wouldn't take the Biden Adminstration at their word. Also unfounded is the belief that if there is someone talking about this in the administration, there are enough people who think it's a good idea. And that Joe Biden will support whatever the people who run Joe Biden tell him to.
There is NO REASON to believe Democrats would sneak a gas stove regulation into larger, unrelated bills like it's a $600 Venmo tax. To say otherwise is misinformation.
Misinformation that was started by the media, who now claims you're the one spreading misinformation with your concern. You see how that works?
Editor's Note
LwC is on Substack now! Each day we overwhelm your brains with the content you've come to love from the Louder with Crowder Dot Com website.. but algorithms hide our ranting and raving as best they can. The best way to stick it to Big Tech? Subscribe to For the Content!
CNN Host's DELUSIONAL Perception Of Texas | Louder With Crowderyoutu.be