This 2022 Elon Musk tweet about cocaine is the second most-liked tweet of all-time
December 30, 2022
Elon Musk tweeted about cocaine in April. And out of every tweet ever, it is the second most liked tweet of all time. A better way to say farewell to 2022 could not be conceived.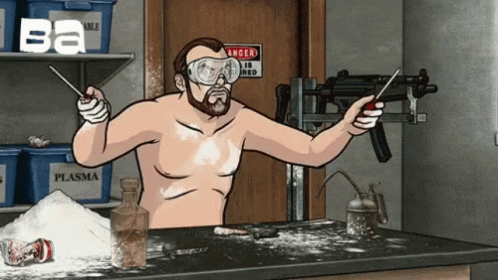 Discovering this starts with the drama between Andrew Tate and Greta Thunberg. If you care to get into the weeds of it or care who either person is, pursue this at your leisure. The bullet points are that Tate tried to flex on Greta about how many cars he owned. Greta made him look silly in her tweet response. Tate overreacted. He was eating pizza from a Romanian pizza chain. Romanian police arrested Tate on charges of sex trafficking. Twitter thinks the pizza box tipped him off based on a single tweet by a woke activist claiming so. Also, because the whole ordeal is so silly, I don't think people are thinking too deeply about it.
Greta stans and Tate haters have been sharing this chart from WikiPedia showing them the most liked tweets of all time, highlighting the only joke Greta Thunberg has ever told in her life.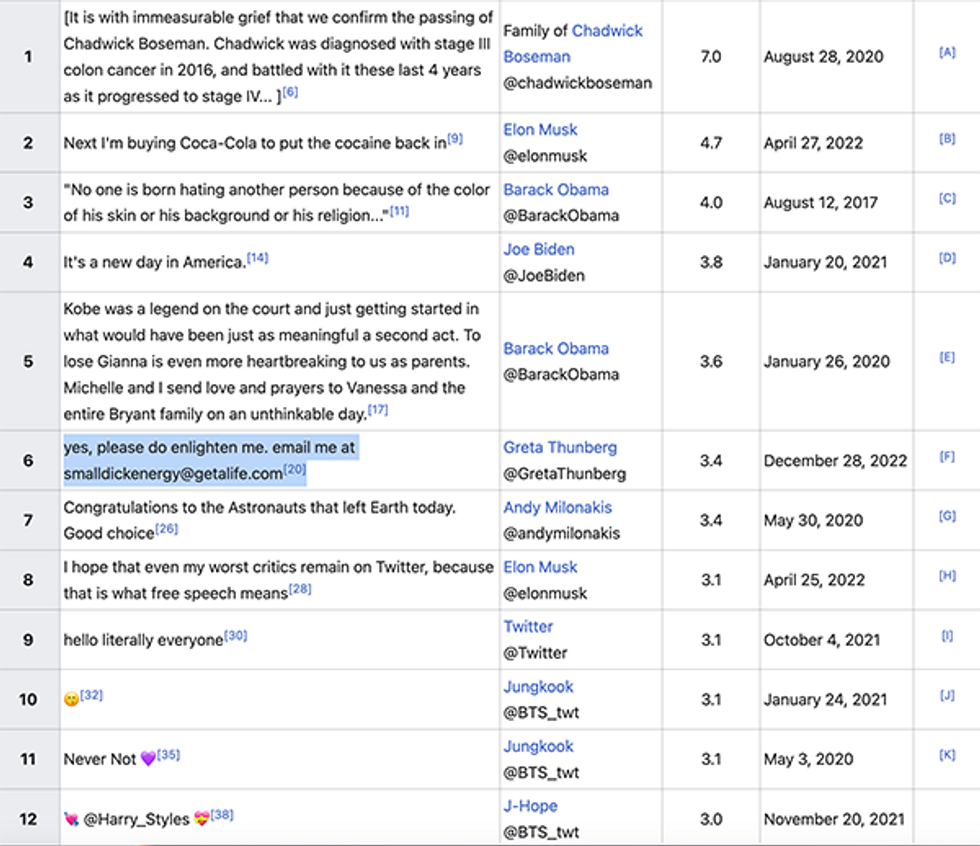 What I was more fascinated by is that out of all Elon Musk's tweets, all his memes, all his dunks, and all his viral communications to the Twitterverse, sandwiched between Chadwick Boseman and Barack Obama as the #2 most liked tweet of all time, was this one:
Next I'm buying Coca-Cola to put the cocaine back in
— Elon Musk (@elonmusk) April 28, 2022
Next I'm buying Coca-Cola to put the cocaine back in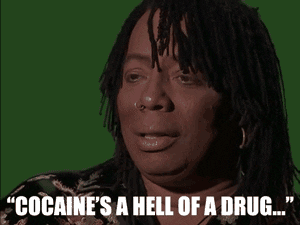 That's right, friends. Back in the day, Coke was made with coke. It wasn't just a clever name. There was a more classic version than Coca-Cola Classic! And over 4.7 million Twitter users like the idea of going back to the good old days. Or, they may not like the idea as much as they like the smell.
200,000,000,000 tweets per year, and the second most liked of all time is Elon's joke about riding white lines. At least I think it's a joke. We all thought his buying Twitter at one point was a joke too.
And apropos of nothing, what's with k-cup band BTS having THREE tweets in the Top 12 that's just them tweeting emojis? No one should have that much power.
Editor's Note
LwC is on Substack now! Each day we overwhelm your brains with the content you've come to love from the Louder with Crowder Dot Com website.. but algorithms hide our ranting and raving as best they can. The best way to stick it to Big Tech? Subscribe to For the Content!
Crowder's World Cup HOT Take! | Louder With Crowderyoutu.be