Each day we overwhelm your brains with the content you've come to love from the Louder with Crowder Dot Com website.
But Facebook is...you know, Facebook. Their algorithm hides our ranting and raving as best it can. The best way to stick it to Zuckerface?
Sign up for the LWC News Blast! Get your favorite right-wing commentary delivered directly to your inbox!
Conservative congressman warns Joe Rogan's California friends to keep their progressive BS out of Texas
August 22, 2023
VOTE IN THE LWC 2024 GOP STRAW POLL! CLICK HERE!
Joe Rogan was the highest profile person to leave California during the lockdowns. Once Gavin Newsom went full commie, Rogan went to Texas where they still value freedom. With the concern of more lockdowns coming, more people may be getting ready to leave their progressive-run state once leaders ignore science and data in favor of politics and "the science." It's a good time to remind of everyone of Rep. Wesley Hunt's warning.
When Hunt was just a candidate in 2020 (and a part of the greatest campaign ad ever), he paid a visit to Joe's first gingivitis-colored Austin studios. Seriously, what the deuce was up with those walls? Heed what Wesley had to say. Don't turn your new home into what you fled.
"Come one come all. Give me your tired, your poor. Come to Texas," says Hunt. "But you got to understand. something. You're coming here because of low taxes and low regulation, and you want to live your life in liberty and make sure that you can protect0 yourself and protect your family. That means you have to vote a certain way. That's why we kind of are Texas."
He adds, "I understand people have different views and whatnot. But you're here for a reason."
Hunt's point is important not just for Californians, but for everyone who lives in blue states. New York is a prime example.
New Yorkers continue to vote for politicians who raise their taxes and make living here unaffordable. New Yorkers decided they don't want high taxes and an unaffordable standard of living, so they flee to states like Florida and North Carolina, where they continue to vote for people who raise taxes and make living unaffordable.
The social issues are a con, a way for Democrats to convince you that a vote for anyone besides a Democrat is a vote for "hate," when a vote for a Democrat is really a vote to let them take more of your money and make it harder for someone to thrive without the government. Like Rogan said, "What is [California] going to do with that [higher taxes]? F*ck it up worse?"
Rogan by all accounts has been heeding Hunt's warning since this interview. The podcaster says now "Keep Austin weird... and surrounded" by all the rural areas to make sure the blue state imports don't f*ck it up.
Hunt was elected to Congress in 2022 and become one of our top conservative leaders. Also, if you'll allow me to culturally appropriate urban vernacular, my man always looks fresh to death. I know the media expects us to believe John Fetterman is "redefining" fashion in Congress. But c'mon now.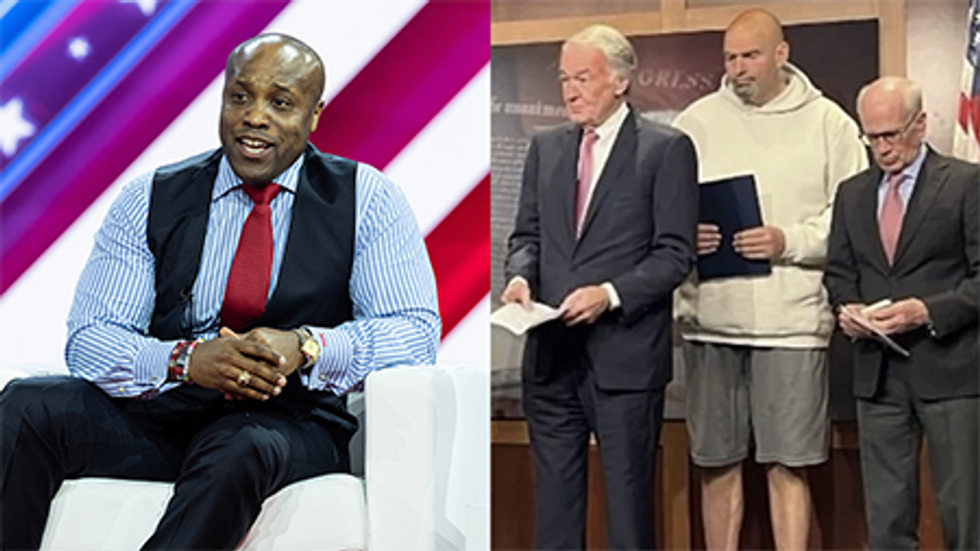 Not even close.
><><><><><><
Brodigan is Grand Poobah of this here website and when he isn't writing words about things enjoys day drinking, pro-wrestling, and country music. You can find him on the Twitter too.
Facebook doesn't want you reading this post or any others lately. Their algorithm hides our stories and shenanigans as best it can. The best way to stick it to Zuckerface? Sign up for our DAILY EMAIL BLASTS! They can't stop us from delivering our content straight to your inbox. Yet.