Each day we overwhelm your brains with the content you've come to love from the Louder with Crowder Dot Com website.
But Facebook is...you know, Facebook. Their algorithm hides our ranting and raving as best it can. The best way to stick it to Zuckerface?
Sign up for the LWC News Blast! Get your favorite right-wing commentary delivered directly to your inbox!
AOC Tried Dunking on GOP By Suggesting a New Mascot, but Her Idea Is AWESOME
August 25, 2020
Sometimes I read a Congresswoman AOC tweet and am not sure if she's really as dense as advertised, if she's trying too hard to be funny, or if I just have a fever and the only cure is more clickbait. I'm sure it's a combination of all three (see AOC JUST CHALLENGED TRUMP TO A FIGHT AND WE'RE HERE FOR IT and AOC SAYS THE WORKING CLASS DOESN'T NEED BILLIONAIRES). But today's tweet is extra.
She started off with the boring criticisms: GOP has no ideas, relying on fear and lies, etc. She could have very well been watching a replay of the DNC convention and got confused. But then she tries to make a joke about our mascot being an elephant. She wants to steal the elephant for the socialists, let the not-as-socialist Democrats keep the donkey, and then had a new idea for what the GOP should have represent them instead.
Here is my new mascot proposal:

Progressives take elephants from Republicans, bc they are compassionate, empathetic creatures w nuanced social structures.

General Dems can keep Donkeys if desired - we can unite under that tent.

Republicans are Honey Badgers
— Alexandria Ocasio-Cortez (@AOC) August 25, 2020
Personally, I always hated the elephant. It's fat, wrinkly, and ugly. It's like having your political party's mascot be Lena Dunham. But the honey badger? Honey badgers are the bad@$es of the animal world. The honey badger would be an amazing mascot for the GOP.
Like, do you even internet, bro?
The Crazy Nastyass Honey Badger (original narration by Randall)youtu.be
AOC actually thinks we'd be outraged that she suggested THIS as our new mascot.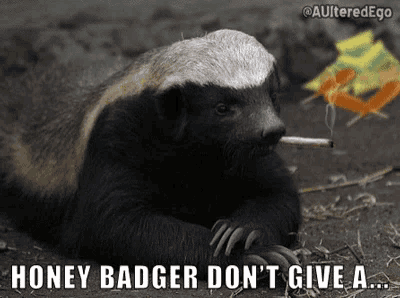 Someone get the the GOP chairwoman on the phone. I know we just decided that our party platform is whatever Donald Trump says it is that week, but we might still have time. Call the committee people to order. Send a motion to the floor, lay on the table, do whatever mundane Robert's Rules of Order junk you gotta.
But before Donald Trump speaks Thursday night, I want the honey badger to be the new mascot of the GOP! Especially when, if you really think about it, Donald Trump is in fact the honey badger of politicians.
LIVE From Ground Zero: Elijah Schaffer Talks Being At Gunpoint During Riot | Good Morning #MugClubyoutu.be
Not subscribed to the podcast?Fix that! It's completely free.