Each day we overwhelm your brains with the content you've come to love from the Louder with Crowder Dot Com website.
But Facebook is...you know, Facebook. Their algorithm hides our ranting and raving as best it can. The best way to stick it to Zuckerface?
Sign up for the LWC News Blast! Get your favorite right-wing commentary delivered directly to your inbox!
'Times Have Changed': Weird Al Yankovic Gets Canceled by Woke Reviewer Over... January 6?
July 18, 2022
It takes a special kind of insufferable to attack and politicize Weird Al Yankovic. Yet this person pulled it off.
Yankovic brought his The Unfortunate Return of the Ridiculously Self-Indulgent, Ill-Advised Vanity Tour to Madison, Wisconsin. Weird Al is playing his original deep cuts more so than his popular parodies, and it gave the world's most insufferable music reviewer an existential breakdown. Not because she missed the parodies. But because with January 6, the Buffalo shooting, Charlottesville, and everything else bad in the world, Weird Al isn't doing enough to read the room.
Too many of his songs--his COMEDY songs--focus on the "extreme" "anger" and "resentment" of a young man. "I couldn't help feeling that culturally, we — as a nation — have crossed some kind of line recently. After one mass shooting or another, or after the Charlottesville Unite the Right Rally, or on January 6, 2021, or during the pandemic, when circumstances forced a re-evaluation of a lot of things."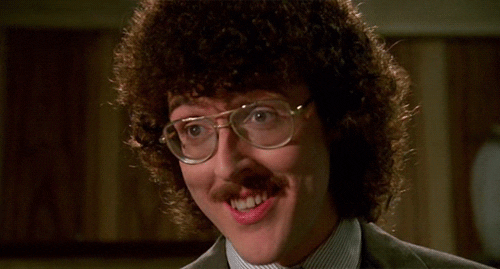 One example she gives is the song "Melanie," where the protagonist in the song is spying on a woman who won't go out with him. So, he shaved a mohawk into her cat.
"Is it funny that he gave 'a Mohawk to [her] cat'? Maybe it was in 1988, when it was released."
No, it's still funny now. Cats are funny. Weird Al is a comedian. This reviewer needs a nap. She was so upset that Weird Al entertained his audience, it ruined the encore sing-a-long of "Yoda." A Star Wars parody of The Knicks "Lola." Unlike the Disney parodies of Star Wars, "Lola" is charming and intentionally funny.
"I don't know if Yankovic senses that times have changed; after all, these songs were all in the same setlist.
I will accept no slander of Weird Al. His was one of the first albums I chose. In 1983, we were all assigned a copy of Michael Jackson's "Thriller." But as an end-of-school-year present, I chose Weird Al... in 3D, and Van Halen's 1984. Dare I say, both have made me what I'm today.
It's bad enough that people want to interject politics into all aspects of art. And think that if an artist just wants to entertain their fans that there is something wrong with the artist. This reviewer was cranky because a satirist isn't as miserable as she is. It takes a vivid imagination to find political excuses to attack Weird Al.
Yankovic should clap back with a polka parody. Or he can not care and focus on the one thing he has for the past few decades. Making people happy.
><><><><><><
Brodigan is Grand Poobah of this here website and when he isn't writing words about things enjoys day drinking, pro-wrestling, and country music. You can find him on the Twitter too.
Facebook doesn't want you reading this post or any others lately. Their algorithm hides our stories and shenanigans as best it can. The best way to stick it to Zuckerface? Sign up for our DAILY EMAIL BLASTS! They can't stop us from delivering our content straight to your inbox. Yet.