Each day we overwhelm your brains with the content you've come to love from the Louder with Crowder Dot Com website.
But Facebook is...you know, Facebook. Their algorithm hides our ranting and raving as best it can. The best way to stick it to Zuckerface?
Sign up for the LWC News Blast! Get your favorite right-wing commentary delivered directly to your inbox!
International
Ukrainians Are Shrink-Wrapping Looters to Electric Poles, Sometimes ... Without Their Pants
March 02, 2022
Yes, we know the deal. No one knows what is real and what is misinformation coming out of Ukraine. For more on that, Stephen Miller's "The Social Media War" is excellent. We here at the Louder with Crowder Dot Com website can either bring you the content of Ukrainians shrink-wrapping alleged looters to electric polls, or we can not do that. We always vote for the content. If you're worried about reading "propaganda," just occasionally throw the word "allegedly" into these sentences.
While men are taking up arms and grandmothers are making bombs, some in Ukraine have been looting. As we've seen in this country, sometimes people use chaos as an excuse to steal things. Unlike in this country, where excuses are made for the looting, Ukrainian looters find themselves wrapped around metal poles and shamed. (h/t Not the Bee, one of my favorite sites)
Since the person who tweeted the photo doesn't understand how the crop feature on their iPhone works: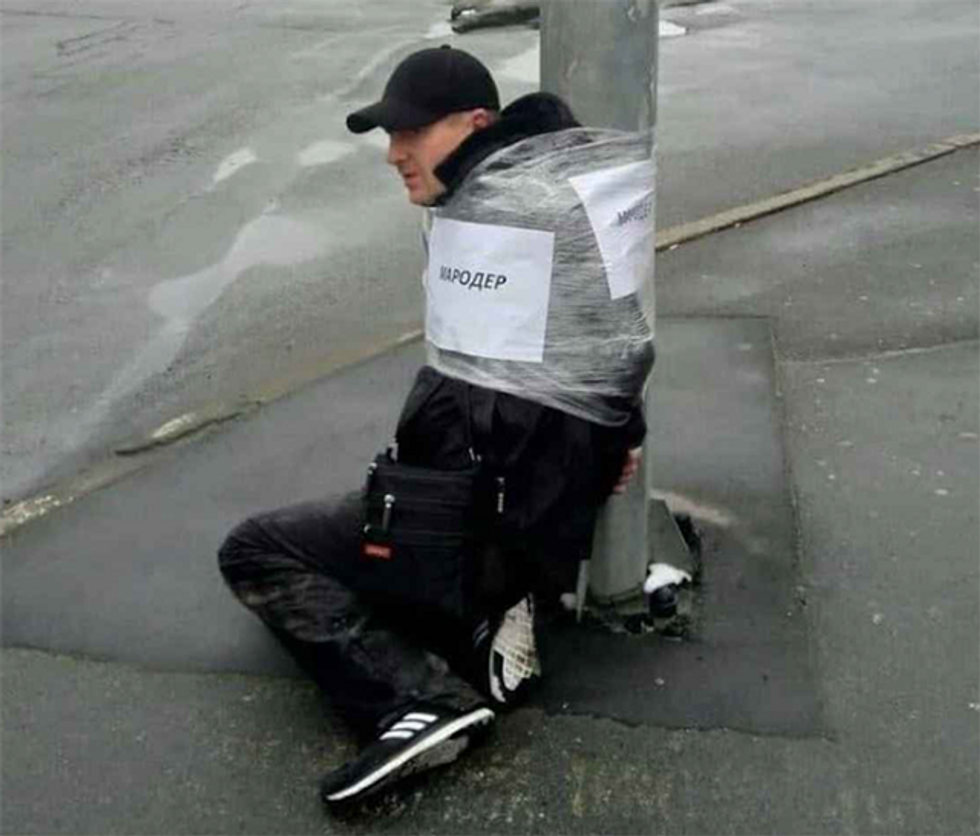 Occasionally, the looter will have their pants removed. Because when you are taking advantage of the start of World War III to steal while your fellow countrymen fight, sometimes being wrapped in cellophane like you were just purchased from eBay isn't embarrassing enough.
This one had his pants pulled down and then taped in the freezing cold

Ok so you don't want to pick up a gun and fight for your country like most Ukrainians but don't go on looting homes and businesses. pic.twitter.com/CDp8gDDJm0
— Billy Boston Strong 🌊 🌊 🌊 💉3, Stand with 🇺🇦 (@BillyBostonStr) March 2, 2022
Here's another where the locals caught the looter and tied him to a, quote, "pillar of shame". Also, no pants.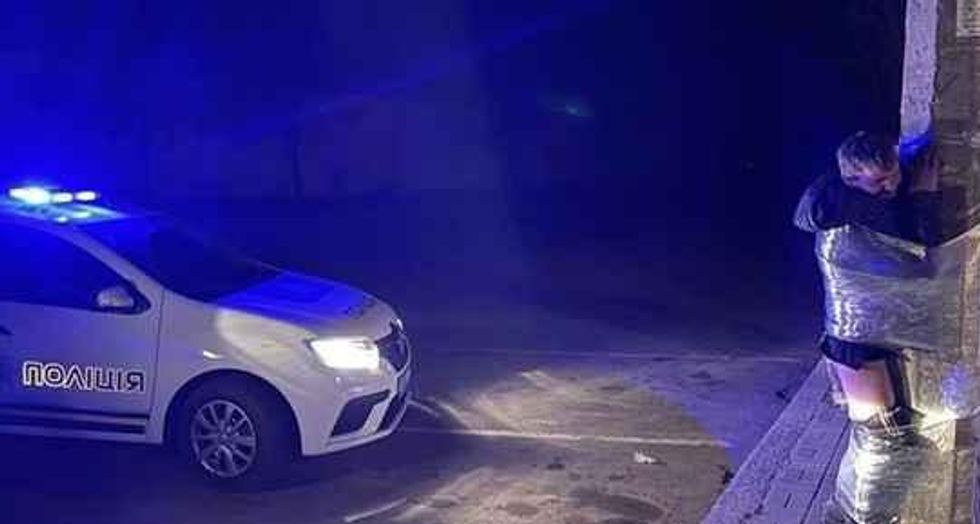 Okay, the no-pants thing is a little weird. But taking matters into your own hands against these hoodlums and nogoodniks gets a thumbs up.
What is most excellent about looter-shaming is that, thanks to Elon Musk, Ukraine has internet again. After a long day of defending your homeland, you can relax on social media and laugh at these nincompoops. Old women are telling Russian soldiers where to stick their rifles. These idiots are robbing stores. Shame away!
The Louder with Crowder Dot Com Website is on Instagram now!Follow us at @lwcnewswire and tell a friend!
SOTU Wrap Up & Roast! Nancy Pelosi Is On Drugs! | Louder With Crowderyoutu.be