Each day we overwhelm your brains with the content you've come to love from the Louder with Crowder Dot Com website.
But Facebook is...you know, Facebook. Their algorithm hides our ranting and raving as best it can. The best way to stick it to Zuckerface?
Sign up for the LWC News Blast! Get your favorite right-wing commentary delivered directly to your inbox!
Massive amount of Americans turn AGAINST allowing trans athletes to compete against real girls: poll
June 12, 2023
The day after LGBTQI2+ forced Joe Biden to raise their flag on the White House as if they are a conquering country, a new poll shows the Democrat party is on the wrong side of history. A massive amount of Americans have turned against the Biden agenda to force girls to compete against boys in sports if those boys say they are girls. AKa, transgender.
According to Gallup, 69%...
...say transgender athletes should only be allowed to compete on sports teams that match the gender they were born with. And in the case of a lot of boys turned girls in high school, the gender they already went through puberty and had a mediocre sports career with. It's a 15-point swing from 2021.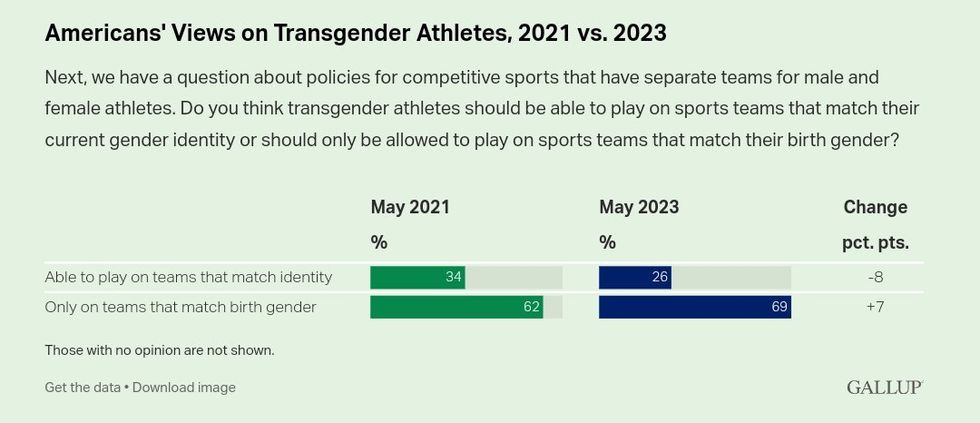 Even Democrats went from 55% in 2021 saying boys should compete against girls to now only 47%, while 48% OF DEMOCRATS say it's unfair.
You're free to fill in the blanks as to what you think changed. But for me, it was Lia Thomas. Prior to mid male swimmer Will Thomas transitioning into female NCAA champion Lia, all of these stories were local and scattered. Lia made it national. Now people were saying, "Wait, that girl was a dude, and she...I mean he...I mean...them, are destroying the other girls? That doesn't seem fair."
A national audience got to witness firsthand how EXTREME the pro-trans/anti-girl left had gotten. Lia's teammate Paula Scanlan says she and the other girl were made clear by THEIR SCHOOL "if you speak up about it, your life will be over in some way, you'll be blasted all over the internet as a 'transphobe,' […] you'll never be able to get a job."
Opponent Riley Gaines TESTIFIED BEFORE CONGRESS that she (as a student) approached officials (who were grown adults) that she and the other girls didn't think it was right for certain "girls" to be allowed to walk around the girls' lockerroom with their dicks hanging out. She was told it wasn't a girls' locker room anymore and was now Co-Ed. That was the "workaround."
And this was before all the major injuries, like the girl volleyball player who suffered a concussion when a boy who claimed to be a girl spiked the ball in her face.
Normal Americans know all of this is wrong. A small number of radical progressives enjoy seeing boys take opportunities from girls if those boys now claim to be girls. The rub is that small number of radical progressives run the White House and make up a vast majority of media and academia.
><><><><><><
Brodigan is Grand Poobah of this here website and when he isn't writing words about things enjoys day drinking, pro-wrestling, and country music. You can find him on the Twitter too.
Facebook doesn't want you reading this post or any others lately. Their algorithm hides our stories and shenanigans as best it can. The best way to stick it to Zuckerface? Sign up for our DAILY EMAIL BLASTS! They can't stop us from delivering our content straight to your inbox. Yet.