Each day we overwhelm your brains with the content you've come to love from the Louder with Crowder Dot Com website.
But Facebook is...you know, Facebook. Their algorithm hides our ranting and raving as best it can. The best way to stick it to Zuckerface?
Sign up for the LWC News Blast! Get your favorite right-wing commentary delivered directly to your inbox!
Fastest girl in Connecticut suing state after losing to trans runners: "Two athletes took so many opportunities"
June 01, 2023
Chelsea Mitchell, the self-professed "fastest girl in Connecticut" wound up losing more than 20 races in High School when Connecticut state law allowed mediocre male runners to compete against girls if those boys decided they identified as girls. Mitchell is suing the state to get the law changed to allow other female athletes the opportunity to perform on a level playing field.
The lawsuit was filed in 2020. It's getting revisited thanks to a new interview with Mitchell from the New York Post. As an example of how much more ridiculous the issue has gotten, in three years since we now have 27-year-old "women" stealing opportunities from 13-year-old girls and bragging about it.
It was during Mitchell's first statewide track meet as a high school sophomore that she discovered boys could compete against girls if those boys said they were girls. First and second place that year were taken by two of those girls who were born boys.
It was just obvious to everyone there that they had a huge advantage. Everyone could see it.
Chelsea ran in the 55-meter dash. The boys' record for it is 6.26. The girls' record is a 6.77, which wouldn't rank her in the top ten for boys'. Though if you need more of a visual aid, this is the thumbnail for our 2020 post when the lawsuit was first filed. The two ladies on the left did well that year.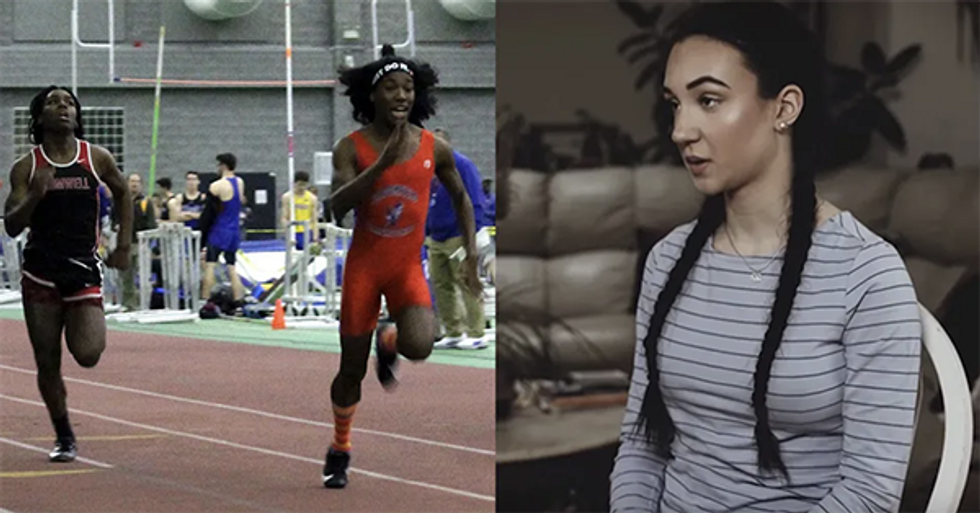 Mitchell goes on to tell The Post:
Just two athletes took so many opportunities away from biological females. Even though there were only two of them, they took 15 state championships away from other girls — and there were 85 girls that were directly impacted from them being in the races.
Mitchell attempted to share her story in 2021 in USA Today. Activists forced the paper to edit her OpEd because she referred to males as "male."
.@USATODAY published our client Chelsea Mitchell's opinion about the unfairness she experienced being forced to compete against male athletes. But after backlash from the woke mob, editors unilaterally changed Chelsea's words & called them "hurtful language." 1/3 pic.twitter.com/tAtzrZgPzt
— Christiana (Holcomb) Kiefer (@ChristianaADF) May 26, 2021
Mitchell now wants to help other girls, especially now that the issue has gotten a lot worse. In 2020, this happened under a Republican president who should have taken the issue seriously. Now under Democrat president Joe Biden, they want to change the rules to allow MORE boys who claim to be girls to compete against girls. Effectively robbing these girls of so many opportunities to learn, grow, and develop through sports. The same opportunities WIll Thomas was afforded before he transitioned to Lia and went from being a mediocre male swimmer to an NCAA champion female swimmer.
A three-judge panel of the Second Circuit ruled against Mitchell's case in December. On June 6th, the argument is being reheard before the full Second Circuit Court of Appeals in New York City. I'm afraid the words "New York City" gives away the eventual outcome. But maybe the three-judge panel will vote to be on the right side of history instead.
><><><><><><
Brodigan is Grand Poobah of this here website and when he isn't writing words about things enjoys day drinking, pro-wrestling, and country music. You can find him on the Twitter too.
Facebook doesn't want you reading this post or any others lately. Their algorithm hides our stories and shenanigans as best it can. The best way to stick it to Zuckerface? Sign up for our DAILY EMAIL BLASTS! They can't stop us from delivering our content straight to your inbox. Yet.