Each day we overwhelm your brains with the content you've come to love from the Louder with Crowder Dot Com website.
But Facebook is...you know, Facebook. Their algorithm hides our ranting and raving as best it can. The best way to stick it to Zuckerface?
Sign up for the LWC News Blast! Get your favorite right-wing commentary delivered directly to your inbox!
Articles
Top Five Reasons We NEED the Electoral College
March 19, 2019
Remember this? Elizabeth Warren recently pandered to the dumbest common denominator. In addition to making my ears bleed with her college admissions scandal screeching, Warren dropped this little number about wanting to scalp the Electoral College:
Every vote matters. We need to get rid of the Electoral College so that presidential candidates have to ask every A… https://t.co/CrmpJ9YbtK

— Elizabeth Warren (@Elizabeth Warren) 1552962336.0
Hating on the Electoral College is popular... if your party lost the election. I'm noticing that no Democrat bothered hating on the Electoral College during the 2008 and 2012 elections. But since they got scuppered by Trump in 2016, now suddenly it's time to nix it.
Here's a handy list of the top five reasons doing away with the electoral college is a bad idea.
REASON 1: Democrats are selfish asshats
Democrats just want to change the rules because tossing the Electoral College would help them. Or so they tell us with their transparent headlines. Compare these two articles from Slate, one from 2012, one from 2016. See anything that concerns you?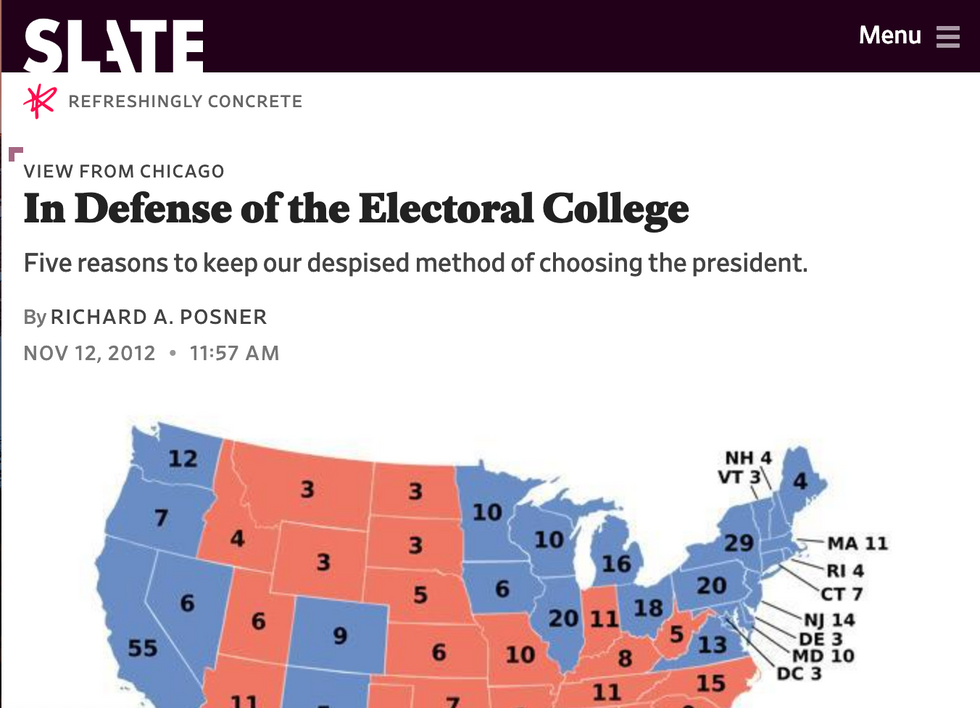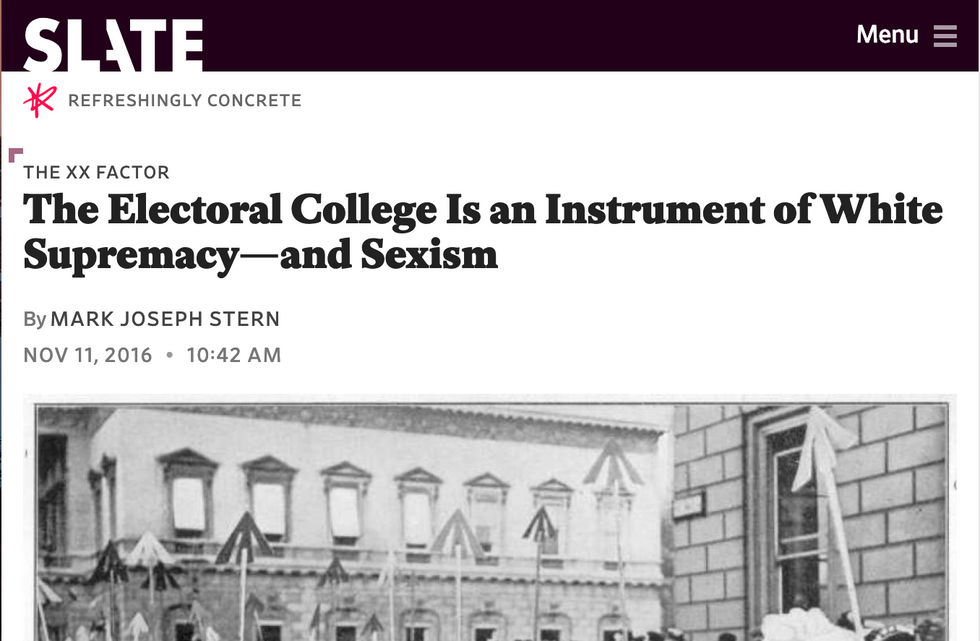 REASON 2: That "Constitution" thing
The Founders intended for the Electoral College to act the exact way the Electoral College acts: to ensure a president is elected by a diverse group of voters, from all over the country, not just the most populated states. Otherwise California and New York would determine who was president every single election. That hardly seems fair, no?
Supreme Court justices aren't voted on by the general populace, either. Every state gets two senators regardless of population. These aren't undemocratic; these are safeguards to protect Americans, to decentralize power of government.
Also America isn't a pure democracy. It is a Democratic Republic. We elect people to represent us. So everyone can stop calling America a democracy now.
REASON 3: Regional interests
Democrats are always yammering about "Making every vote count." Fine. But if you really want every vote to count, abolishing the Electoral College is the exact opposite of making every vote count.
That's not an accident on the Democrats's part, by the way. Slight of hand.
Without the Electoral College, the concerns of low population states go out the window, as made in the point above. Presidential candidates wouldn't bother with Wyoming or Nebraska, or what matters to the people who live in Wyoming or Nebraska, instead they'd focus their efforts and campaign promises on states like Florida or Texas.
Abolishing the electoral college would put all the power in the opinions of people in densely populated urban areas. Do you want people in San Francisco, who keep electing Nancy Pelosi, who ban straws but have heroin injection sites, determining who leads the country every four years? Think about it before you answer.
REASON 4: Elections decided by the House
People who want to abolish the Electoral College generally don't think things through. But hey, that's the Democrat way. There's a difference between plurality and majority of a vote.
If neither candidate receives a majority of electoral college votes, then the decision goes to the House. If we abolish the electoral college and go with the majority popular vote, suddenly we have a problem.
What problem? Glad you asked. About a third of U.S. elections didn't have a candidate who received the majority of the popular vote. Seems like a significant number to me.
Had we not had an electoral college, the House of Representatives, which now includes both Nancy Pelosi and Alexandria Ocasio-Cortez, picks the president. Does that sound like "every vote counting"?
Now throw in all those snobs who clammer for a third party because it makes them sound fair and equitable over wine and brie. A third party would almost certainly leave election decisions to the House.
REASON 5: Swing states are transient. Large cities aren't.
I've touched on this point already, but it bears repeating for the snobs in the back, pandering to the dumbest among us. Were we to nix the Electoral College, candidates would only need to make a few of pit stops. San Francisco, LA, New York. Because those are big cities and will remain so, always.
But swing states are not constant. Swing states change all the time. Remember, history actually begins long before you started paying attention to politics. There was a time when California voted Republican, when Texas voted Democrat. Ohio wasn't always a swing state, nor was Florida. In fact I'd say Texas is coming up for swing vote status in a few years, if not next election cycle.
Ask Hillary Clinton if she has any regrets about skipping campaign states.
So the question is, who do you want determining elections? A mixed nation of people, from Iowa, New Jersey, Tennessee and Oregon? Or just people in major cities like Los Angeles, New York, and Chicago? The same cities with a disproportionate amount of crime?
The "Let's throw out the Electoral College" is a political game. Usually played after a side has lost. It's one party wanting to take their ball and go home, but peeing in the sandbox before they go. The Electoral College always determines a winner and a loser, so of course the loser is always upset. But the winner is actually the American people who get a shot at representation, and not being outgunned by the mob rule of more populated states.
Electoral College: the fair way to make every vote counts.
NOT SUBSCRIBED TO THE PODCAST? FIX THAT! IT'S COMPLETELY FREE ON BOTH ITUNES HERE AND SOUNDCLOUD HERE.