Each day we overwhelm your brains with the content you've come to love from the Louder with Crowder Dot Com website.
But Facebook is...you know, Facebook. Their algorithm hides our ranting and raving as best it can. The best way to stick it to Zuckerface?
Sign up for the LWC News Blast! Get your favorite right-wing commentary delivered directly to your inbox!
Bodycam footage may FINALLY reveal identity of that motherf*cker who is not real: "What is assault mean?"
August 26, 2023
VOTE IN THE LWC 2024 GOP STRAW POLL! CLICK HERE!
July is a slow month here at the Louder with Crowder Dot Com website. The show goes on hiatus and we get left to our own devices. So when a smokeshow had a meltdown on a plane screaming "that motherf*cker is not real," We the Content were grateful. We've learned a lot since that first post. Her name is Tiffany. She's from the DFW area. And she is fiiiiiiiiine!
The one thing missing... who was the not real motherf*cker? The story is that she got into a fight with her family over AirPods. That's an odd thing to yell at your cousin who, presumably, you would know is real. All those cameras on the flight, and no one thought to zoom in on who she was screaming at... until now!
An eagle-eyed TikTokker reviewed the bodycam footage. And THIS is the guy Gomas was sitting next to.
"What is assault mean?"
According to this alleged person's story, he was sitting next to Tiffany on the plane and she shoved him for whatever reason. Her being on the phone might explain the family part of it. They weren't ON the plane and the dispute took place over the phone. Then, and this me doing my best Sherlock impersonation, Gomas lost her AirPods and started to have a nutty.
And then she pointed to this guy?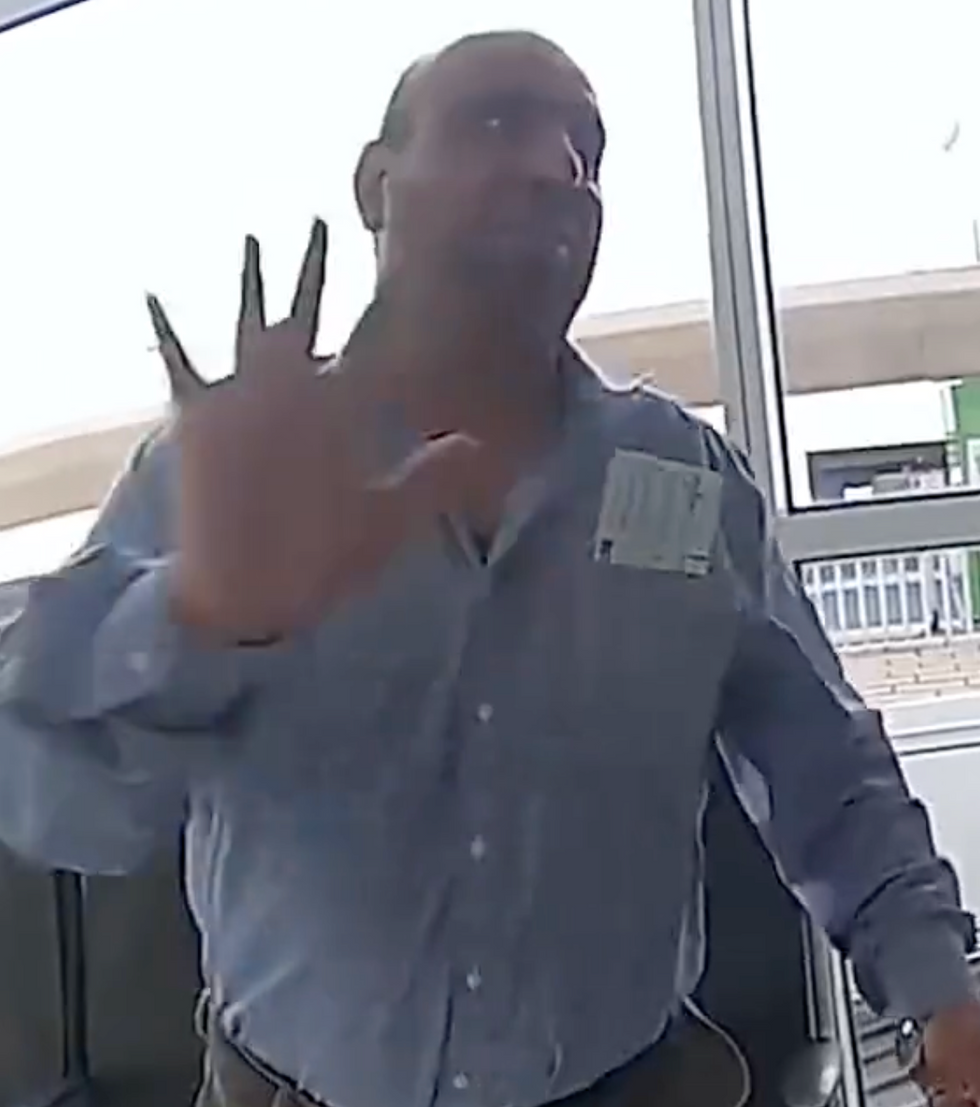 I'm just sayin'... if I were a demon, shapeshifter, ghost, lizard person, or any other kind of motherf*cker who was not real, and I wanted to blend in inconspicuously, this is the form I would take. Buttondown and khakis. Immigrant with somewhat broken English acting like he doesn't fully understand the police officer. And notice how quick he was to get back on the plane: "Okay, now I'll board my flight."
Tiffany Gomas KNEW something, and her meltdown foiled the not-real motherf*cker's plan. She knew if the plane took off, it wasn't going to reach its destination. And I quote: "And you can sit on this plane and you can f*cking die with them or not."
The demon/shapeshifter/ghost/lizard person's plan was foiled. His cover was blown. Because Gomas was willing to take one for the team and go viral looking like a crazy person, she saved an entire flight full of people.
People need to be thanking Tiffany for her heroism. They are alive because of her.
><><><><><><
Brodigan is Grand Poobah of this here website and when he isn't writing words about things enjoys day drinking, pro-wrestling, and country music. You can find him on the Twitter too.
Facebook doesn't want you reading this post or any others lately. Their algorithm hides our stories and shenanigans as best it can. The best way to stick it to Zuckerface? Sign up for our DAILY EMAIL BLASTS! They can't stop us from delivering our content straight to your inbox. Yet.