Each day we overwhelm your brains with the content you've come to love from the Louder with Crowder Dot Com website.
But Facebook is...you know, Facebook. Their algorithm hides our ranting and raving as best it can. The best way to stick it to Zuckerface?
Sign up for the LWC News Blast! Get your favorite right-wing commentary delivered directly to your inbox!
For the Content
Watch: Woman has all-time airplane freak out, demands to be let off because a fellow passenger is, quote, "not real"
July 04, 2023
Editor's Note: Carrot Top has since deleted all his tweets and IG posts about the incident because... I don't know. Reasons?
It's been a minute since we had a good airplane freakout, and this is an excellent return to the genre. One that has racked up over eight million views on TikTok, and that's not even from the original user who uploaded it.
Some crazy dame started screaming "I'm telling you I'm getting the f*ck off, and there's a reason why I'm getting the f*ck off."
Everyone can either believe it or they can not believe it. I don't give two f*cks. But I am telling you right now, that motherf*cker back there is not real. And you can sit on this plane and you can f*cking die with them or not. I'm not going to.
A report on Whiskey Riff says the original video was uploaded by the person on the plane who filmed it. That person's video appears to be taken down now. The woman wasn't arrested, even though she caused a three-hour delay and everyone was forced to deplane.
One of the other passengers? Comedian Carrot Top. Just because obviously.
I give this content a 7/10. It's missing a follow-up on who this dingbat was talking about. "That motherf*cker is not real." What motherf*cker is she talking about? The cameraman could have zoomed in because I'm sure it was the passenger making this motion: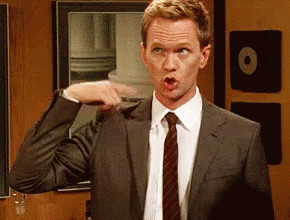 Also, when she says "not real," does she mean an android? A figment of her imagination? Or was the other passenger dishonest and not being "real" with her? She looks kinda basic. The type of woman who has posted on at least one occasion that if you aren't there for her at her worst, you don't deserve her at her best. Spoiler: Those broads never have a best. And they are the kind who would cause a three-hour delay over an argument.
However, if I were to guess, I agree with the consensus from the comments. This is what happens when you have one too many edibles.
><><><><><><
Brodigan is Grand Poobah of this here website and when he isn't writing words about things enjoys day drinking, pro-wrestling, and country music. You can find him on the Twitter too.
Facebook doesn't want you reading this post or any others lately. Their algorithm hides our stories and shenanigans as best it can. The best way to stick it to Zuckerface? Sign up for our DAILY EMAIL BLASTS! They can't stop us from delivering our content straight to your inbox. Yet.