Each day we overwhelm your brains with the content you've come to love from the Louder with Crowder Dot Com website.
But Facebook is...you know, Facebook. Their algorithm hides our ranting and raving as best it can. The best way to stick it to Zuckerface?
Sign up for the LWC News Blast! Get your favorite right-wing commentary delivered directly to your inbox!
Featured
SHOW NOTES: Vaccine Facts. Watch This While You Can ...
April 14, 2021
The CDC announced it is pausing one of the vaccines due to "blood clots." Which is funny, since YouTube blocks any video that brings up "blood clots." What's up with that? And we know all the riots can blend together, but we'll have the latest on both Derek Chauvin and Daunte Wright. And we're going to spend quite a bit of time on the real, overlooked victim today: Jacob Blake's sexually abused wife. Remember her? You will.
VACCINE FACTS: Watch This While You Can... | Louder with Crowderyoutu.be
ORWELLIAN VACCINE CENSORSHIP

Over the past month, the Astra-Zeneca vaccine has been halted or limited in over a dozen countries because of blood clots.

As of March 22, European regulators were notified of 86 cases, 18 of which were fatal. SOURCE: NYT
British health officials claimed the risk of clotting outweighs vaccine benefits only for people under 30.

AstraZeneca isn't currently authorized for use in the United States.

Despite this valid, scientific research, social media platforms have been removing posts that allege complications from the COVID vaccine. SOURCES: YouTube, Twitter, Patreon, Facebook
How much farther is this going to go? We've reached the point where you can be silenced for even expressing concern about a novel, experimental vaccine or for presenting scientific evidence that contradicts the mainstream media, Big Tech narrative. This is a suppression of science.
JACOB BLAKE
Last night, Kenosha Officer Rusten Sheskey returned from administrative leave after the police department determined he acted within policy while attempting to arrest Jacob Blake.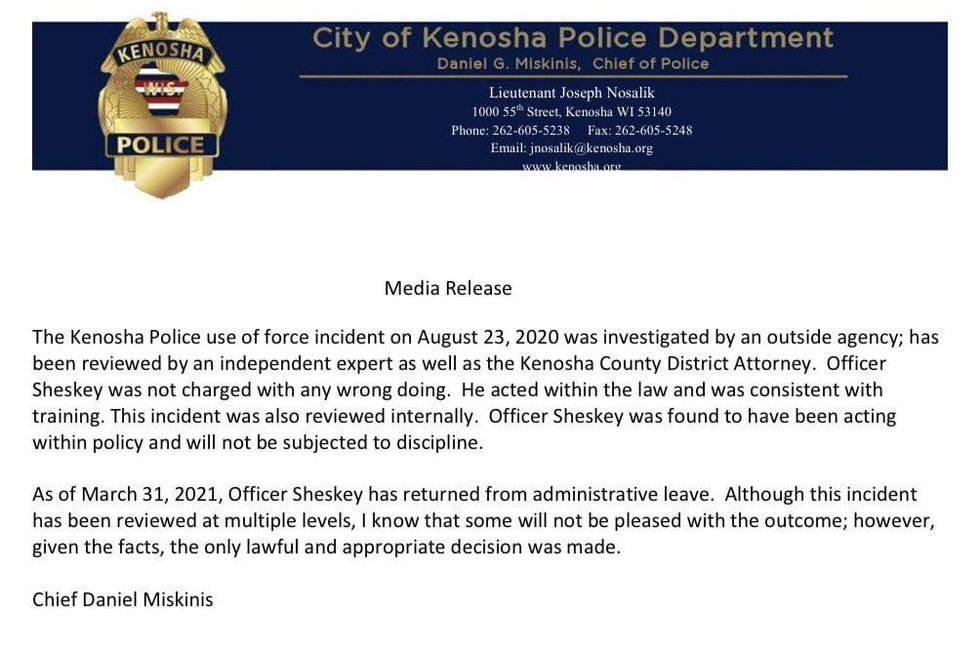 Recap:

Blake had a warrant for his arrest for felony sexual assault.
He allegedly broke into the house of the mother of his children, sexually assaulted her, and took her car.
The cops were called in August because Blake returned to her house and took her keys.
And there was a knife on the floor of the car Blake was reaching for.
Blake avoided the sexual assault charge by pleading down to two counts of disorderly conduct in November.
DEREK CHAUVIN TRIAL
Use-of-force expert Barry Brodd testified that Chauvin was justified in his restraint of George Floyd. SOURCE: CBS News
Chauvin's defense attorney questioned cardiologist Dr. Rich on what would have happened if Floyd had just gotten in the car. SOURCE: Twitter
DAUNTE WRIGHT UPDATES
On Monday, the Brooklyn Center Police Department released the body cam footage from the arrest of Daunte Wright. SOURCE: KARE11
The mayor of Brooklyn Center held a press conference yesterday to discuss these new developments. SOURCE: Global Source
Get your content free from Big Tech's filter. Bookmark this website and sign up for our newsletter!