Each day we overwhelm your brains with the content you've come to love from the Louder with Crowder Dot Com website.
But Facebook is...you know, Facebook. Their algorithm hides our ranting and raving as best it can. The best way to stick it to Zuckerface?
Sign up for the LWC News Blast! Get your favorite right-wing commentary delivered directly to your inbox!
Featured
SHOW NOTES: Kyle Rittenhouse Trial Closing Arguments!
November 15, 2021
Closing arguments in the Kyle Rittenhouse trial start today. The media have already shown they won't report the FACTS of the trial, so we're doing it for them.
LIVESTREAM: Kyle Rittenhouse Trial Closing Arguments! | Louder with Crowderyoutu.be
CLICK HERE FOR OUR RITTENHOUSE SOURCES AS WELL AS OUR COVERAGE OF THE TRIAL
YOUTUBE BANS DISLIKE BUTTON
Last week, YouTube announced they will be removing the dislike count. SOURCE: YouTube

The button will still be available, but the count will no longer be displayed.
YouTube says this is meant to protect smaller creators.

The most disliked video of all time is...YouTube's own video, "YouTube Rewind 2018: Everyone Controls Rewind." SOURCE: Uproxx
TWITTER CENSORSHIP
Last week, I tweeted about the Kyle Rittenhouse case, writing: SOURCE: Twitter

"If you accuse Kyle Rittenhouse of 'faking tears' from being forced to relive the trauma of having to shoot violent, armed child-rapists and arsonists, but claim PTSD from being called the wrong pronouns… you might be an asshole."

And I stand by that. But Big Tech had a problem with it!

Trump lawyer Jenna Ellis tweeted a screenshot showing Facebook suspended her for 24 hours for sharing my tweet. Facebook claimed the post encouraged terrorism. SOURCE: Twitter
And I actually got an email from a fan who replied to my tweet. His account was suspended for writing:

"#KyleRittenhouse is a f----ing hero and should be suing the living pants off #Facebook #GoFundMe #Twitter #TYT #CNN #MSNBC etc…"
"Imagine the headline 'Young man risks life to protect neighboring community is assaulted thrice'"
"Let's go Brandon"
"HRC Redrums prosecution"

Twitter said this violated their policy against "glorifying violence."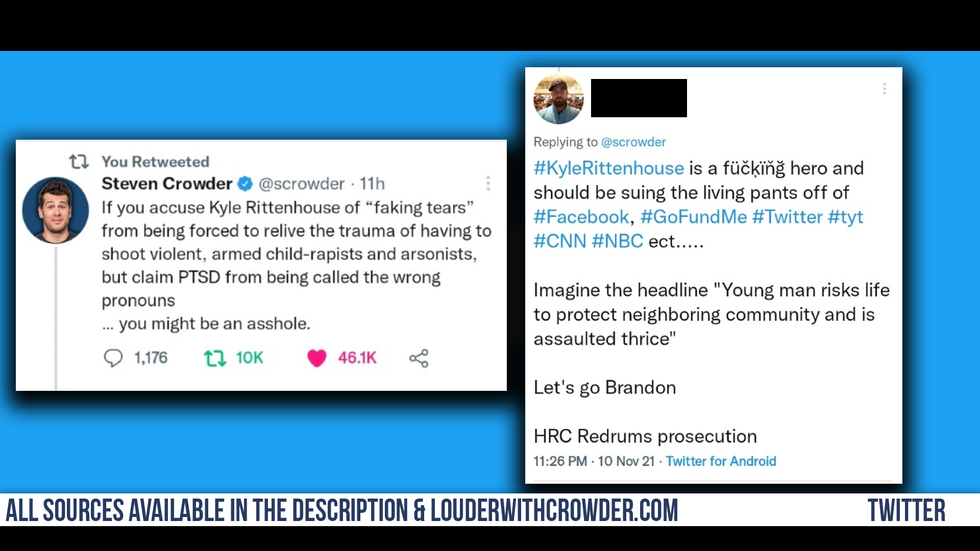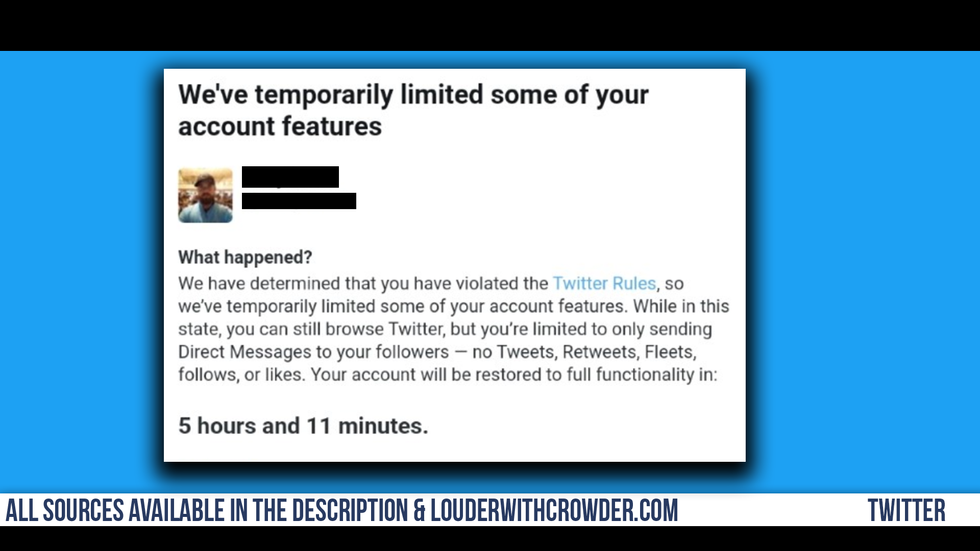 MISCELLANEOUS
Get your content free from Big Tech's filter. Bookmark this website and sign up for our newsletter!