Each day we overwhelm your brains with the content you've come to love from the Louder with Crowder Dot Com website.
But Facebook is...you know, Facebook. Their algorithm hides our ranting and raving as best it can. The best way to stick it to Zuckerface?
Sign up for the LWC News Blast! Get your favorite right-wing commentary delivered directly to your inbox!
Featured
SHOW NOTES: APOLOGIZE FOR WHAT?! Media Matters Cancel Culture EXPOSED!
April 06, 2021
Demonetized on YouTube. Silenced on social media. But today, we're taking on the cancelers themselves, the DNC's wingman: Media Matters. Join us in the fight to expose these leftist propagandists and redeem every conservative name they've dragged through the mud.
APOLOGIZE FOR WHAT?! Media Matters Cancel Culture EXPOSED! | Louder with Crowderyoutu.be
LET'S DEFINE CANCEL CULTURE
It's not just offensive jokes. It's not JUST opinions that are not even allowed to be expressed in media or on any of the Big Tech platforms today. It's not JUST that even some opinions that are permissible are only permissible provided the person expressing them is the right race, gender, orientation, or BMI index. It's the totality of said ever-changing rules, seemingly without rhyme or reason, designed to change at a moment's notice in order to box in our speech and separate us from each other. Let's go through it.
JOKES
Once upon a time, people could tell these things, which were referred to in their layman nomenclature as "jokes." This was part of a broader umbrella of entertainment and more importantly human interaction known as "humor." The following are simply examples of third-rail topics of discussion or even JOKES that may in and of themselves not directly violate Big Tech policies but will result in the "cancel" mob exerting pressure demanding the removal of your job, social standing, and otherwise any ability to maintain a livelihood for you and your family.

RACE: Can't make jokes about race, with the EXCEPTIONS that follow:

Said person telling a joke is a member of that specific race, PROVIDED THAT ...
Said person of said race has the right opinion as the member of said race (for example, Candace Owens or the Hodgetwins can't make black jokes, even though they are black, because of their political persuasions) or
In some cases, jokes about other ethnicities are permissible provided that you are a member of an even more CURRENTLY marginalized minority. For example: Until recently, black people making jokes about Asian people was permissible until the rise in hate crimes against said community, largely stemming from those in the black community.

LGBTQAAIP: Can't make jokes about the LGBTQAAIP community, lest you be accused of transphobia, homophobia, or xenophobia. It should be noted that this supersedes rule #1, again, provided that the current news cycle has presented said group as the more marginalized class. For reference, see Dave Chappelle's jokes about the "alphabet community." SOURCE: TheWrap

GENDER: Men cannot make jokes about women lest you be accused of sexism. It is now recommended that you refrain from even using the terms man or woman as modern gender theory has stated that sex is biological while gender is a societal construct and exists on an endless, ever-expanding spectrum. You know, like the universe. Sex and gender are no longer considered separate in all circles of LGBTQAAIP "thought" as now, biological terms are considered increasingly offensive as seen by introductions of the terms "natal male" and "natal female" to replace offensive terminology such as "biological male or female." SOURCE: Trans Parenting

WEIGHT: You're not allowed to make jokes about the morbidly obese even if said land whales are openly advocating for dangerous and unhealthy lifestyles, which fly in opposition to the entirety of human medical and scientific literature on the issue of obesity and long-term health outcomes or all-cause mortality, lest you be considered "fat-phobic."

ISLAM: This one is interesting because I'm not just talking about how a DRAWING of the prophet Muhammad itself will result in the call for your immediate execution from members of the religion of peace, but even more disturbingly, rather than standing up for the freedom of speech and the foundation of Western civilization, we see terrorism's woke allies calling for the immediate firing and public admonishment of anyone who even dares to broach the topic.
FORBIDDEN OPINIONS
But it's not JUST the topics that are off-limits for mere comedy or playful banter. The following are examples of ACTUAL OPINIONS that are officially declared impermissible by all major social media platforms that control over 90% of all digital human interactions.
COVID POLICY SKEPTICISM: According to YouTube, Twitter, and Facebook, you are not allowed to express opinions that run contrary to the World Health Organization's narrative on COVID or CURRENT CDC guidelines. This will result in immediate removal of content, even if it directly agrees with their stance held four days ago. Now I'm not talking about conspiracy theories, or stating that COVID is a hoax or anything even close to that extreme.

I am saying that doctors have been removed for suggesting that the initial death rate projections of over 2.2 MILLION in the United States within the first six months alone were INCORRECT.

I'm talking about democratically elected officials being suspended for questioning the alliance of the WHO and its ties to China, refusal to acknowledge Taiwan's existence, or even providing reasoned presentations as to why lockdowns do far more harm than the virus itself.
I know some people will point to some examples of content like this right NOW still being available. But again, that doesn't change the POLICY, and historically, we have seen that once said content or content creator becomes large or influential enough, it will result in their removal.
ELECTION INTEGRITY: Again, this is the official policy of all major BigTech platforms. It is impermissible to express the OPINION, even if supported by data, precedent, and verifiable research, that election fraud could even TAKE PLACE on a large scale or that mere VOTING ANOMALIES could occur due to gaps in voter verification systems and oversight. This is a violation of policy and will result in immediate removal.
TRANSGENDER POLICY: Now this is not about the woke mob as addressed previously, but it is in fact a violation of POLICY to go against current transgender dogma and refer to someone by their biologically appropriate pronouns or even to suggest that untested, unfounded hormone blockers and chemical castration for children are dangerous. This can result in the content or creator being removed. This is considered attacking one for "immutable characteristics" or "denying the existence" of a transgender individual and could result in the immediate removal of said content.
ADD IT UP
Societally one can't make jokes about race, gender, LGBTQAAIP, Islam, or obesity, and on ground of POLICY, one cannot express opinions or present arguments in the face of alternative strategic COVID approaches, the review of election integrity or anomalies, or even the medical opinions shared by a huge percentage of doctors and hospitals on the medical dangers of gender reassignment outcomes or even policy.
Do you feel free?
EVERYTHING WRONG WITH MEDIA MATTERS
Founded in 2004 by David Brock, a former conservative turned radical leftist with the help of John Podesta's Center for American Progress. SOURCE: New York Times
Media Matters has an annual revenue of around $14M, with Brock paying himself a salary of $278,417 annually. SOURCE: Charity Navigator
How is that possible when Media Matters only got around 900K views in the ENTIRE month of February? SOURCE: SimilarWeb
See, that's because Media Matters, despite masquerading to many as a website, is not a for-profit entity.
It is registered with the IRS under the guise of being a nonpartisan, nonprofit 501(c)(3) charitable institution. SOURCE: National Review
Brock actually has an ARMY of these nonprofits including

A total of 7 non-profits: 3 super PACs, one 527 committee, one LLC, one joint fundraising committee, and one unregistered solicitor often working together under the same roof, sharing office space and resources. Many even use the same telephone number. SOURCE: The Citizens Audit
Some of these include:

American Bridge 21st Century, a Democratic-aligned super PAC that spent more than $50 million on ads opposing President Donald Trump in the 2020 election.
American Democracy Legal Fund, an organization that battles Republicans in court. In less than a year of operation, it filed fifteen complaints against Republicans and Conservative groups. SOURCE: InfluenceWatch
The Correct the Record super PAC that created the TrumpLeaks campaign, offering financial rewards to people who provided them with videos of Trump acting in a non-presidential manner.

According to Time magazine, Hillary Clinton called Brock after the election and suggested he find top-notch litigators to do pro bono work against Trump. SOURCE: Time
Brock also reportedly spent $200K on an unsuccessful effort to bring forward accusations of sexual misconduct against Trump before Election Day. SOURCE: New York Times

But they've also taken IN quite a bit of money from big Democrat hitters.
In August 2007, Hillary Clinton bragged about helping found Media Matters. SOURCE: YouTube
$1M from George Soros. SOURCE: Politico
Before getting its claws into Big Tech, Media Matters had been working with the elites in the mainstream media for years, with the stated mission being: "To work daily to notify activists, journalists, pundits, and the general public about instances of misinformation, providing them with the resources to rebut false claims and to take direct action against offending media institutions." SOURCE: MediaMatters
Jeff Reynolds wrote in his book, Behind the Curtain, the Media Matters team proactively contacts journalists, presenting themselves as a nonpartisan and nonprofit enterprise, offering to help them avoid pro-conservative bias in their reporting. The relationships they build help ensure the stories they want to push are propagated with a framing that suits them.
And the NYT has started outsourcing to Media Matters. SOURCE: Twitter
But NOW, that ELITE influence has extended to ALL of Big Tech behind the scenes. Media Matters founder David Brock has boasted of having access to raw data for Facebook, Twitter, and other social media platforms.
In the leaked "2020 Media Matters Plan" (a four-year plan, published in 2016) they also outlined their collaboration with Big Tech companies to advise on adjustments to their algorithms.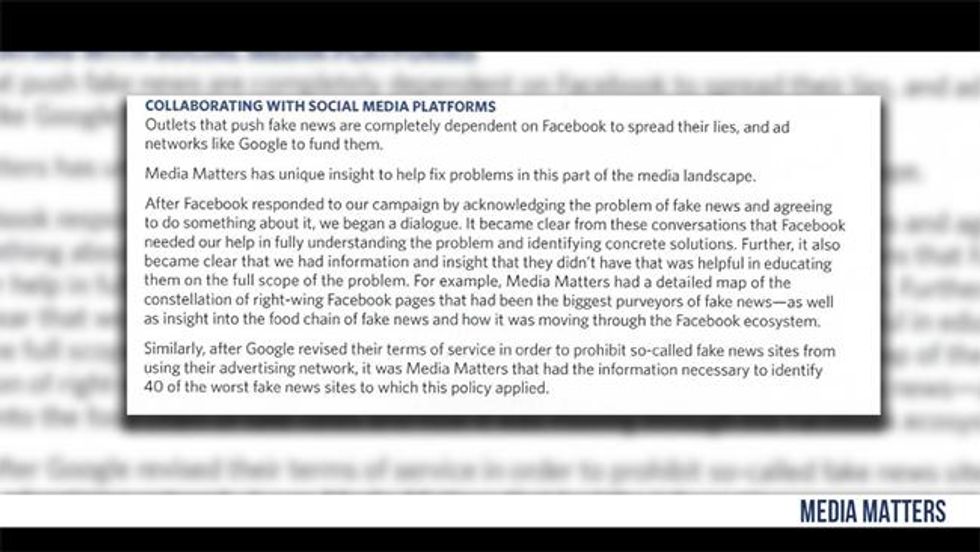 Here are the most absurd examples of people MM has tried to cancel.
SESAME STREET SKETCH
Media Matters called it "bigoted." SOURCE: MMFA
Now let's provide some context. I actually didn't mind the Sesame Street episode!
We were very clear in ensuring the disconnect between Black Lives Matter radicalism and the actual black community, whereas the left wants them to be inextricably linked, in order to forbid you to criticize Black Lives Matter. This is why we even added the BLM logo, wording, and giant black fist to the entirety of the sketch.
I hate that I have to do this, and I will NEVER do it again, because having to explain and fact-check jokes just destroys comedy and ruins fun for all, but contrary to what people like John Stossel think, that we just "shoot from the hip" here, not only do we provide our references for the entire public to see on LouderWithCrowder.com as it relates to very clear opinions, but we even take great care to ensure that our JOKES and sketches are based in verifiable reality, which we SHOULD NOT HAVE TO DO. Allow me to demonstrate.
"All athletics except swimming"
"Black Lives Matter burning cities down?" Where does that come from? $2 billion in damages. SOURCE: Axios
"Destruction of nuclear family" comes from the Black Lives Matter website. SOURCE: Archive
"Let's go hurt a Chinaman"

A 2008 San Francisco Police Department survey found 85% of physical assault crimes consisted of a black attacker and an Asian victim. SOURCE: SFGate
And at an NYPD press conference last week, the police showed photos of those arrested and asked for help identifying suspects in Anti-Asian hate crimes. Every suspect was ... not white. SOURCE: Twitter

So, you may not like it, you may not find it funny. But to suggest that pointing out the official stances, statements, and net result of the Black Lives Matter organization is "racist" means that YOU either:

A) Don't know anything about Black Lives Matter the organization
B) That you ... might be a little racist.

I won't demand an apology, but will recommend some strong self-reflection.