Mother Suing California School for Punishing First-Grade Daughter Over 'Any Lives' Matter Drawing
July 12, 2022
The incredible lengths the left will go to punish those who dare deviate from their preferred political agenda is extraordinary. In most cases, they're targeting adults, people who have the temerity to speak out, but in some cases, children manage to do something egregious, too, like draw a friggin' picture.
That's what Chelsea Boyle's daughter did at Viejo Elementary School in Mission Viejo, California. A RedState exclusive by Kira Davis reports, the first-grader--I'll repeat that for dramatic effect--the FIRST-GRADER drew a picture for her friend which included a handful of little faces colored in various colors and the phrase "Black Lives Mater [sic]." But she also included a little note that read, "any life." Someone call the Gestapo! We've got a kiddo here who thinks the lives of all her friends matter! How dare she cross the Black Lives Matter zealots!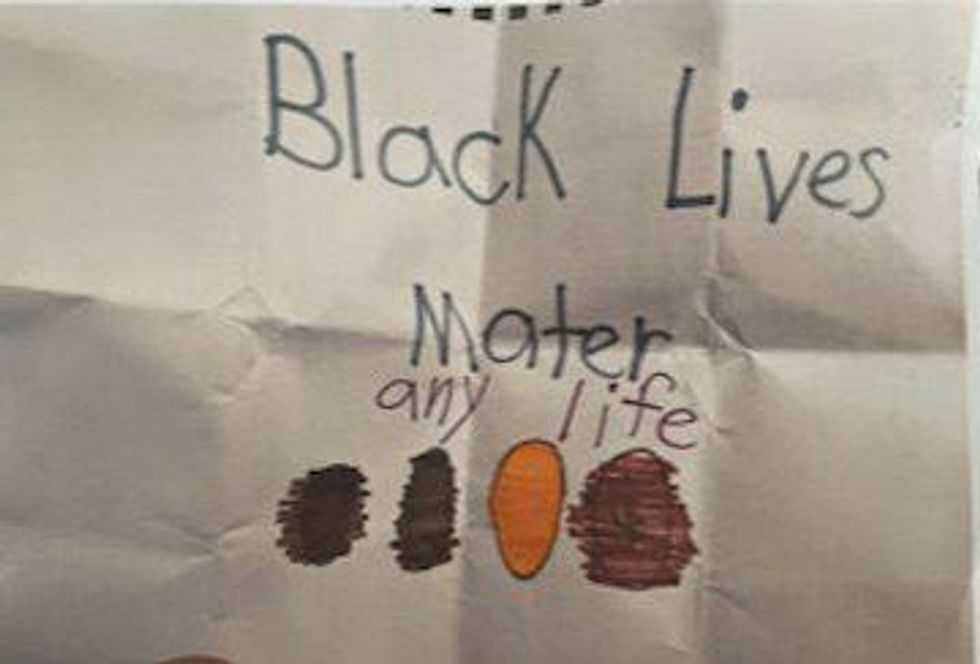 The picture was given to one of her friends who took the picture home, and it eventually landed in the hands of the child's parents. The parents, being good little idiots, complained! They reported the drawing to the school, calling it "offensive."
Let me just interject to say, if you're a parent and you find such a doodle offensive, you're the problem. There's no question about this: You are the bad person in this situation, not the kiddo, and you should be ashamed.
But the parent complained, and the school took action against the little girl. She was made to make a public apology to her classmates, barred from participating in recess for a certain period, and told she was to abstain from drawing any pictures for her friends. Can you imagine punishing a 7-year-old in such a way for drawing a picture?! This little girl is railroaded for doodling an innocent picture, but school boards can get away with peddling pornography and sexually explicit assignments and be applauded for it.
After seeking an apology from the school and ameliorative action from the school board--none of which was forthcoming--Ms. Boyle sought legal counsel and is now in the process of suing the school for the ridiculous treatment her daughter received at the hands of these politically motivated hacks.
"It's a compelled speech issue," said Boyle's lawyer, Alexander Haberbush of the LexRex Institute. "Obviously, compelled speech is one of the toughest tests that they have to meet, if they want to say that this is valid, 'we can do it.' We believe that there is no way that they can meet that standard, and we believe this is an egregious deprivation of her rights and that Chelsea should be vindicated."
Ms. Boyle and her daughter are suing, seeking formal apologies from all involved and a judgment from the courts to ensure this never happens to another child again. RedState reports that "while money is not a motivator, [the Lex Rex Institute] does occasionally seek damages and may choose to do so in this case."
The Louder with Crowder Dot Com Website is on Instagram now!Follow us at @lwcnewswire and tell a friend!
Everyone Is Tired of BLM's Racist, Marxist GARBAGE! | Louder With Crowderwww.youtube.com