School Board Spends $7M Meant for Disabled Preschoolers on CRT Training Instead: Report
January 10, 2022
In a move that should infuriate every rational American, and especially the citizens of North Carolina, the state school board voted on January 5 to approve spending $7 million to provide "Equity and Cultural Responsiveness in the Early Childhood Classroom," reports Luke Rosiak over at The Daily Wire.
"The money for handicapped preschoolers ultimately came from the federal Department of Education's Office of Special Education Programs. The grant went to the University of North Carolina Frank Porter Graham Child Development Institute."
A presentation provided to describe the focus of the contract describes several tenets of Critical Race Theory, an element of public education pedagogy that has become increasingly unpopular with parents over the past few years, so much so that parents have been lining up to tear school boards to shreds over it and other forms of radical politicization in the classroom.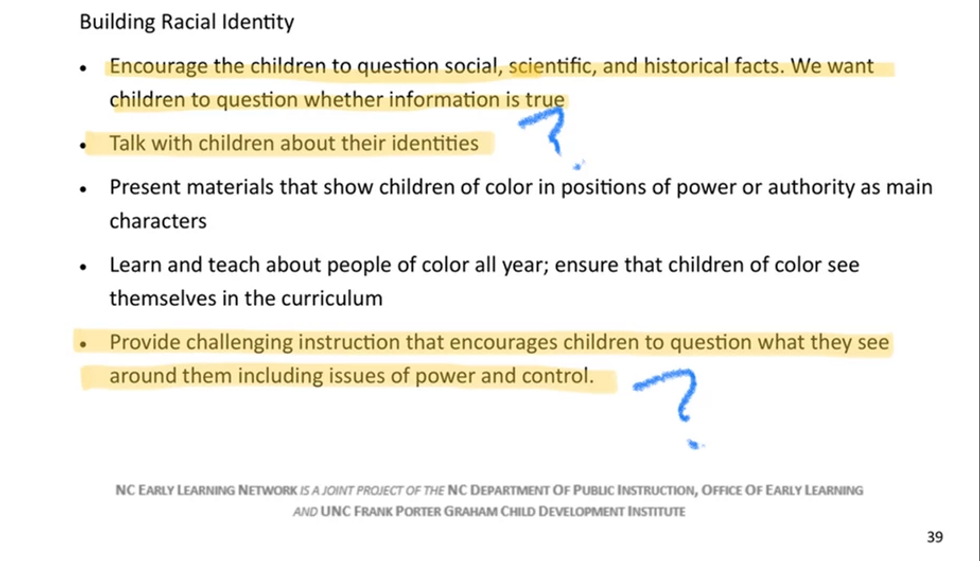 Deconstruction, identity politics, and Critical Race Theory are not just weaved throughout this program but are the entire program itself. The notion that preschoolers must be introduced to such inane, pernicious materials and messaging is beyond insane, but the left, secure in their control of the education system—regardless of whether they are in a red or blue state—flouts any sense of decency and or integrity to push their ideology down the throats of f*cking toddlers!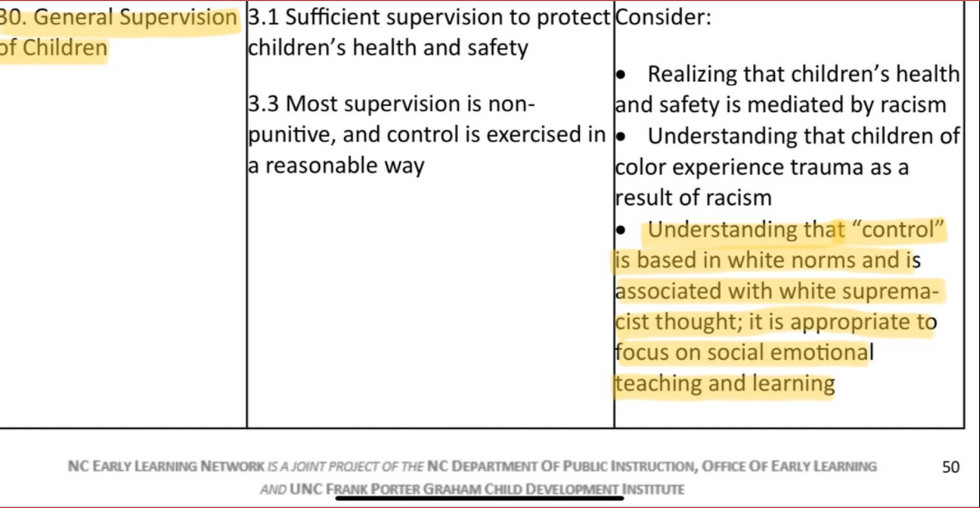 Control is based in white supremacy and white norms? We've heard that before. All of this is ludicrous! Just outrageous! And people shouldn't stand for it. Sloan Rachmuth, who heads up Education First Alliance isn't.
"Preying on disabled 3 year old children – getting them to participate in a political movement, and to hate themselves based on skin color in the process, shows our public schools to be more morally corrupt than all others"
And it most certainly is morally corrupt. In fact, I would go so far as to say those pushing this at all, but especially on such young children, lack any moral compass, whatsoever, and this is eminently clear as they attempt to cloak this immoral garbage with terms like "equity," a Marxist codeword used as a substitute for CRT.
North Carolina might be challenging Virginia for the title of worst public school board. But as I've said time and time again: the public schools are a lost cause. Save your children from them, now, before you lose them to the indoctrination of those who would call themselves educators.
Get your content free from Big Tech's filter. Bookmark this website and sign up for our newsletter!
I'm Coming Back With a Vengeance. Watch Out YouTube. See You Tuesdayyoutu.be