Each day we overwhelm your brains with the content you've come to love from the Louder with Crowder Dot Com website.
But Facebook is...you know, Facebook. Their algorithm hides our ranting and raving as best it can. The best way to stick it to Zuckerface?
Sign up for the LWC News Blast! Get your favorite right-wing commentary delivered directly to your inbox!
Comedy
Ricky Gervais Responds to Oscars as Only He Can, Sharing a Clip From 'The Office' Making Fun of Alopecia
March 30, 2022
Former awards show host Ricky Gervais has chimed in on the 2022 Oscars. To recap, Will Smith's wife has Alopecia. Chris Rock didn't know this and made a bald joke. Will Smith laughed, caught a look from his wife, decided it wasn't funny anymore, and assaulted Chris Rock on stage. Gervais is known for pissing people off. The idea of someone attacking him for it I'm sure gives him pause. While not addressing the incident directly, he did address the joke.
By sharing a clip from "The Office" that makes fun of Alopecia.
I don't even know the context. While the US version of "The Office" is sacred to us here at the Louder with Crowder Dot Com website, I never got into the UK version. The punchline works on its own.

"And she's got alopecia. So... not a happy home life."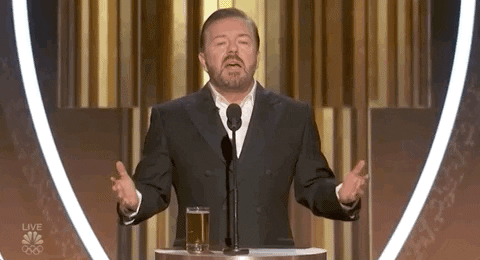 Thank you for coming. Try the veal. Make sure to binge-watch all three seasons of "After Life" on Netflix.
As a side note, I'm sure some of you are in the comments right now, upset that we're "letting ourselves get distracted by posting this crap" while we should be focusing on the fool in the White House. What the hell do you think I do for a living. There are five or six posts about Biden on the website this week, and it's only Wednesday.
It's okay to take a break to laugh once in a while. Everything will still suck, and the wheels will still be coming off the planet while we do.
The Louder with Crowder Dot Com Website is on Instagram now!Follow us at @lwcnewswire and tell a friend!
Norm Macdonald Tribute: The Funniest Man Who Ever Lived | Louder With Crowderyoutu.be