Each day we overwhelm your brains with the content you've come to love from the Louder with Crowder Dot Com website.
But Facebook is...you know, Facebook. Their algorithm hides our ranting and raving as best it can. The best way to stick it to Zuckerface?
Sign up for the LWC News Blast! Get your favorite right-wing commentary delivered directly to your inbox!
'How are they allowing this?' Patreon fires entire security team to protect 'Minor Attracted Persons'
September 14, 2022
First--and it pains me to do this--but I have to give a shoutout to the feminist site Reduxx for this story. A former member of the Patreon security team posted to Linked In looking for a new job. Why is this such a big deal? Well, because the company had fired its entire security team. That seems like a drastic move.

Patreon confirmed the move, saying to CyberScoop that "the changes made this week will have no impact on our ability to continue providing a secure and safe platform for our creators and patrons." Perhaps. There's little doubt Patreon wants to jeopardize the creators who are bringing in money. That being said, it would seem they don't care as much about how those creators are making their money. Namely, Patreon is allegedly turning a blind eye to people using the sexual abuse of children to make money while using their platform.
The recent sh*tcanning of the entire security team caused some raised eyebrows which in turn brought attention to a somewhat recent review on Glassdoor. The review states that the management of the company has directed employees "NOT to take down content that is illegal or was reported as sexual in nature involving minors unless the police make contact with legal or [the company] [has] an order by a court."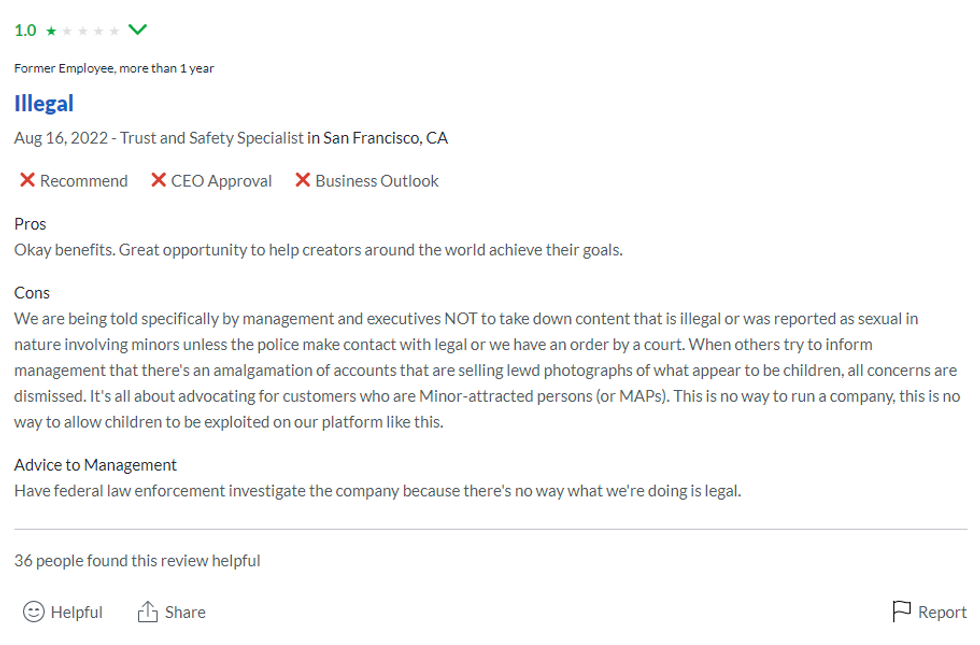 When others try to inform management that there's an amalgamation of accounts that are selling lewd photographs of what appear to be children, all concerns are dismissed. It's all about advocating for customers who are Minor-attracted persons.
This is horrifying and disgusting. But is it true? To take a review from an admitted former employee at face value would be a bad practice, but it looks like there's some evidence to support the accusation.
As it turns out, Sarah Adams, who posts videos to TikTok under the handle mom.uncharted, posted a video to the platform earlier this year bringing attention to this very issue.
This is beyond unconscionable.
So, Patreon has been allegedly enabling pedophiles and child abusers to make money off the sexual abuse and exploitation of children. Did they fire the security team because they were making noise about this?
We've reached out to Ms. Metcalfe (the security member who posted to Linked In), but haven't heard back just yet. When we do, I'll update this post.
This is something that requires more attention. Patreon needs to address this immediately, and law enforcement should get involved, like, yesterday. In truth, law enforcement should've been involved when this was first noticed.
The Louder with Crowder Dot Com Website is on Instagram now!Follow us at @lwcnewswire and tell a friend!
I'm a MAP | Humans of CIAwww.youtube.com