Each day we overwhelm your brains with the content you've come to love from the Louder with Crowder Dot Com website.
But Facebook is...you know, Facebook. Their algorithm hides our ranting and raving as best it can. The best way to stick it to Zuckerface?
Sign up for the LWC News Blast! Get your favorite right-wing commentary delivered directly to your inbox!
NBC News defends LGBTQ activists chanting "we're coming for your children," says they've been chanting it for years
June 28, 2023
At some point in recent history, media companies started hiring the dumbest social media associates. They always hired progressives. I don't think you can get a job in media today unless you hate the half the country that disagrees with you. But when it comes to the people who tweet for them, only the chuckleheadiest of progressives get the job. Exhibit Q is this NBC News tweet defending LGBTQ activists chanting "we're coming for your children."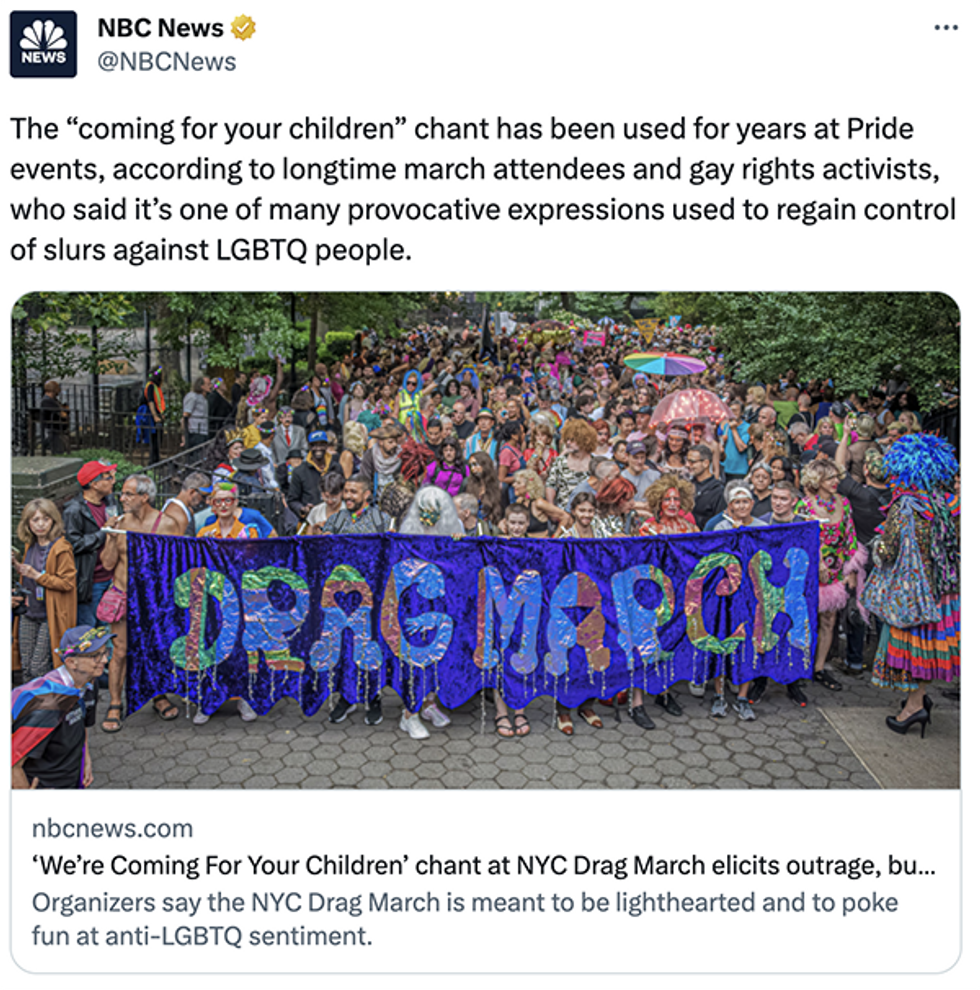 Over the weekend at a drag march in New York City (of course), the marchers were chanting "we're here, we're queer, and we're coming for your children." It was an odd chant because I thought, per the shrill harpies from The View, drag queens don't like children.
Political observers believe the marchers were speaking out against common sense "leave our kids alone" laws where some states are restricting children from being allowed to watch raunchy sex shows. Our corporate journalismers keep creating content that claims these normal states are trying to outlaw "drag." 8 out of 10 of these corporate journalisming content creators also believe it's illegal to scream "GAY" in a crowded Florida movie theater.
Conservatives and the normal parts of America between New York City and California were bothered by this viral video since, you know, they said they were coming after our children. As is the case, NBC News created content NOT about the chant but about conservatives reacting to the chant. It falls under the "Republicans seize" genre. The story is never about the bad thing that liberals do. The story is always about how conservatives react to the bad things liberals do.
In this case, NBC News journalismers came to the defense of leftists and other queens letting America know they are coming for our children by claiming the "we're coming for your children" chant is a popular one that has been going on for years. That's it. That's NBC News' defense.
And they did a sh*t job of making it, as you can see by the Community Notes on the tweet: The news articles provides no evidence of the "we're coming for your children" chant being done for years at pride nor does it quote specific individuals that make this claim. This is very irresponsible reporting.
My favorite part about this NBC News tweet? There will be a poll coming out that claims journalism is one of if not the least trusted institutions in America. No one working at NBC News will understand why.
><><><><><><
Brodigan is Grand Poobah of this here website and when he isn't writing words about things enjoys day drinking, pro-wrestling, and country music. You can find him on the Twitter too.
Facebook doesn't want you reading this post or any others lately. Their algorithm hides our stories and shenanigans as best it can. The best way to stick it to Zuckerface? Sign up for our DAILY EMAIL BLASTS! They can't stop us from delivering our content straight to your inbox. Yet.