Each day we overwhelm your brains with the content you've come to love from the Louder with Crowder Dot Com website.
But Facebook is...you know, Facebook. Their algorithm hides our ranting and raving as best it can. The best way to stick it to Zuckerface?
Sign up for the LWC News Blast! Get your favorite right-wing commentary delivered directly to your inbox!
Topless activists chant "we're coming for your children" at a drag march because it's not obvious enough
June 25, 2023
Progressives' two favorite groups -- drag queens and topless feminists -- came together in New York City over the weekend for the annual NYC Drag March. As part of the revelry, participants want you to know three things. The first is that they were here. The second is that they are queer. And the third, and perhaps most specific, is that they are in fact coming for our children.
Welcome to 2023. Where there are only five more days in June.
Quick thought on the topless aspect of it. I don't know if ruining t*tties for the rest of us is part of the plan. But if so, there is going to be a fight.
The marchers were speaking out against common sense "leave our kids alone" laws where some states are restricting children from being allowed to watch raunchy sex shows. Our corporate journalismers keep creating content that claims these normal states are trying to outlaw "drag." 8 out of 10 of these CNN content creators also believe it's illegal to scream "GAY" in a crowded Florida movie theater.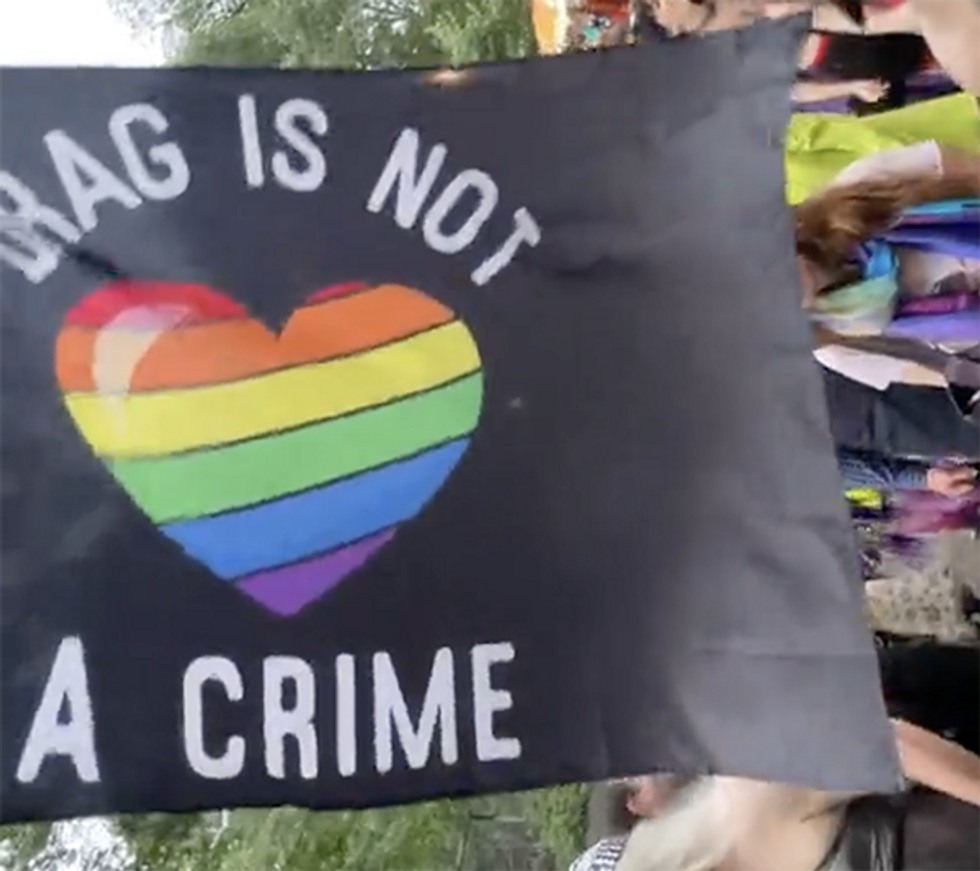 Drag is not a crime. Not unlike being a stripper and watching rated-R movies aren't crimes either. However, there are local ordinances in place preventing children from going.
I think the confusion comes from this being New York City, where if you are on the rainbow spectrum you are granted extra rights that other people do not get. In 2020, cisnormative people were forced to shut down their businesses, stay locked in their homes, keep their kids away from their friends, and only be allowed to leave their house if they wore three masks in the name of The Science. Ls, Gs, Bs, especially the Ts, and the whole gang was allowed to party in the streets and ignore The Science. Something similar occurred in San Francisco.
There are also different laws when it comes to PDA, or pubic display of affection. I as a straight man am not allowed to have a naked girl on a leash on the back of a truck and whip her buttcheeks as the truck drives past children watching a parade. I wouldn't do that even if I had the right, because I have morals and decency. But while me doing it in public with a girl is considered "inappropriate," two dudes doing it is called "equity.'
None of us here at the Louder with Crowder Dot Com website are able to figure out why people, who are attempting to push back against common-sense laws about limiting kids being exposed to sexual content, feel chanting "we're coming for your children" is helped to their cause. Unless, and we're just spitballing here, coming for our children IS the cause.
><><><><><><
Brodigan is Grand Poobah of this here website and when he isn't writing words about things enjoys day drinking, pro-wrestling, and country music. You can find him on the Twitter too.
Facebook doesn't want you reading this post or any others lately. Their algorithm hides our stories and shenanigans as best it can. The best way to stick it to Zuckerface? Sign up for our DAILY EMAIL BLASTS! They can't stop us from delivering our content straight to your inbox. Yet.