Each day we overwhelm your brains with the content you've come to love from the Louder with Crowder Dot Com website.
But Facebook is...you know, Facebook. Their algorithm hides our ranting and raving as best it can. The best way to stick it to Zuckerface?
Sign up for the LWC News Blast! Get your favorite right-wing commentary delivered directly to your inbox!
Watch: Protestors demanding forced masking assault lone man not wearing a mask
August 29, 2023
I know what you're thinking. "Brodigan, people are already freaking out over mere RUMORS of a new SCHMOVID?" No, these are people still freaking out over old SCHMOVID. In 2023. We are so far past fifteen days to flatten the curve, I'm too lazy to do the math. I think we're approaching a thousand.
Back in April -- again, it is 2023 now -- Vancouver British Columbia lifted its mask rules as the providence had only finally, quote, emerged from the schmandemic. Four months later, maskers protested outside of Health Minister Adrian Dix's office calling on the provincial government to "re-instate mandatory masking." Both in the name of public health and "basic moral outrage."
I'll leave you to determine if it was public health or basic moral outrage that led to protesters assaulting one counter-protester not wearing a mask.
SCHMOVID kills. Though, not as much as crack.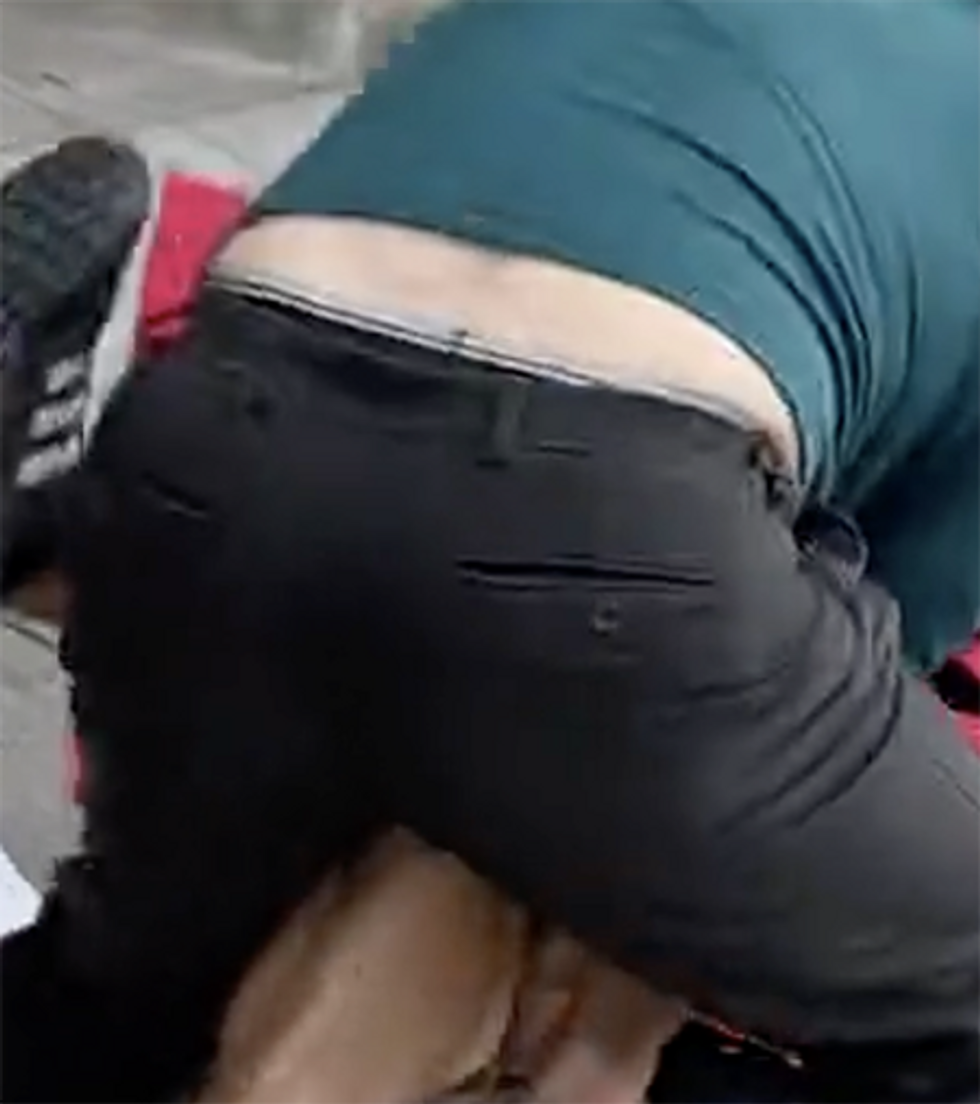 Whether or not you believe that governments are going to use new SCHMOVID to institute new more better lockdowns depends on how much tinfoil you have left to fashion into a scally cap. I'm torn. On one hand, I don't believe people learned their lesson the last time and will be quick to run back into a government-induced panic. Especially when I live in a blue state that doesn't believe in science as much as they do politics and how much money the teacher's unions give Democrats.
The flip side? Mask meltdowns were AMAZING content:
'I hope your kids die': Mask Karen makes little girl cry, doesn't think she's the *sshole here
'I'm Looking for Stuff in His Beard': Lady Tries Shaming Maskless Couple in Store, Shames Herself Instead
Here's a Crazy Masked Lady Screaming in a Little Girl's Face: 'I Hope You Die'
Masked Vaccinated Creeper Harasses Woman in Target. She Has None of It.
Joe Biden Masks Up for Zoom Call with 16 Other World Leaders. He's the Only One.
Is it worth plunging the world into chaos again just so content hustlers like myself can get easy pageviews? Who's to say what's "right" or "wrong" anymore?
><><><><><><
Brodigan is Grand Poobah of this here website and when he isn't writing words about things enjoys day drinking, pro-wrestling, and country music. You can find him on the Twitter too.
Facebook doesn't want you reading this post or any others lately. Their algorithm hides our stories and shenanigans as best it can. The best way to stick it to Zuckerface? Sign up for our DAILY EMAIL BLASTS! They can't stop us from delivering our content straight to your inbox. Yet.