Trudeau Tells Canadians They Have No Right to Use Guns for Self Defense: 'That Is Not a Right That You Have'
June 11, 2022
Gun control zealots tell gun rights activists we're paranoid about our God-given rights and a government chipping away at them. In response, we have Justin "I Feel Pretty" Trudeau, the Prime Minister of Canada who grants Canadians only the rights he lets them have. Only a few weeks ago, Canada's walking pile of soy and hair goop decided Canadians no longer had a right to own a handgun and that the government was going to make new definitions of what an "assault" weapon is.
That's because in Canada, not only do you not have rights, Trudeau flat out tells you you don't have rights.
"Guns can be used for hunting or for sports shooting [...] but you can't use a gun for self-protection in Canada. That is not a right that you have, either in the constitution on anywhere else. If you try and buy a gun, and you say it's for self-protection, no, you don't get that."
Trudeau then goes on to say that is the biggest cultural difference between Canada and America regarding guns. Americans feel we have a right to self-protection--because we have a right to self-protection--and that makes us in the wrong.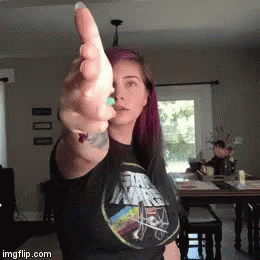 It is not paranoia to say that Joe Biden or the people who control Joe Biden would pull the same crap if we allowed it. This is the same Joe Biden who says on the regular that Americans don't "need handguns," even though "independent" "fact" checkers claim he doesn't want to ban handguns. Trudeau is who ultra-commie leftists in this country would be if they could get away with it. Exhibit Q is American governors holding joint press conferences with Trudeau and NOT the American president.
You can't call it paranoia to say the government is coming for our rights. Not when there are world leaders we share a continent with telling their citizens they don't have any.
The Louder with Crowder Dot Com Website is on Instagram now!Follow us at @lwcnewswire and tell a friend!
"Common Sense" Gun Reform?! | Louder With Crowderyoutu.be