Each day we overwhelm your brains with the content you've come to love from the Louder with Crowder Dot Com website.
But Facebook is...you know, Facebook. Their algorithm hides our ranting and raving as best it can. The best way to stick it to Zuckerface?
Sign up for the LWC News Blast! Get your favorite right-wing commentary delivered directly to your inbox!
crime
Elderly Bodega Employee Charged With Murder by NY DA After Defending Himself From Career Criminal
July 07, 2022
Progressive District Attorneys love criminals. Whether it's Chesa Boudin, George Gascon, or Alvin Bragg: They've decided to do whatever they can for crooks while the law-abiding people of their jurisdictions languish in a crime-infested sh*thole. In the case of Alvin Bragg in Manhattan, he's chosen to charge Jose Alba, a 62-year-old bodega employee, with murder after he defended himself from a career criminal last week. (h/t Daily Mail)
Alba stabbed Austin Simon, who had been thrown in jail numerous times, after he stormed into the bodega to confront Alba. Apparently, his girlfriend's EBT card was denied, and she wasn't pleased when Alba allegedly took a bag of chips from her daughter.
The altercation immediately became physical, and Alba defended himself.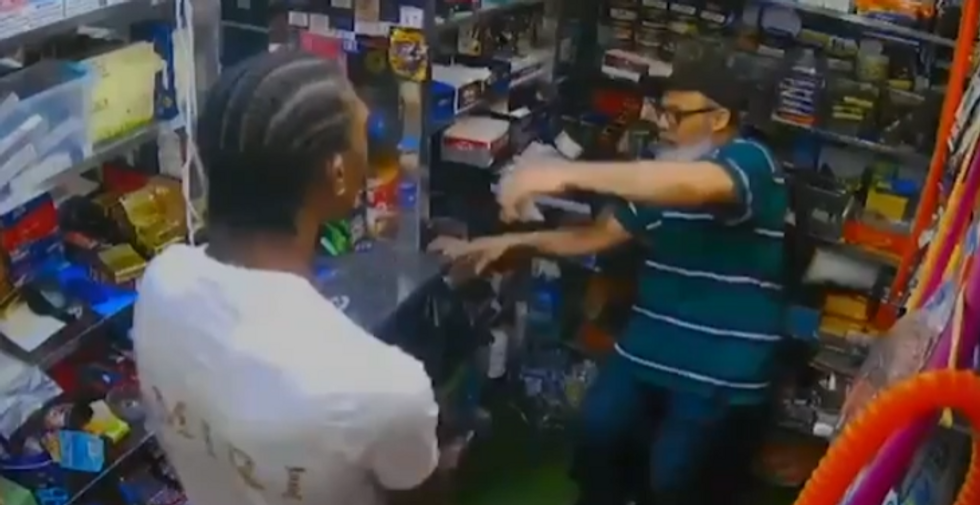 In the third picture, you'll see Alba driving a knife into his attacker.
Jose Alba is being charged with murder and held in Riker's on a $250,000 bail, which according to Daily Mail, is "an exorbitant amount compared with the low-or-no cash bail that is routinely given to repeat offenders by Bragg's soft-touch office."
And the situation worsened when GoFundMe--which we already know is a website run by political hacks--removed Alba's page to raise money for his legal fees. It had raised over $20,000 before it was shut down. "GoFundMe [has] yet to explain the decision."
Social media erupted in calls for the charges to be dropped, trending the hashtag #FreeJoseAlba.
This should be a clear case of self-defense. (You can watch the video surveillance footage here). An elderly man was assaulted by a young thug, and the man did what he needed to do to defend himself. He wasn't about to try to box the kid, for Christ's sake. But Leftist DAs aren't too fond of people defending themselves against criminals because they like criminals. We'll just have to see what ends up happening to Mr. Alba.
If there's any justice in the world, a jury will spend five seconds deliberating and let him go free.
The Louder with Crowder Dot Com Website is on Instagram now!Follow us at @lwcnewswire and tell a friend!
Touching Montage of Patriots In Self-Defense | Louder With Crowderwww.youtube.com