Remember WH Bragging About July 4 BBQs Being 16 Cents Cheaper in 2021? It's 17% MORE in 2022
June 23, 2022
One of the greatest White House tweets of all time was from this time last year. Gas and grocery prices were skyrocketing. Or so we thought. We were naive in 2021 about how much worse things could get. The Biden WH demanded praise because, through Joe Biden's policies, he was saving us sixteen cents at our 4th of July BBQ. I wonder what they'll say in 2022 now that the same BBQ is 17 PERCENT MORE!
Let's refresh everyone's memory. Biden almost didn't let us have July 4 BBQs. Then this happened:
Planning a cookout this year? Ketchup on the news. According to the Farm Bureau, the cost of a 4th of July BBQ is down from last year. It's a fact you must-hear(d). Hot dog, the Biden economic plan is working. And that's something we can all relish. pic.twitter.com/7h9qLauIbC
— The White House (@WhiteHouse) July 1, 2021
It was, like most things that come out of the WH press shop, a bunch of malarky. They cherry-picked a few Farm Bureau statistics. The same Farm Bureau that also said the following BBQ items were more expensive: Strawberries, cookies, hamburger buns, homemade potato salad, and chicken breasts.
Now, in 2022, thanks to the Biden Incompetence Hike That He Blames on Putin (we're workshopping the name), EVERYTHING is more expensive. The fine folks at Not The Bee ran the numbers.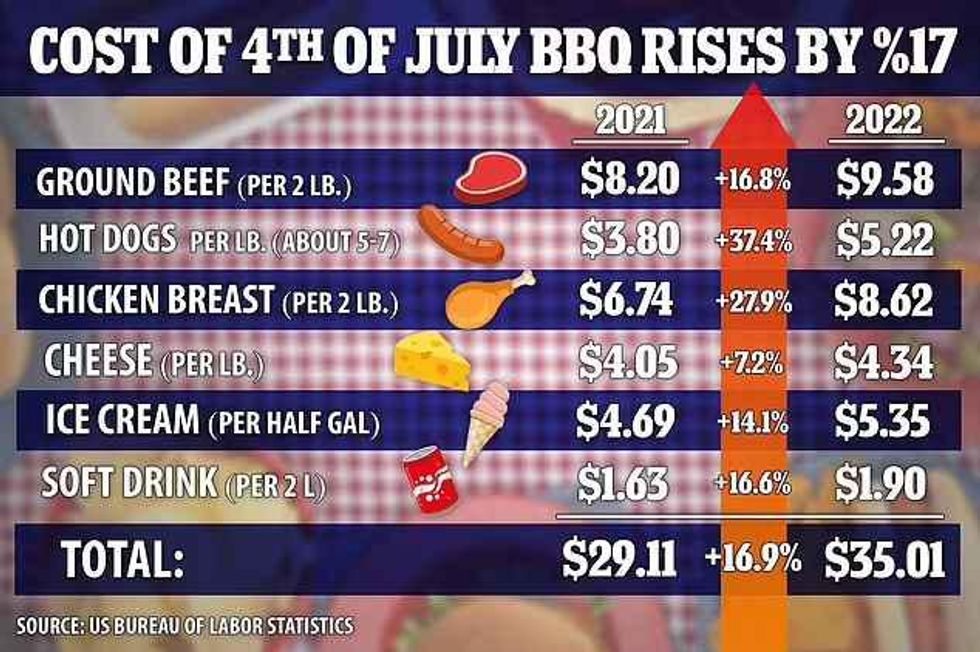 EVERYTHING is more expensive. Seventeen percent more expensive. Instead of Biden's policies "saving" us sixteen cents, they're costing us more on the basics. And this is a boring BBQ. Throw in brisket and pulled pork, and the number gets jacked up even higher.
Though, garage beers are inflation-proof if you have a big enough refrigerator to stock up. That is until you run out of garage beers.
That's not to say you shouldn't go big and go hard this July 4. You're American. But instead of skimping on the food and drinks, skimp on the people. No doubt some of the people you would invite are among the 81,000,000 voters from 2020 that owe the rest of us amends.
They can't come. Make them sit alone at home and think about the consequences of their actions.
The Louder with Crowder Dot Com Website is on Instagram now!Follow us at @lwcnewswire and tell a friend!
3 Minutes of MACHINE GUNS! HAPPY 4TH OF JULY! | Louder With Crowderyoutu.be