Each day we overwhelm your brains with the content you've come to love from the Louder with Crowder Dot Com website.
But Facebook is...you know, Facebook. Their algorithm hides our ranting and raving as best it can. The best way to stick it to Zuckerface?
Sign up for the LWC News Blast! Get your favorite right-wing commentary delivered directly to your inbox!
Politics
Show Notes: What You DIDN'T KNOW About Martin Luther King Jr.
January 17, 2022
Is it really a Happy Martin Luther King Day? We present five facts about the man you may not know. Also, Dana White defends Joe Rogan against 270 "doctors." And a shocking new poll shows just how far Democrats would go if we let them.
Top Five Things You DIDN'T KNOW About MLK! | Louder with Crowderyoutu.be
DEMS WANT TO LOCK THE UNVAXXED UP AND THROW AWAY THE KEY
A new Rasmussen survey shows: SOURCE: Rasmussen

78% of Dems support a vax mandate.
59% of Dems also favor unvaxxed people being confined to their homes at ALL times.
45% of Dems favor internment at special facilities for those who refuse the vax.
In other words, Dems want some version of what already exists in Australia. SOURCE: YouTube
48% of Dems favor fining or IMPRISONING people who publicly question vaccine efficacy.
29% favor removing custody of children from parents who are unvaxxed.

I mean, this could never happen in America right. SOURCE: YouTube
BASED DANA WHITE
On Saturday, Dana White was asked about a letter written by 270 "doctors" putting pressure on Spotify to censor Joe Rogan. SOURCE: YouTube
The reporter followed up with another question about COVID pre-treatment which led to an amusing exchange. SOURCE: YouTube
THINGS YOU DIDN'T KNOW ABOUT MLK
MLK ON RIOTS.
You probably have heard that MLK supported peaceful protest, and that is true, but he also had some questionable opinions about riots that should be considered. SOURCE: YouTube
At another 1967 speech, King said: SOURCE: AmericanPsychologicalAssociation

"Urban riots are a special form of violence. They are not insurrections."
"The rioters are not seeking to seize territory or to attain control of institutions. They are mainly intended to shock the white community."
"[The looting] enables the most enraged and deprived Negro to take hold of consumer goods with the ease the white man does by using his purse."
"The policymakers of the white society have caused the darkness; they create discrimination; they structured slums; and they perpetuate unemployment, ignorance and poverty."
"It is incontestable and deplorable that Negroes have committed crimes; but they are derivative crimes. They are born of the greater crimes of the white society."

Similar to BLM
This speech was given later in MLK's life
Sign of his gradual radicalization
MLK WORKED WITH COMMIES.
One of MLK's top advisors was Stanley Levison
Levison was a member of the Communist Party until 1956 SOURCE: History
Levison secretly gave MLK $10k dollars just one year after meeting him. SOURCE: DavidGarrow

Adjusted to 2019 dollars, that's about $87k

FBI Counteragent Karl Prussion wrote in a sworn affidavit to Congress, "I further swear and attest that [...] Rev. Martin Luther King was always set forth as the individual to whom Communists should look and rally around in the Communist struggle on the many racial issues. I hereby also state that Martin Luther King has either been a member of, or wittingly has accepted support from, over 60 Communist fronts, individuals, and/or organizations, which give aid to or espouse Communist causes." SOURCE: Congressional Library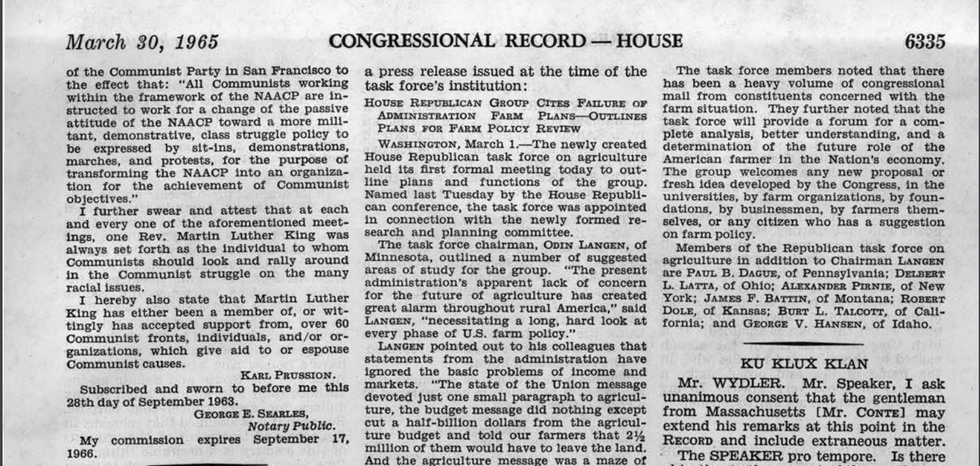 MLK WATCHED A RAPE. SOURCE: DavidGarrow
In 1964, MLK watched as his friend, Baptist minister Logan Kearse, rape a woman at the Willard Hotel in DC.

Notes from David Garrow and FBI surveillance docs say:
"The group met in his [Kearse's] room and discussed which women among the parishioners would be suitable for natural or unnatural sex acts."
"When one of the women protested that she did not approve of this, the Baptist minister immediately and forcibly raped her."
Quoted directly from FBI notes as Kearse raped the woman: "King looked on, laughed and offered advice."
MLK PARTICIPATED IN MASSIVE ORGIES. SOURCE: DavidGarrow
The following night, MLK and his friends participated in a sex orgy with approximately 12 people.
When one woman shied away from engaging in an unnatural act, King and others discussed how to initiate her.
King told her performing the act would "help her soul." SOURCE: DavidGarrow
MLK also participated in another orgy in Las Vegas with a friend, a prostitute, and the gospel Singer Clara Ward. SOURCE: DavidGarrow

King performed intercourse with the prostitute, Gail LaRue, while Ward watched on.
King and Ward then watched King's friend have intercourse with LaRue.
LaRue told an FBI investigator, "That was the worst orgy I've ever gone through."
Get your content free from Big Tech's filter. Bookmark this website and sign up for our newsletter!