Watch: Alleged adult helps toddler tip drag queen during another  "family-friendly" sexualized performance
May 24, 2023
I'm sure you have seen some version of this meme shared by your leftist friends on Facebook. Take a moment to study each photo.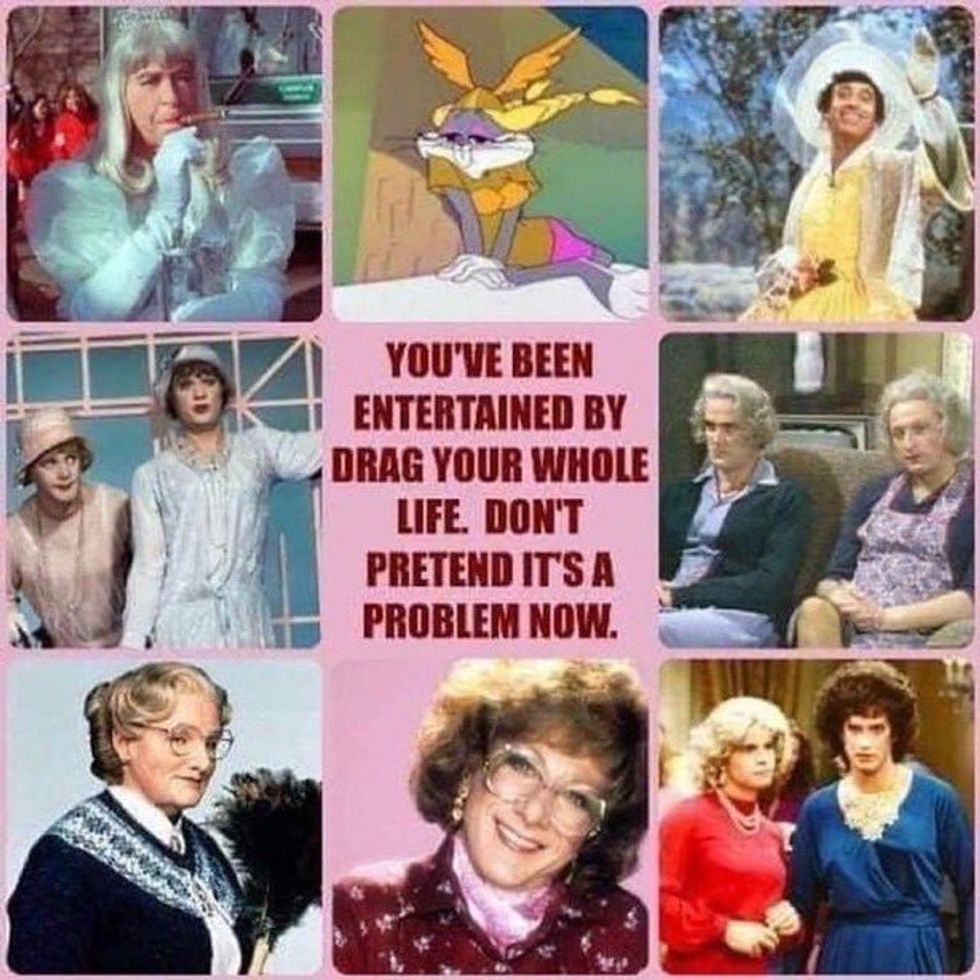 The theory is that if you at any point in the past fifty years were entertained by men dressing as women, you have no right to get upset that children are being taken to drag shows -- or forced to be exposed to them in school - now. And you sure as hell aren't allowed to support legislation banning children from these adult performances the same way they aren't allowed to go to strip clubs.
Now watch this latest example of family-friendly entertainment that dropped today.
A toddler is encouraged to hand a cash tip to a drag queen during a sexualized performance at a "family friendly" drag show in Oceanside, CA pic.twitter.com/5YGjf5hqC2
— Libs of TikTok (@libsoftiktok) May 24, 2023
This isn't Klinger trying to get out of the Army. It's not Robin Williams trying to see his kids, or Dustin Hoffman trying to land a soap opera role, or a homeless Tom Hanks needing a place to stay in a women-only apartment building. It's also not Bugs Bunny being attractive by putting on a dress and pretending to be a girl bunny (party on, Garth).
People don't have a problem with guys dressing as girls IN A NON-SEXUAL WAY - for comedic purposes. They have a problem with kids being exposed to guys dressing like slutty women and shaking their asses around five-year-olds. Americans have specific examples in mind of what they oppose.
Very specific examples.
"Mommy Mommy, why does that man want me to lick him where he pees?"
This one is so sick, Twitter slapped a warning on it.
The Left is willfully lying about the issue because a) that's what they do (see Don't Say Gay, AP History, and Book Banning), and b) they know that the more people who learn what conservatives are fighting, the more people who would join us and OPPOSE the Democrat Party's agenda to sexualize children.
If Mrs. Doubtfire made money on the side gyrating in front of children, it would rated R. It also wouldn't be funny. It would be sick and gross. Just like anyone who finds this stuff suitable for kids.
><><><><><><
Brodigan is Grand Poobah of this here website and when he isn't writing words about things enjoys day drinking, pro-wrestling, and country music. You can find him on the Twitter too.
Facebook doesn't want you reading this post or any others lately. Their algorithm hides our stories and shenanigans as best it can. The best way to stick it to Zuckerface? Bookmark LouderWithCrowder.com and check us out throughout the day! Also, follow us on Instagram and Twitter.