'Family Guy' actor apologizes for ever apologizing for playing a cripple in the cartoon
March 01, 2023
Don't get me wrong. I dig the trend of actors not apologizing for art leftist bloggers and Twitter slacktivists demand they apologize for. Shout out to Ben Stiller. It was just surprising to hear we were coming after Joe the Policeman ("holy crip, he's a crapple") on Family Guy now. Yet we have voice actor Patrick Warburton apologizing. For apologizing.
Warburton sat down with Fox News, and while acknowledging that what flew then might not fly now, said he is done apologizing. "I used to apologize for being on 'Family Guy,' and I apologize no more because this world is a horrible native satire. Everybody takes themselves too seriously, and… I think in many ways become an overwhelming mess. But we need humor in our lives, and we need love and humor, acceptance. It's all rather simple."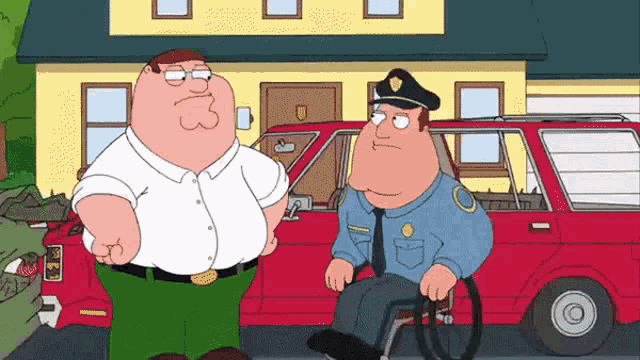 Warburton, to his credit, double-downed on his comments with his most cancelable action yet. He RETWEETED something from Fox News. Yes, even in this news climate.
I believe I said horrible need of satire, but I think it translates 😉 a comedic form that's been around since the beginning of time. An equal opportunity offender that holds the mirror to us all, maybe.. https://t.co/xE6X4tbfjl
— patrick warburton (@paddywarbucks) February 27, 2023
I find this funny for two reasons. For one, Family Guy is up there with South Park where they managed to be grandfathered in when it comes to culture of canceling. You rarely hear the cartoon in the mix with the usual three: Blazing Saddles, Tropic Thunder, and The Office. Somewhere in Springfield, Apu is getting ready to move his family to Quohog to reopen the Kwik-E-Mart.
The other is that for everything you'd assume the usual gang of bloggers and slacktivists would attack the cartoon over, a jacked-up cop in a wheelchair doesn't register. The cartoon, at least in the past (I don't even know if it's on anymore), defecates on everything leftists care about this week when it comes to race and genderism. Outside of a non-profit somewhere upset Joe isn't voiced by a paraplegic voice actor, he wheels away with nary an angry tweet.
An actor not in a wheelchair is done apologizing for playing a cartoon cop in a wheelchair. It isn't something he should need to apologize for, but at least he's done doing so.
Editor's Note
LwC is on Substack now! Each day we overwhelm your brains with the content you've come to love from the Louder with Crowder Dot Com website.. but algorithms hide our ranting and raving as best they can. The best way to stick it to Big Tech? Subscribe to For the Content!