Each day we overwhelm your brains with the content you've come to love from the Louder with Crowder Dot Com website.
But Facebook is...you know, Facebook. Their algorithm hides our ranting and raving as best it can. The best way to stick it to Zuckerface?
Sign up for the LWC News Blast! Get your favorite right-wing commentary delivered directly to your inbox!
Watch: Rep. Eric Swalwell asks reporter if she wants to be strip-searched, says it can be accommodated
July 18, 2023
This is grossly inappropriate, but so is banging a Chinese Spy (allegedly). That hasn't stopped Rep. Eric Swallows before, so it shouldn't stop Swallows from making sexist comments to a reporter. Why sexist? Because that's what the media would be calling it if someone like Matt Gaetz said the same thing to someone like Taylor Lorenz and she wouldn't calm down about it.
Fox News was asking Democrat congressmen about the cocaine found in the Democrat White House. The same question MSNBC/CNN/WaPo/NYT/HuffPo et al would be asking Republicans if the blow was found during the previous administration. Rep. Swallows, while looking like a douche, acted like one.
"If you all want to be strip-searched, you know, for substances before you go into the White House, that's something that you should work with the Secret Service to see if they can accommodate."
Besides being a dick thing to say, it is fake news. The blow wasn't found where thousands of people are. It was found in an Uber-exclusive area that only a few dozen people have access to. The innerest of Biden's innter circle. If anyone was getting strip searched it would be people like Kamala Harris, John Kirby, and Admiral Rachel Levine. It would also require Joe Biden to be interested in learning whose cocaine was found in the West Wing. Americans may never know.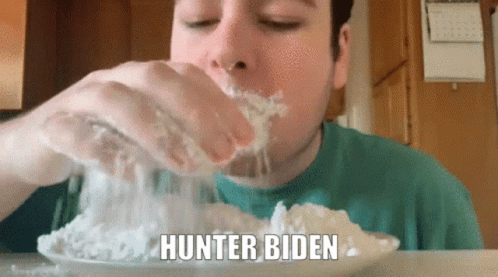 Critics allege Eric Swallows's had an affair with Chinese spy Christine Fang. Aka "Fang Fang." Aka "Yum Yum." Swallows denies having an "inappropriate" relationship with Fang Fang. He was still removed from the House Intelligence Committee by Speaker Kevin McCarthy since putting your d*ck in a spy is the textbook definition of "compromised."

The reporter should consider herself lucky she didn't ask Rep. Swallows about the FBI. He looks like the type who would make a "Female Body Inspector" joke.
><><><><><><
Brodigan is Grand Poobah of this here website and when he isn't writing words about things enjoys day drinking, pro-wrestling, and country music. You can find him on the Twitter too.
Facebook doesn't want you reading this post or any others lately. Their algorithm hides our stories and shenanigans as best it can. The best way to stick it to Zuckerface? Sign up for our DAILY EMAIL BLASTS! They can't stop us from delivering our content straight to your inbox. Yet.