Each day we overwhelm your brains with the content you've come to love from the Louder with Crowder Dot Com website.
But Facebook is...you know, Facebook. Their algorithm hides our ranting and raving as best it can. The best way to stick it to Zuckerface?
Sign up for the LWC News Blast! Get your favorite right-wing commentary delivered directly to your inbox!
Politics
Elon Musk Shares Brilliant Diagram Charting When His Fellow Liberals Decided He Was Now Satan
April 28, 2022
"It's hard to handle
This fortune and fame
Everybody's so different
I'm still the same"
~ Joe Walsh, "Life's Been Good"
That's from the real Joe Walsh. Not the former congressman Joe Walsh, who is the Don Felder of Joe Walshes. But we're not here to talk about him. We're here to talk about Elon Musk since Elon Musk is the only thing going on in the world. At least, the only thing people care about. We could have an exclusive video of Trump punching Biden in the dick. No one would care unless Elon shared a meme about it.
His latest meme mocks his fellow liberals and how they have gone apocalyptic over Musk owning Twitter. They become apocalyptic whenever anyone disagrees with them on anything. Yes, Musk's "fellow" liberals. I know that Musk isn't on our team. And outside of free speech, I'm not sure we agree on much. A song was written about things we disagree on. That's fine. Free speech is a big one. But while we on the right have stayed the same, and Musk as a liberal has stayed the same, the rest of the left has gone batsh*t crazy over the years. Here's a handy diagram.
Let's blow it up: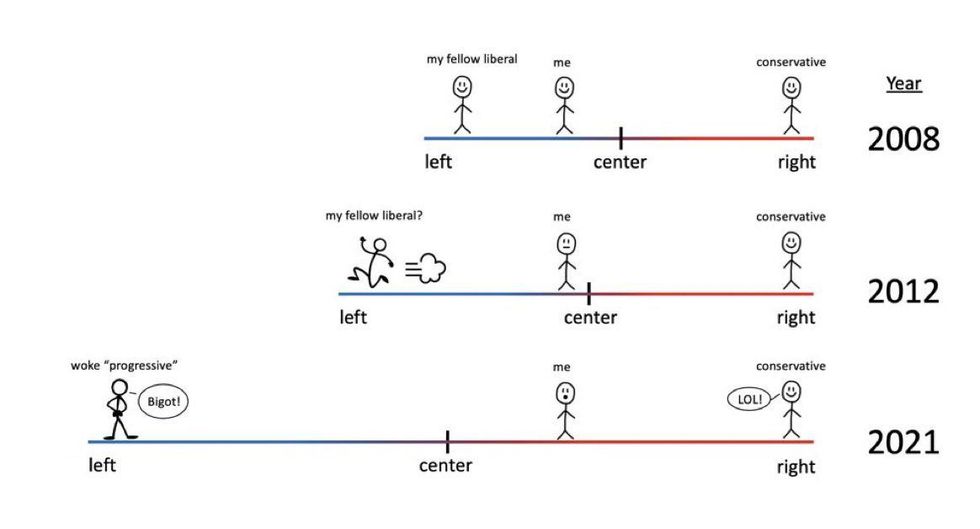 Conservatives have stayed where we are. Elon Musk stayed where he is. His fellow liberals are the ones who keep running west, far away from the center, to their fantasy land where only they control information and where anyone who disagrees is a racist, sexist, homophobic, transphobic, anti-science insurrectionist.
They're the ones having meltdowns because there is a single social media platform on which they won't be able to censor people with whom they disagree. Musk is in the middle wondering where his old friends went.
Conservatives are where we've always been. LOLing at progressives.
The Louder with Crowder Dot Com Website is on Instagram now!Follow us at @lwcnewswire and tell a friend!
IN RED AMERICA ("Back in America" Parody) | Louder With Crowderyoutu.be