Elephant Tramples Woman, Kills Her, Then Shows Up at Woman's Funeral Because They Weren't Done
June 13, 2022
Welcome to India, where the prime minister is polite, the monkeys are anti-science, and the elephants will follow you to the gates of hell. That happen where one elephant--we'll call him Tusky--killed a woman, then showed up at the woman's funeral because Tusky didn't think he sent a strong enough message.
Here's what happened. I swear this is from The Independent and not the Babylon Bee.
The elderly woman was drawing water out of the well for her village. Tusky, who has escaped from a wildlife sanctuary, appeared out of nowhere. Tusky was in a bad mood. He trampled the old lady, maybe to ensure there were no witnesses to his escape. The woman was pronounced dead at the hospital.
Then came the funeral. "Reports said when family members gathered for the funeral and were in the middle of performing last rites, the same elephant appeared, lifted Ms Murmu's body from the funeral pyre and trampled it again, as shocked mourners looked on."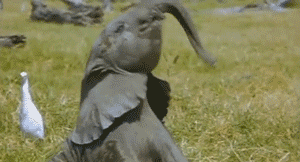 The family couldn't continue with the ceremony until Tusky finished with the woman and left. You know, if the family knew what was good for them. It is unclear if Tusky injured anyone else or how they knew it was Tusky and not another elephant.
Details are sketchy, but it is clear Tusky had beef with this woman. Tusky may have been minding his own business one day when the woman, whatever the Indian version of "Karen" is, was upset Tusky looked at her sideways. Animal control was called, and Tusky was sent to a "sanctuary" which is a nice way of saying Elephant jail.
From there, Tusky did what he had to do to survive. He fell in with prison gang the Sons of Ganesha and spent all his days and nights plotting his revenge. Finally, it came time for him to Shawshank his way out of prison.
Trampling Hindu Karen was easy. But the pain of what she took from him was too much. He needed to desecrate her corpse so her family could feel the pain he felt. Then Tusky just left. All while the sad walking away song from Incredible Hulk played.
Or it could have been a freak accident and nothing more. We may never know,
The Louder with Crowder Dot Com Website is on Instagram now!Follow us at @lwcnewswire and tell a friend!
India's Farting Contest Winner! | Louder With Crowderyoutu.be