Each day we overwhelm your brains with the content you've come to love from the Louder with Crowder Dot Com website.
But Facebook is...you know, Facebook. Their algorithm hides our ranting and raving as best it can. The best way to stick it to Zuckerface?
Sign up for the LWC News Blast! Get your favorite right-wing commentary delivered directly to your inbox!
Donald Trump makes it official, he's refusing to appear before the voters and defend his record in a GOP primary debate
August 21, 2023
After dragging his feet and hinting about it on TruthSocial, Donald Trump has made it official and said he's refusing to show up to Wednesday's GOP Primary Debate. Not just that debate, but any debate this cycle.

Many people are saying Trump is too chicken to have his record challenged (not draining the swamp, not locking her up, turning his presidency over to Fauci, school lockdowns, small business lockdowns, the Trump schmaccine, blindly signing spending bills like the CARES Act which led to 2020's mail-in voting, a string of electoral defeats since 2016, etc.). I'm not saying that, but many people are.
According to the former president, even though the first votes aren't for five months, because he is ahead in public opinion polls -- many of which have been conducted by the corporate media -- he does not need to debate his opponents.
New CBS poll has me out by "legendary" numbers... I WILL THEREFORE NOT BE DOING THE DEBATES.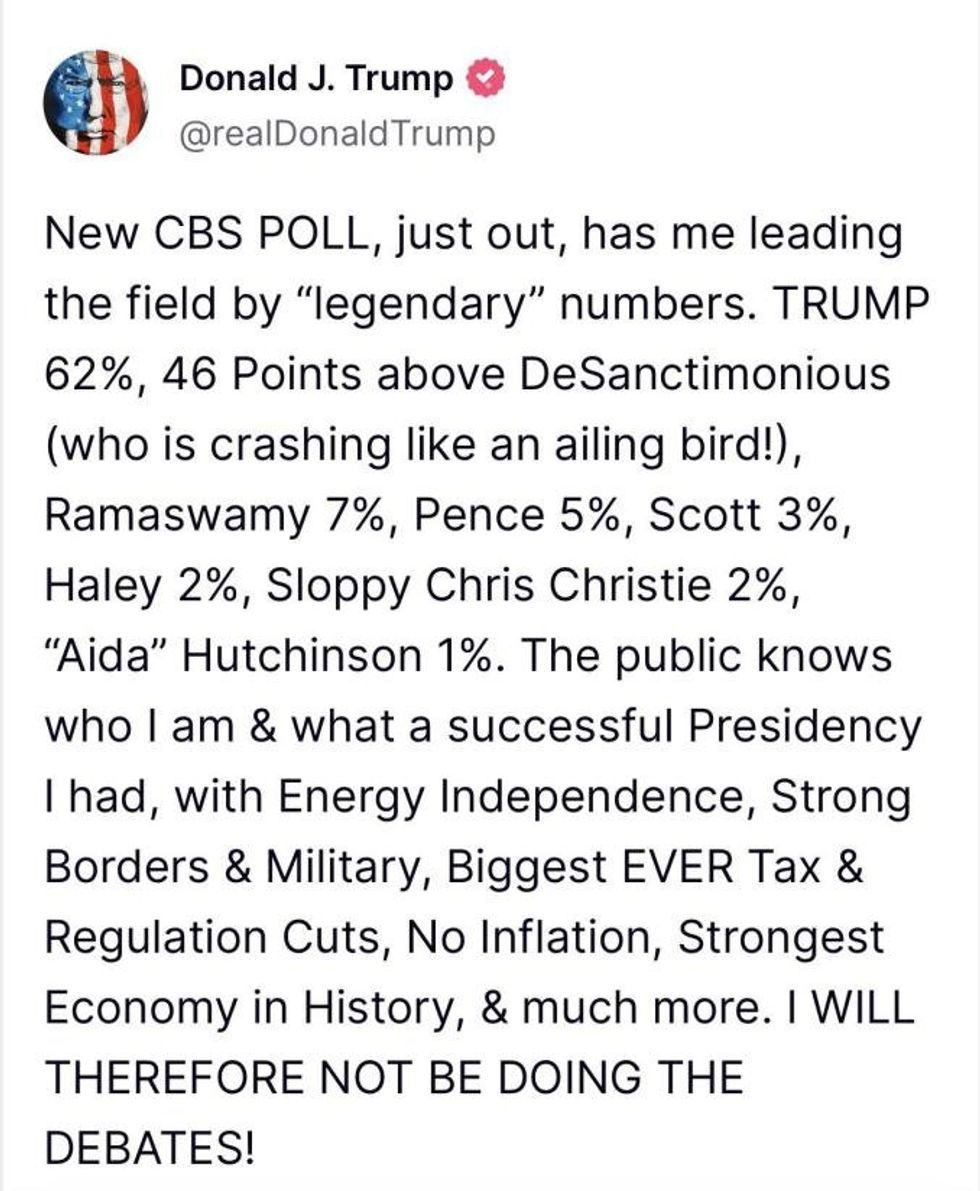 Trump's focus on and faith in CBS News is interesting. Prior to him swearing by their polling numbers, I was to believe CBS News was fake news:
REPORT: CBS News Aired Faked COVID-19 Testing Site
CBS News Encourages People to Snitch on the Ice Cream Man
'She says she's a woman!' CBS News desperately tries to defend transwoman in YMCA locker room
Ted Cruz Calls Out CBS News for Showing an Anti-Biden Story in Australia that They Didn't Show in America
CBS Deletes Fact-Check on Donald Trump. Because it Proved Trump was Right
As of right now, it appears Trump's handpicked establishment RNC Chair Ronna Romney-McDaniel isn't going to do anything about this, and is even letting Trump send surrogates to spin for him at a debate he refuses to go to. Fox News is also planning to use Trump clips instead of having the candidates who did show up talk about issues that matter to voters.
It will be interesting to see how the other GOP candidates respond.
My personal opinion is that this is a mistake on Trump's part. Primary polls are notoriously unreliable, and while Trump might be in the lead now, it's a soft lead. The first votes aren't until January, and while Trump may be the most popular now when a pollster asks a voter who they like, primary voters are known to take their time before deciding who they pull the lever for.
As today's Des Moines Register Iowa Caucus poll shows, while Trump is up overall, five months is an eternity in politics.
There are also variables to consider if Trump gets the nomination. What about when Joe Biden says he's not going to debate? Or when CBS News airs something critical of the former president? Do they go back to being fake news? Will Biden be too scared to debate before the American people?
If I was Donald Trump, I'd show up and debate and dominate all my opponents. At least until people start voting. Once the voting starts and he still has such a dominant lead, then he can say the race is over and it's time to unite.
><><><><><><
Brodigan is Grand Poobah of this here website and when he isn't writing words about things enjoys day drinking, pro-wrestling, and country music. You can find him on the Twitter too.
Facebook doesn't want you reading this post or any others lately. Their algorithm hides our stories and shenanigans as best it can. The best way to stick it to Zuckerface? Sign up for our DAILY EMAIL BLASTS! They can't stop us from delivering our content straight to your inbox. Yet.