CNN attempts to spread misinformation about Georgia's voting law, gets fact-checked by its own chyron
October 20, 2022
Georgia passed common-sense voter integrity reform in 2021, and the Democrat party went bananas. It was going to end democracy as we know it. Joe Biden even went so far as to imply people who supported common-sense voter integrity reform were racist. Instead, Georgia has been seeing RECORD voter turnout. It would appear Democrats were lying and common-sense voter integrity reform is not restrictive.
The rub is, someone forgot to tell CNN's Ana Cabrera.
You can't make this up.

CNN host describes Georgia voting law as "restrictive" as their own chyron describes "Record Early Voter Turnout in Georgia." pic.twitter.com/08j4mar9WJ
— Townhall.com (@townhallcom) October 19, 2022
So while Ana Cabrera was all like, "that Georgia voting law sure is restrictive from allowing people to vote," the person who writes CNN chyrons was all like...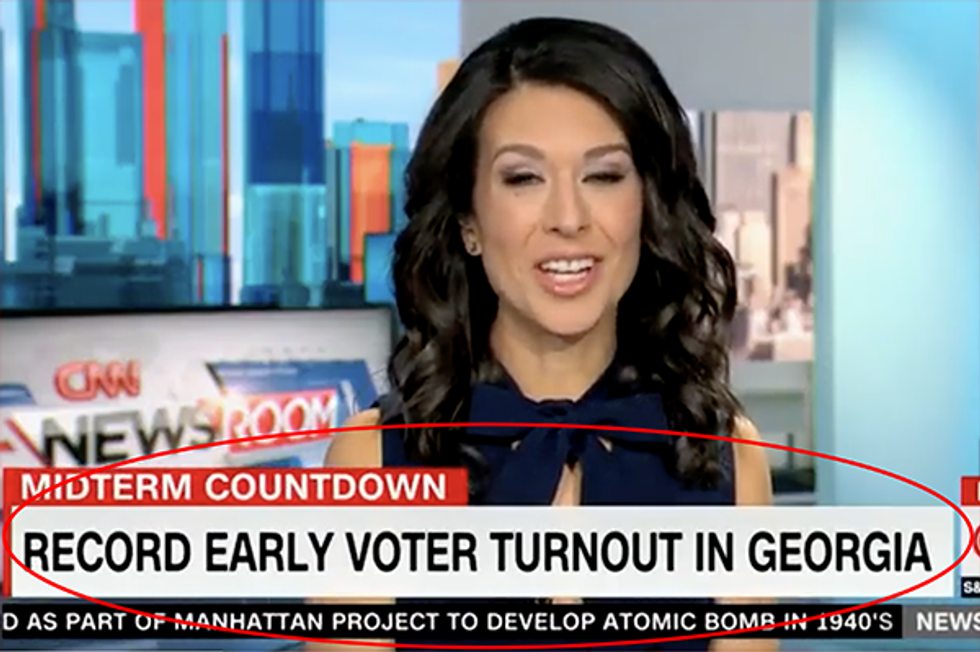 CNN reporter reports in front of a burning building in Kenosha with a chyron that reads "Fiery But Mostly Peaceful Protests After Police Shooting"

No, really
pic.twitter.com/VMUB3AdB3V
— Daily Caller (@DailyCaller) August 27, 2020
Don't ever forget the vicious misinformation leftists and the media (but I repeat myself) spread about Georgia's common-sense voter integrity reform. Whether it was done to prop up Stacey Abrams for another run at governor, or was done because accusing people of being racist for disagreeing with them is democrats' and the media's love language, is open for interpretation. But the President of the United States lied about what was in the law. He and Abrams got the MLB All-Star Game moved out of the state, costing Atlanta millions of dollars. And USA Today let Abrams re-write her OpEd calling for MLB to move the All-Star Game when they both recognized it was bad for her political career.
The left and media (again, repeating myself) pointed to common-sense voter integrity reforms like in Georgia as proof that Republicans are a danger to democracy. Now Georgia is having record voter turnout, and voters think that Democrats are a danger to democracy.
Don't ever forget who the left and the media are.
Editor's Note
LwC is on Substack now! Each day we overwhelm your brains with the content you've come to love from the Louder with Crowder Dot Com website.. but algorithms hide our ranting and raving as best they can. The best way to stick it to Big Tech? Subscribe to For the Content!
CNN is Fake News | Change My Mind | CROWDER CLASSICSyoutu.be